Hughes: bad decisions messing with people's livelihoods
Ian Herbert
Monday 09 April 2012 10:09 Comments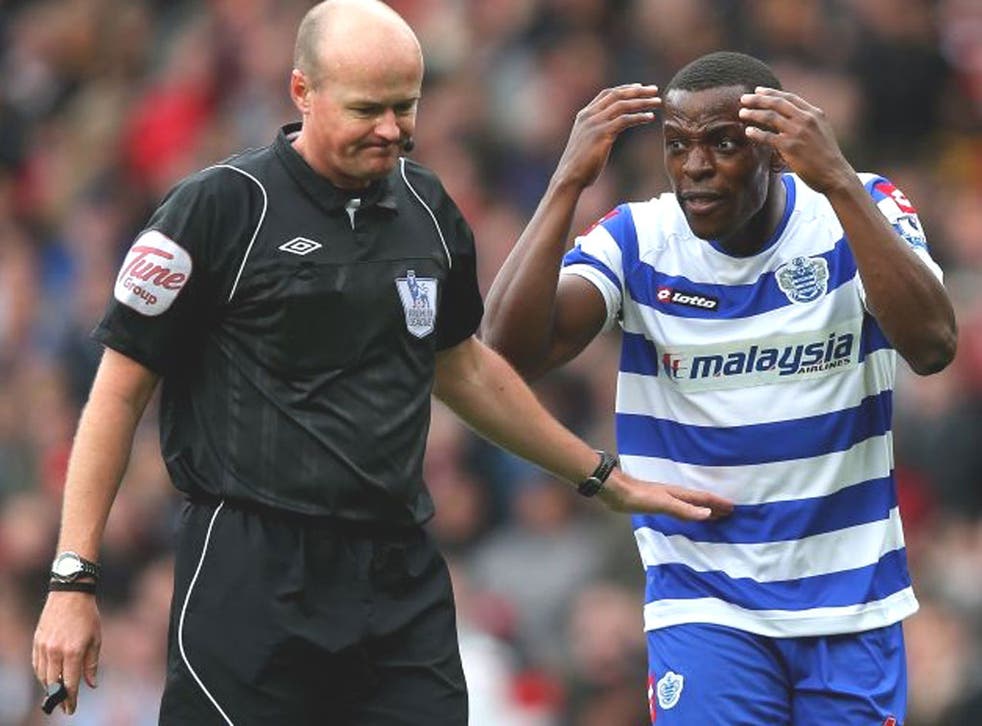 Mark Hughes, the Queen's Park Rangers manager, last night suggested that managers have lost faith in referees after the dubious dismissal of his captain, Shaun Derry, had rendered defeat even more inevitable to a Manchester United side who can now afford to lose two games and still be crowned Premier League champions.
United have become only the seventh club in Premier League history to have been awarded 10 or more penalties in a single season, a statistic which will no doubt confirm City executive Patrick Vieira's suspicions about referees and that club.
Hughes made it quite clear that two more winnable games later this week were a bigger priority than running out with any sense of adventure at Old Trafford, yet Derry's dismissal was still deeply questionable. The contact was marginal with Ashley Young, who had been offside before receiving the ball and was arguably not the last man as he made to shoot. After a weekend in which Wigan Athletic were deprived of at least a point by poor officiating at Stamford Bridge, Hughes said: "We just want referees and officials to get the big decisions right. These are massive decisions that affect people's livelihoods. It's affecting to any people that correct decisions aren't being made.
"You do discuss that before every game and it shouldn't be like that. You should have confidence that the referee will make key decisions, and just lately a lot of managers have lost faith in it. You worry more about decisions going against you rather than decisions going against the big clubs."
Hughes, who said that his side would seek to have Derry's dismissal rescinded, suggested that more officials of a superior quality was the solution, rather than advocating goal-line technology. "It's a numbers game and I don't think they have the numbers at the appropriate quality," he said.
Sir Alex Ferguson, the Manchester United manager, agreed that Young was a yard offside when he received Rooney's ball "so I can understand Mark being angry and disappointed in that". But his view did not align with Hughes' notion of Young's gamesmanship.
"The boy had a little tug on Ashley," Ferguson said. "Not a great deal but enough to get us a penalty-kick. It was unfortunate but, being the last defender, he had to be sent off. The sending-off didn't help us at all. I was actually more confident before they got a man sent off in terms of the speed of our play and movement, which was very good. After that, we just went into a comfort zone."
Paul Scholes was the game's defining midfield presence, before his goal sealed the game. "He's scored three now since he has come back," his manager said. "You see the control of the game he has and the control of the tempo of our game – he has never changed. Great, great player."
With eight straight victories, Ferguson's confidence in taking a 20th League title was self-evident, even before City were beaten 1-0 at Arsenal. "There's good consistency in terms of the defending, although today we didn't have a lot to do in terms of defending," said the manager. "There are only six left now and, hopefully, we can run it out now."
Hughes – whose side's goal difference, at three superior to Blackburn's, keeps them out of the relegation zone – pointed to his side's three remaining home games, against Swansea City, Tottenham Hotspur and Stoke City as the significant games.
"Home games are key for us," he concluded. "We want to pick up maximum points from our home games and then some away from home. Hopefully, that will be enough."
Register for free to continue reading
Registration is a free and easy way to support our truly independent journalism
By registering, you will also enjoy limited access to Premium articles, exclusive newsletters, commenting, and virtual events with our leading journalists
Already have an account? sign in
Join our new commenting forum
Join thought-provoking conversations, follow other Independent readers and see their replies