Inside City's plan for domination
The Premier League's new high rollers are accused of ruining the game. In his first interview since their summer spree began, City's CEO Garry Cook tells Ian Herbert why the critics are wrong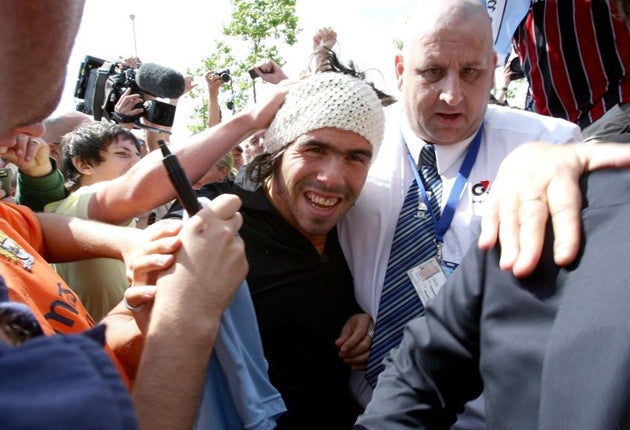 Now here's one of this weekend's more unlikely tributes – to Sir Alex Ferguson. "I respect that man probably more than anyone else in football," says the Manchester City executive chairman Garry Cook, having devoured his biography, Managing My Life, and been quick to ask him about his time running a pub in Glasgow's Gorbals, when the two sat together at a Sir Bobby Charlton celebration dinner in Manchester four months back.
What's even more unlikely is that Cook's declaration was made yesterday, at the end of a week in which City – on tour in South Africa – have been showered with brickbats and scepticism by Ferguson and United.
Football's fear and loathing hasn't got to Cook yet, though, for all the abuse that's been thrown his way in the past 14 months. He still has a curiosity about the game which leads him to ask, during an interview with The Independent – his first since City's summer spending began – what the perception of his club is and which is considered the best-run. Football people don't tend to be outward-looking like that and you fear he is looking for more insight than you can offer, just like when he asked Paul Dickov – a family friend – what it was like scoring the fateful goal which sealed City's play-off victory against Gillingham 10 years ago and got the simple reply: "I just fucking hit it."
If Cook's record at City, since moving into the game from a US role with Nike in May last year, were applied to perhaps any other business than football you would acknowledge his achievements. When he arrived, the human resources department was "a pay-roll clerk" and everyone had a go at marketing so there were "24 iterations of the word 'City' and everyone was adding stars and stripes." Piece by piece, his staff attest, he has applied the pieces you would expect of a credible business and motivated all manner of people. Cook's story of how City manager Mark Hughes was casually invited to a business away-day at the Shrigley Hall hotel in Cheshire, unexpectedly turned up in a suit and tie while everyone else dressed casually, but leapt to his feet to involve himself, would be cheesy if Cook did not tell it with such conviction.
Cook was mocked by some in the football world who did not speak his business language and who concluded, when Sheikh Mansour bin Zayed al-Nahyan arrived in Manchester with his billions, that he would be out the door. But the Sheikh – not bad on global business himself – talked on his level. He asked why City's website, its prime tool to reach new and established fans, was so modest. Why was City's academy director, Jim Cassell, telling him that several of his pitches kept flooding? Cook had some questions of his own. Why had he just watched a fan trudging home drenched after queuing for a ticket?
These questions and others have been answered this summer in an overhaul of Manchester City – a new ticket office with a roof to queue under, a £4m office block delivering City staff from below ground into daylight, a superior press room – which takes the Abu Dhabi United Group's spending on the infrastructure of the club to nearly £20m. The Premier League's most advanced website – City has employed experienced journalists on content, and attracted 20,000 fans to a free live feed of the fixture against Kaizer Chiefs on Tuesday evening – is the most ambitious new way of connecting. "Football has an anomaly to it where you kind of lay down all of the common sense values that you apply and it's pride and passion that leads you to your destiny," Cook says. "We want to improve the product and to connect with our customers." He has sold 50 per cent of season tickets online this summer, against a previous best of 12 per cent.
It is the outside world's obsession with transfer targets and a refusal to acknowledge there is a business development going on behind the pursuit of trophies at City which causes Cook more grief than any Ferguson can cause. "If it was just about buying players [for the owners] we would all be extremely nervous," Cook says. "But look at the investment just to upgrade facilities. That is part of the strategy which makes the club a better and much more viable concern."
City's fans seem to be with him. The Blue Moon website is currently exhorting supporters to chip in £10 towards a poster campaign in Manchester which will read Shukran Sheikh (Thank you Sheikh). Cook has had his sceptics – he acknowledges he may have said too much, early on – but is winning widespread popularity, too. City's big bids and wage offers might seem obscene but they fit into the corporate rationale, Cook argues, echoing a philosophy Craig Bellamy argued effectively this week, because if City's owners are to launch an assault on the top four – "we have every right to do so; it is no other group of clubs' divine right to be there" – then settling for incremental growth won't do.
"Our base costs for the next three years are never going to be at levels that would make economic sense," Cook says. "But your revenue stream is not going to come unless you get into the top four. That means bringing in players to get you there and spending above the odds on wages before the revenues start flowing. You've got to invest in one before you get to another. Any business does that."
South Africa has taught City how far they must travel to reach United. Where Ferguson's side drew huge sell-out crowds to last season's Vodacom Challenge here, City have patently not. The South African papers are full of news items on United's players, drawing 80,000 crowds in the Far East. City have warranted a couple of match reports or so. More proof that, palatable or not, £100,000-a-week just won't do it. That's the corporate logic. Soon, we will enter the realm that defies it – the wonderful field of play which will decree whether the Sheikh finds success now, in 10 years, or never.
City under seige: What the rivals have said
Reaction to Manchester City's spending this summer:
*David gill
"It's highly unlikely we'd want to go to those levels [of paying lots of money like Madrid and City]. We don't think it's necessary because we're looking to the medium and long-term. We're not in the market for 27, 28 or 29-year-olds for loads of money. It doesn't make sense."
"We're not at the whim of someone pulling out and losing interest."
*Sir Alex Ferguson
"It won't be easy for them to win anything, even with the players they have bought. I can't look at them as our main competitors. Liverpool and Chelsea are our main competitors."
"They have bought a lot of high-profile players but they have 10 strikers. That is a hell of a lot. I have not spoken to all the managers but the one or two I have are saying 'Who are they going to leave out? How does he pick a team?' We are all interested."
*Rafael Benitez
"City have signed a lot of good players, but that is no guarantee they will win anything. But it will be interesting to see what happens next season. But whatever happens, experience is more important."
*Arsene Wenger
"Football is not a supermarket. There is money in the game and I take it in a positive way. But the football bodies have to make sure money is ruled properly and used well for the ethic of the game"
Join our commenting forum
Join thought-provoking conversations, follow other Independent readers and see their replies