Jack Wilshere leaves Arsenal as the last bastion of Arsene Wenger's admirable yet ultimately failed youth experiment
A 16-year-old billed as the future of Arsenal slowly became the symbol of its guilt-encrusted past, leading to a sad-yet-predictable parting of ways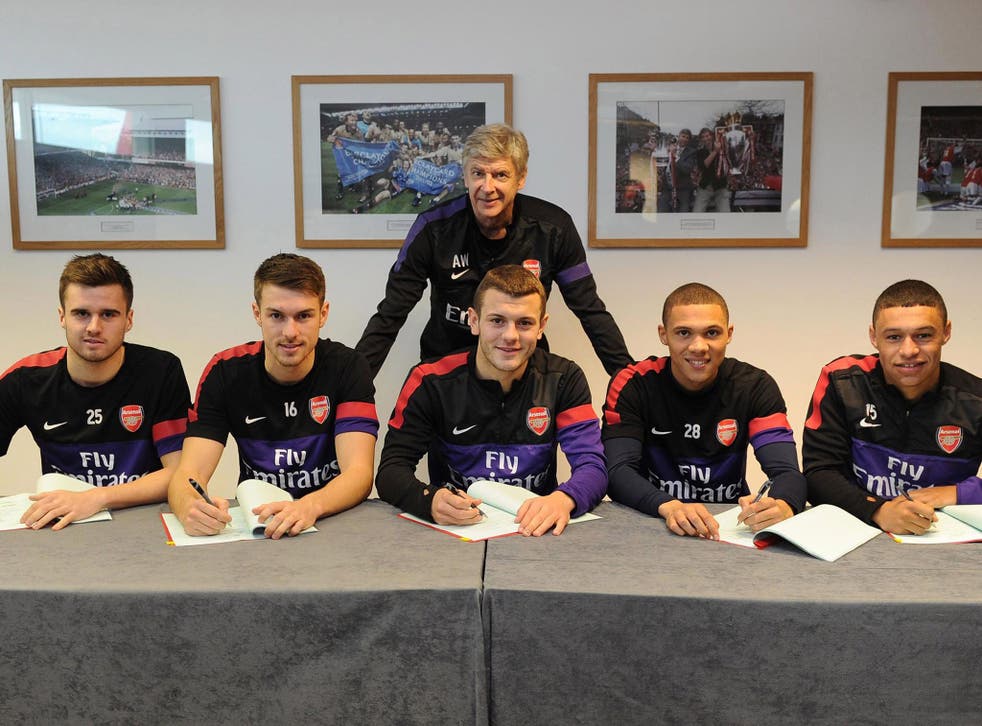 In July 2008, Arsenal travelled to Austria to play a team called Burgenland, who had been assembled from various local amateur players and managed to keep the game scoreless for only a matter of seconds. Here is how the club website described the opening goal: "Arsenal took the lead within a minute when Wilshere scrambled the ball home after a melee in the area."
Alas, this was one of those rare occasions when a club website actually diminished one of its own player's achievements rather than, as is customary, richly embellishing it. For here is what actually happened: the ball dribbled across the penalty area, one Arsenal player and two Burgenland players slid in to try and make contact, all of them missed, and the ball rolled with a menacing lethargy towards Wilshere, stationed on the corner of the six yard box.
At which point, faced with three prone bodies and a sprawling goalkeeper blocking his route to goal, Wilshere did something entirely instinctive and yet entirely unexpected. Instead of trying to power the ball through the mass of humanity before him, or curling it around – like a normal person would have done – he decided to dink it nonchalantly with his left boot, over the melee, bouncing before the goal line, and only just trickling over it. At first, you idly wondered whether it had been a miscue. It wasn't. Wilshere really had just chipped the goalkeeper, first time, from six yards.
What could Unai Emery's Arsenal look like?

Show all 12
A decade on, as Wilshere and Arsenal finally announced their amicable divorce after a 17-year relationship, these were the sorts of memories that came melting back: the impudent glints of outrageous skill, the elastic dribbles that would take him around astonished defenders like a golf ball circling the lip of the cup, the uncanny ability to put a football exactly where he wanted it. The sheer, unbridled promise.
It all seemed so easy back then. Perhaps too easy. Those legs were not, in fact, made of elastic, but of brittle bone and creaking tendon. Those flashes of skill became ever sparser. The great performances that he seemed to turn in on an almost weekly basis during the 2010/11 season, culminating in that career-defining display against Barcelona in the Champions League, curdled into grainy memory. Wilshere, for so long regarded as the future of Arsenal, instead became part of its guilt-encrusted past.
And in retrospect, he was never really the same player after that breakthrough season, after the ankle and knee injuries that put him out of the game for over a year between 2011 and 2012. Those golden Wilshere memories are overwhelmingly from the first half of his decade in the side. Indeed, the last two seasons, in which he has been relatively injury-free, have merely exposed his limitations, doused that early potential with cold, mediocre reality.
But let's indulge the fantasy for just a moment longer. Let's go back to the Arsenal team for Wilshere's Arsenal debut, against Blackburn just a couple of months after that cheeky chip in Austria: Manuel Almunia (age 21), Bacary Sagna (25), Kolo Toure (27), William Gallas (31), Gael Clichy (23), Emmanuel Eboue (25), Cesc Fabregas (21), Denilson (20), Theo Walcott (19), Emmanuel Adebayor (24), Robin van Persie (25). Wilshere (16), came on as a substitute, along with Alex Song (21) and Aaron Ramsey (17).
That's half of the players aged 21 or younger; three teenagers, plus another on the bench in Kieran Gibbs, and a matchday squad with an average age of under 22. Looking back now, it's easy to forget just how extraordinary all this was. This wasn't a promoted team on a shoestring budget – even if Arsene Wenger's faith in youth was driven by finances as much as ideology – but a team challenging for the Premier League and Champions League. And part of the nostalgia evoked by Wilshere's departure is the way it breaks the last link to a bold and spectacular experiment that it is hard to see ever being repeated at the higher end of European football.
Think about it. Will any manager at the elite end of the club game ever again enjoy the same combination of power and artistic freedom, of spiritual and emotional credit in the bank, that Wenger did in around 2006? Will any manager in his circumstances – having to rebuild an era-defining team on a budget of less than zero – ever have the latitude to do what Wenger did, and essentially take a class of schoolchildren all the way to the League Cup final?
Young players, after all, are an incredibly volatile investment. A simple look at that Arsenal side above indicates as much – some made it (Fabregas, Ramsey), some fell through the cracks (Denilson, Almunia), while most of the rest simply bumbled along at the fringes of the elite, forever chasing a greatness that they maybe never possessed in the first place. But young players offer something else, too. They give hope. They imply renewal. And for a few intriguing years, as Arsenal writhed silently within its financial chains, the prospect of a new generation and a new dawn generated an emotional pull that probably kept the wolves from Wenger's door long after the club had ceased to be competitive.
And of course, by any of the standard metrics by which the modern Arsenal measures itself, Wenger's bold experiment failed. A naive, emotionally volatile side endured Arsenal's longest trophy drought in half a century. An exasperated, exploited fanbase eventually ceased to be beguiled by the promises of jam tomorrow, indeed turning off the prospect of jam altogether, in favour of richer and more exciting condiments – Nutella, hummus, hot sauce. Anything, indeed, but more jam.
These days, Arsenal are a far more sensible club. They make sensible decisions. They buy sensible players like Bernd Leno and Stephan Lichtsteiner: not hopeful punts on the future, but players of a viable footballing age. They have a nice sensible manager with a nice sensible hairline in Unai Emery. And so it's easy to see how a player like Wilshere – nobody's idea of a sensible player – was always going to struggle to fit in. Sorry, Jack. Thanks for all your years of service. No hard feelings. It's just business.
The point is not that Arsenal should have kept Wilshere on. It's merely to remark on the way the club has changed, or perhaps been forced to change. Even when they were losing in all sorts of comical and humiliating ways, part of Arsenal's inimitable charm was the idea that somehow – whether it was their style of play, their ethos or simply keeping on the same wizened manager for 22 years – there was something intangibly different about them.
These days, as Arsenal blinks into its future, the points of difference are becoming harder to discern. Will the new Arsenal still be the sort of place that gives 16-year-old academy graduates a Premier League debut, and then keeps faith with them for a decade, even as their career stutters to a walk? Probably not. It's neither a good thing nor a bad thing. It is, as Wilshere will no doubt reflect himself as he clears out his locker and begins the search for pastures new, simply the way of the world.
Join our new commenting forum
Join thought-provoking conversations, follow other Independent readers and see their replies