Jose Mourinho liked to pick fights but ended up battling his Chelsea team
Mourinho's confrontational approach alienated rather than inspired his players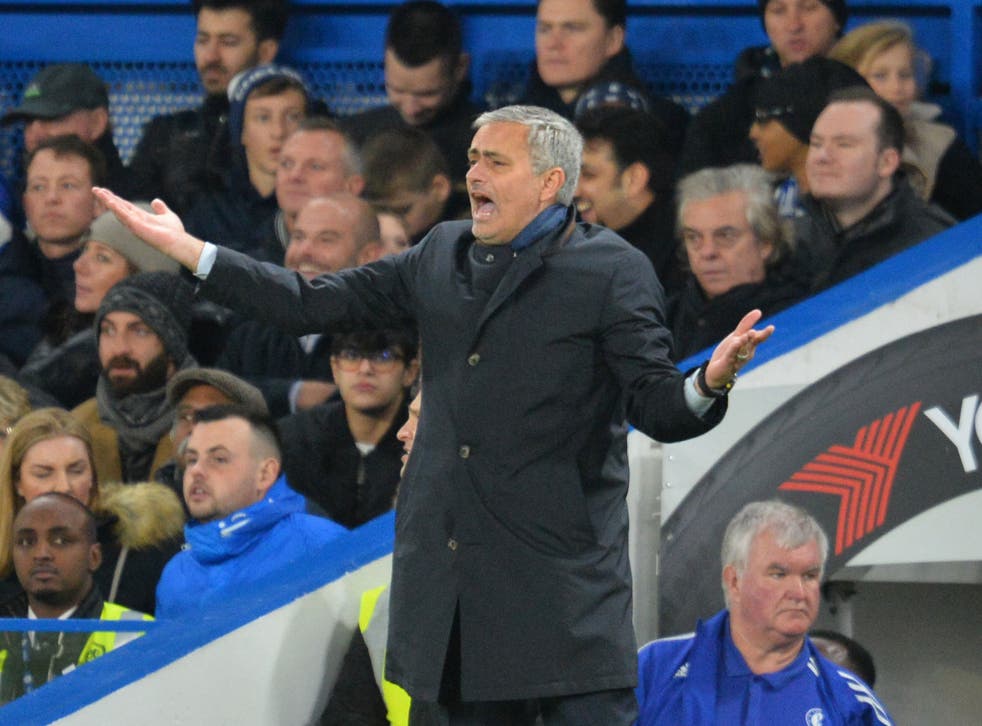 With every other approach exhausted, Jose Mourinho's final public words as Chelsea manager were simply to reveal his contempt for the players who cost him his job. Late on Monday night, after losing 2-1 at Leicester, he made clear how much those players owed him, and how little he was obliged to them.
"All last season I did phenomenal work," Mourinho said. "I think I did such an amazing job, I brought players to a level that is not their level and, if this is true, I brought them to such a level where this season they couldn't keep the super motivation to be leaders and champions."
Mourinho, seeking to explain what had happened, was taking the credit for the Premier League title Chelsea won just seven months ago. In that time they have fallen further and faster than any champion team in modern history. Rather than building a dynasty, they were ripped apart.
The story of Chelsea's collapse is one of the decay of the relationship between the manager and his players. That is why they are 16th in the Premier League table, having lost nine of their 16 league games so far this season. That is why Mourinho has gone.
The Portuguese sees it differently. He said on Monday that his players had "betrayed" his preparation work for the Leicester game by not following his instructions. Last week he brandished statistics which proved that Chelsea's problems were "everyone's responsibility", rather than a "one-man responsibility".
Of course, any player can lose form at any time. But when virtually a whole team goes off the boil together, the answer must lie elsewhere. Roman Abramovich and the board finally realised yesterday that Mourinho was the not the solution for Chelsea but the problem itself.
No player could be expected to perform at what Mourinho calls "acceptable levels" in an atmosphere as toxic as the one which has hung over Chelsea this season. This is a place where anyone can be perceived as an enemy, from referees, officials and rival managers to "rats" in the dressing room or even a club doctor. You are either with Mourinho or against him.
The ability to conjure up this tension is what can make him so successful. It is his great motivational weapon, part of what Mourinho calls "confrontational leadership", his means to "create some conflict, with the intention to bring out the best from them". Criticising players in public and private can, when well judged, get them to raise their game. When it does not work, it leaves only bitterness.
5 games that cost Mourinho his job
This season, as with his third and final campaign at Real Madrid in 2012-13, Mourinho lost his mastery of that tension and conflict. Instead, those forces have mastered him.
From the start of this season he tried to spark a reaction from his players, to make sure that they did not grow complacent after winning the title. Results were poor, so when the team flew to Porto in September for a Champions League game, he left three first-team players behind. Mourinho told the squad that they had an "unstable attitude in terms of motivation, desire and commitment". They may have been champions, but they were not "serial champions".
These public dressing-downs were accompanied by brutal private criticism and the pointed dropping of key players. All of the stars of last season have spent time on the bench, even Player of the Year Eden Hazard for a home game against Aston Villa.
Jose Mourinho's season in quotes

Show all 10
Yet shock treatment only works for so long before the patient becomes inured to it. All these provocative gestures were meant to spark Chelsea into life but they had the opposite effect. The players did not like what Mourinho was telling them – and it showed. Results got worse and every time the manager attacked his squad, the gap between him and them grew bigger.
The approach had clearly failed, so last month Mourinho tried to be more conciliatory. He was gentler with the players in private and reacted to defeats by Stoke and Bournemouth with something closer to graciousness. Results did briefly stabilise but the damage had been done. Chelsea never recovered the confidence required to play well.
So Mourinho leaves the club for the second time, having succeeded in bringing the Premier League title back to Stamford Bridge but having clearly failed in his pledge to build a dynasty.
It no longer needs to be said that Mourinho is a short-term manager whose effect wears off. His last two jobs, Chelsea and Real, were very similar: steady progress leading to a cup, the league title in the second season but then collapse, rancour and unpleasantness in the third year.
Mourinho's career can be divided between the time leading up to winning the treble with Internazionale in 2010 and everything that has followed. At Porto, Chelsea for the first time and Inter, he won six league titles and two Champions Leagues in eight seasons. From the five following seasons he has just two league titles and no Champions Leagues to show for all the damage he has done.
This is why it is fair to ask whether Mourinho is as effective as he used to be, whether those old confrontational methods are still the best way of getting consistent performances out of top players.
Mourinho's great triumphs were won with a generation of players in his image: hard-working, thick-skinned, team-oriented. Frank Lampard, Ricardo Carvalho, Esteban Cambiasso, John Terry, Walter Samuel, Didier Drogba, Diego Milito, Paulo Ferreira and more were all born between 1978 and 1980, and all willingly took on board everything Mourinho had to say.
The next generation of players, born closer to 1990, have been less receptive. Whether Cristiano Ronaldo, Mesut Özil and Angel Di Maria at Real, or Oscar, Eden Hazard and Nemanja Matic at Chelsea, the big names at Mourinho's last two clubs never took to him in the same way. They are good players, but want to be told they are. They want the team to win, but also like to express themselves on the way. Top-level footballers now have less appetite for being managed by Mourinho than they used to.
Other clubs will know this when they consider giving him a job. There is a brief burst of success, unity and trophies. But when that all dissipates, is it worth the cost?
Join our new commenting forum
Join thought-provoking conversations, follow other Independent readers and see their replies