Jose Mourinho is my 'daddy', says returning Chelsea midfielder Michael Essien
Ghana midfielder is back  n the fold at Chelsea  and claims his injury problems are behind him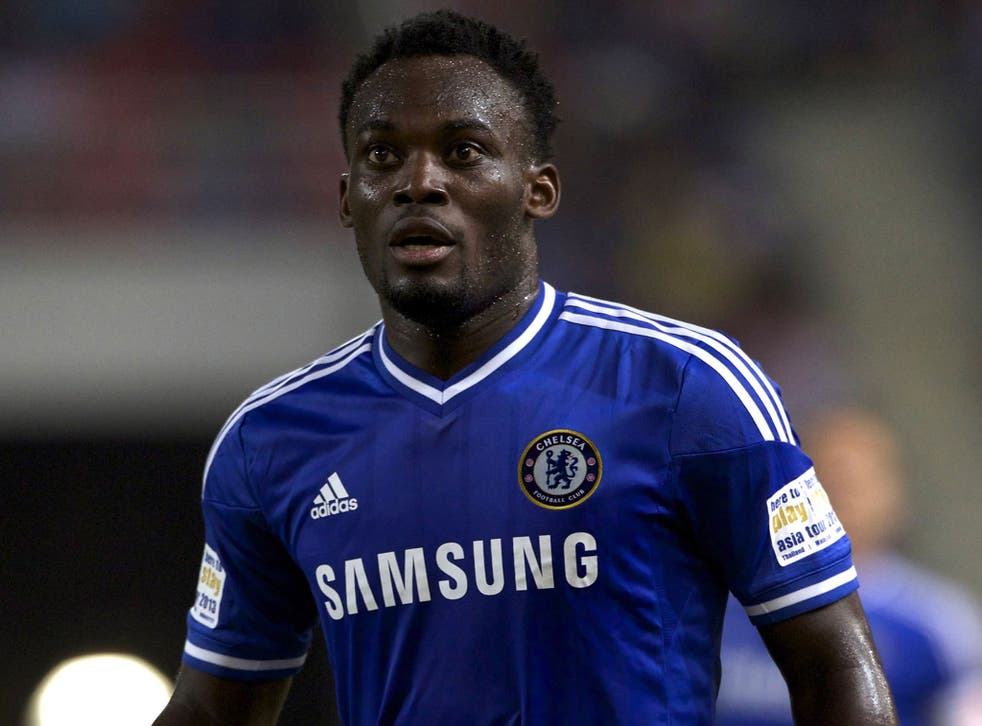 When he arrived in Kuala Lumpur yesterday, Jose Mourinho introduced Michael Essien to the local press as "my son" and the player himself responded by using that slightly disconcerting "Daddy" nickname he has for his manager.
There is no doubting the strength of the relationship between Mourinho and the player he signed after his first year at the club for a then club record £24m. Under Mourinho, and in the years subsequent to his departure in September 2007, Essien developed into one of the most effective midfielders in world football. He came to epitomise the relentlessness of the modern Chelsea and if he looked weaker in recent years it was because he had set the bar so high.
Frozen out last season by Roberto Di Matteo, the 30-year-old joined Mourinho on loan at Real Madrid in September. In a dressing room that became increasingly hostile towards Mourinho last season, Essien was one of the few who remained steadfast loyal. Injuries may have robbed him of the stupendous power and stamina he once had in midfield but Mourinho still loves the man he says can play "anywhere, apart from striker or goalkeeper".
Certainly there was no hiding the warmth that Mourinho has for Essien. The Chelsea manager said: "He's a great man, he is loyal to me, he is loyal to Chelsea, he was loyal to Madrid. He is a very good player and I see him with special motivation. He went to Madrid because he was in a difficult situation here. He recovered his happiness and condition and played very important matches there.
"We all know that he is not a 20-year-old boy anymore. We all know he went through a very difficult period with his injury but he's a fantastic player and the kind of player that we need in this profile of squad - a squad of many, many talented kids - to give us the right balance."
On Wednesday night, Essien played his first game for Chelsea since pre-season last summer. The last competitive game he played for the club was the final league match of the 2011-2012 season against Blackburn Rovers. He was an unused substitute in the Champions League final of that season, a pity for him given how crucial he had been over the years for Chelsea on previous European nights.
It was Essien's second cruciate ligament injury, in pre-season two years ago, that proved so debilitating. He was out of action until January and did not look the same player when he came back. But Mourinho sees a role for him as one of the two defensive midfielders, allowing the other to get forward, and potentially as cover at full-back.
Essien himself estimates he has had "eight or nine" operations on his knees but said that they are fine now. "My knees are not giving me any problems," he said. "I just have to keep myself fit and get ready to do a good job for the team. My style hasn't changed. I'm still the same.
"When you bump into me you can tell I am still as strong and keeping fit. When you have these injuries it's hard to get back but I go with the flow. I don't put pressure on myself or anything. I just listen to the doctors and once I'm fit and training I give everything."
The mention of a collision was a direct reference to the incident on Wednesday when Essien flattened the Brazilian striker Cleiton Silva in Chelsea's win in Bangkok. Mourinho went to the aid of the opposition player, helping him back to his feet with a reassuring pat on the back.
Essien said that his relationship with Mourinho remained strong. "We understand each other very well. He's the Special One. He knows how to talk to his players and get the best out of them and it's always easy to work with him if you understand him. I understand him. I know what he wants and I always deliver."
Join our new commenting forum
Join thought-provoking conversations, follow other Independent readers and see their replies