Manchester City 1 Liverpool 4: Jurgen Klopp keeps faith in Roberto Firmino and is repaid with signature display
Manchester City 1 Liverpool 4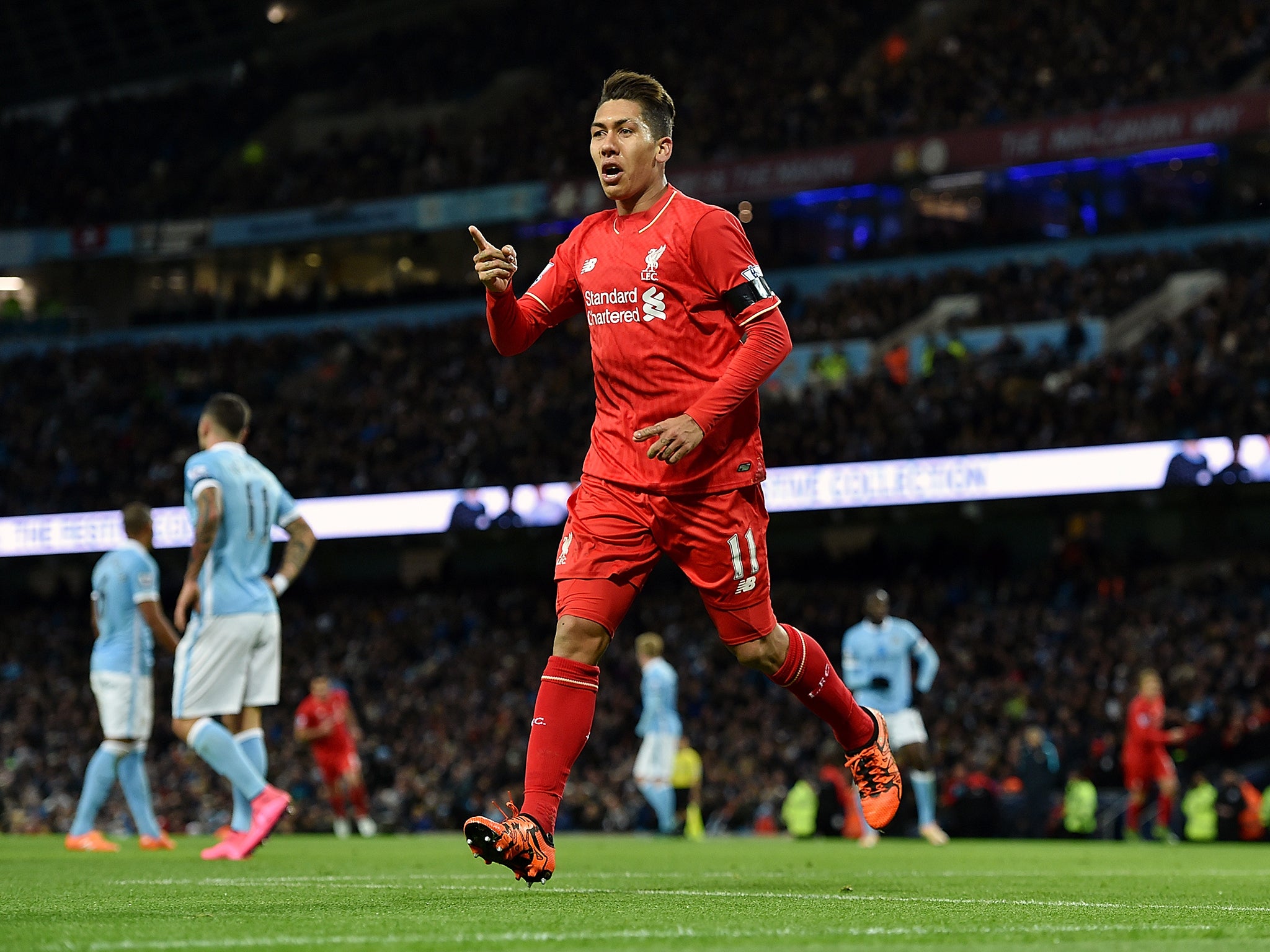 It turned out that Roberto Firmino was not such a difficult catch after all. Liverpool's new recruit has revealed after moving from Hoffenheim that, despite his new club's mission to the Copa America to tie up his signature, no one else had been vying for his services. The clamour that surrounded his arrival had certainly calmed considerably by the dog-days of Brendan Rodgers' reign. He'd started a mere four games before Jurgen Klopp arrived.
Last night he revealed the supreme merit of a new manager. That's to say: an uncomplicated capacity to look at a left back like Alberto Moreno and say: 'You know what? I'll play you at left back." And to consider the £29m Liverpool paid out for Firmino, whom he knows well from the Bundesliga, and say: You know what? I'll play you." Klopp's decision-making processes have been helped by the injury to Christian Benteke, a late substitute, with Daniel Sturridge still not worth risking. But Firmino had already revealed that Rodgers might have been missing something. Anfield rose in unison to acknowledge the player's man-of-the-match display in the League Cup win over Bournemouth a few weeks ago – Klopp's first victory at his new club.
It was the same energy and capacity to drive at a defence and distract – Klopp's kind of qualities – that was at the heart of Liverpool last night. Firmino does not possess the pace of an Aguero, nor the effortlessness of a Philippe Coutinho. Nor does he look like he has a bagful of goals-of-the-season in his box. There a trace of the Suarez in his desire to be on the ball, though, and to seize whatever advantage comes his way. Liverpool haven't known that since the Uruguayan left.
The opening goal demonstrated this. The Brazilian lurked to collect after a harrying Philippe Coutinho had robbed Bacary Sagna, crossed the ball with pace and saw Eliaquim Mangala divert it in. It was also a Firmino cross that Coutinho put in for Liverpool's second. The rewards for his substantial efforts materialised just beyond the half hour as he became the ultimate beneficiary of an Emre Can backheel – a dangerous weapon revealed twice in the course of this match – and stroked home his first Liverpool goal.
He might have scored two or three more before departing on 77 minutes, was always available for one-twos with the more naturally talented Coutinho and always running to create options. This was rich vindication for Liverpool, whose supporters howled at Raheem Sterling – the one who had forsaken them. Though it was hard to recall a moment when Sterling did not accomplish what might have been asked of him. "It's not important what you spend, it's only important who you are, what you want to do - what you want to do together," Klopp said before this game.
Manchester City vs Liverpool - player ratings
Show all 22
Well, Liverpool did spend on Firmino. It's only now that we are starting to understand why.
Join our commenting forum
Join thought-provoking conversations, follow other Independent readers and see their replies