Referee Lee Mason withdraws from Sheffield United vs Liverpool with injury after Brighton debacle
Mason will not play his role as fourth official for the fixture at Bramall Lane after sustaining an injury during West Brom's controversial win over Brighton
Miguel Delaney
,
Lawrence Ostlere
Sunday 28 February 2021 11:01 Comments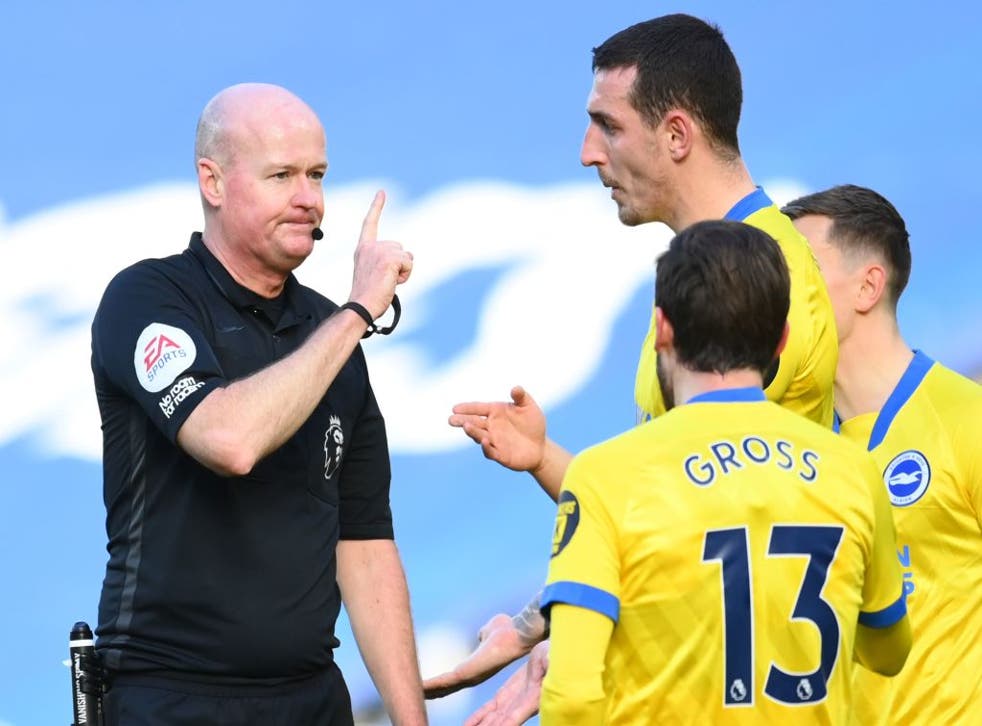 Lee Mason has withdrawn from duties on Liverpool's Premier League game with Sheffield United on Sunday evening citing an injury sustained during the controversial game between West Brom and Brighton at The Hawthorns on Saturday.
Referee Mason was due to be the fourth official at Bramall Lane, assisting referee Jonathan Moss, but he has now been replaced by John Brooks after picking up a muscle injury towards the end of the match.
At West Brom Mason appeared to confirm a Brighton free-kick could be taken quickly when he blew his whistle, and captain Lewis Dunk scored as goalkeeper Sam Johnstone was still arranging his wall. But Mason blew his whistle for a second time just before the ball crossed the line and, with the assistance of VAR, decided to rule out the goal.
West Brom went on to win the game 1-0, with Brighton missing two penalties, and afterwards an exasperated Dunk described the decision as "horrendous".
"It's embarrassing," Dunk told Sky Sports. "It's a horrendous decision, I said to the ref can I take it, he blew his whistle and I took it. Just because there was so much pressure from the bench. Why doesn't he come and speak to the press like me? Never, they hide behind their bubble.
"I don't think he knew what he was doing. He gave the goal, why did he give it? I don't know why VAR was getting involved, he said 'goal'... you can look on the video if you want."
Brighton manager Graham Potter added: "As far as I know Lewis Dunk asked take the free-kick quickly and the referee said yes. In between that there was another whistle. I don't know what that whistle was for. It would be nice for a bit more clarification. I don't know what the second whistle is for. I don't understand that.
"The confusion is on the pitch and it gets worse when someone outside this area is making the decisions. It is what it is. We've not helped ourselves with the two penalties so I cannot put it all down to that [disallowed goal]. We need to improve and get better at that [taking penalties]. We're never going to get two better chances. We have to stay calm."
Register for free to continue reading
Registration is a free and easy way to support our truly independent journalism
By registering, you will also enjoy limited access to Premium articles, exclusive newsletters, commenting, and virtual events with our leading journalists
Already have an account? sign in
Register for free to continue reading
Registration is a free and easy way to support our truly independent journalism
By registering, you will also enjoy limited access to Premium articles, exclusive newsletters, commenting, and virtual events with our leading journalists
Already have an account? sign in
Join our new commenting forum
Join thought-provoking conversations, follow other Independent readers and see their replies