Leicester will receive less Premier League prize money than Arsenal, Tottenham, Man United and Man City
'Traditional' big sides benefit from being on TV more often
Simon Rice
Tuesday 17 May 2016 10:56 Comments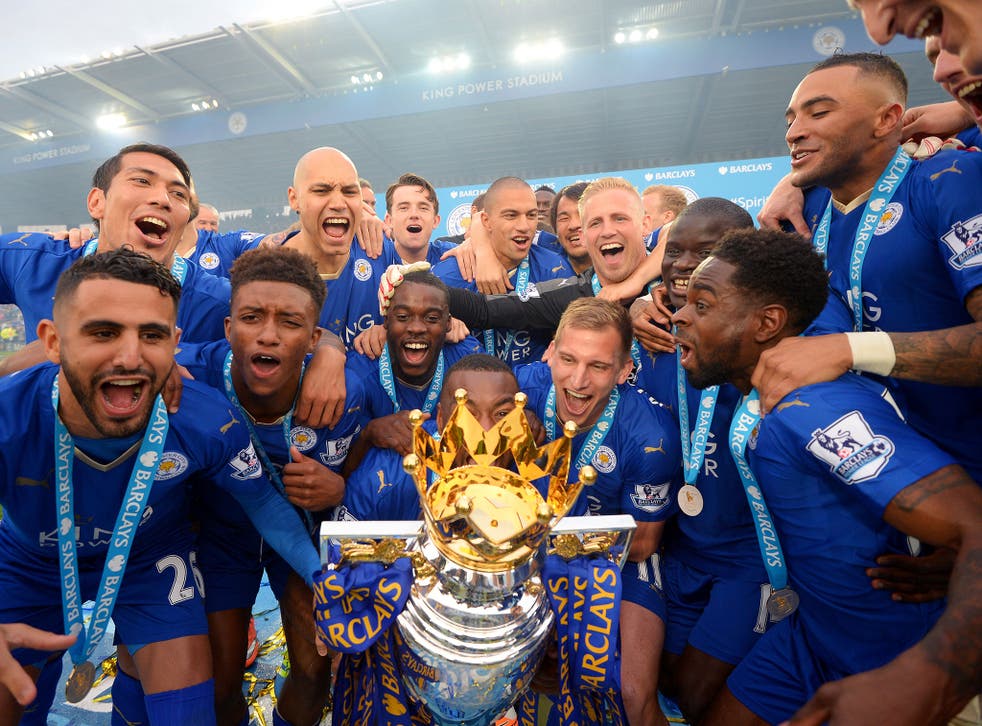 Leicester City will receive less prize money than four other Premier League sides, despite finishing the season 10 points clear at the top of the table as champions.
Arsenal, who leapfrogged rivals Tottenham to finish the season second in the league, are the highest earners thanks to being shown on TV more than any other side.
The Gunners will receive £101m from the TV deal this season while Claudio Ranieri's Leicester side will take £93.3m despite their stunning campaign producing arguably the most fascinating season in English football history.
Leicester City season player ratings: The history makers

Show all 12
Every Premier League side takes a flat £55m from the TV deal which is then boosted by merit payments for where they finish in the league plus money for every time they've been appeared on either BT Sport or Sky Sports.
Each league position is worth £1,236,083, meaning Leicester collected £25m for winning the title with Arsenal scooping £23.7m.
Every time a club is shown on TV they receive £750,000 plus a small additional revenue for being shown on Match of the Day. Leicester appeared on screen 15 times over the course of the season, providing them with £12.8m to take their total earnings to £93.3m.
Arsenal however were screened live a staggering 27 times to boost their income by £21.8m to take their total earnings to £101m.
In addition to Arsenal receiving more prize money than Leicester, Manchester City (£96.8m), Tottenham (£95m) and Manchester United (£96.3m) will also collect more.
Prize money league...
1. Arsenal - £101m
2. Manchester City - £96.8m
3. Manchester United - £96.3m (if they finish fifth by either drawing or beating Bournemouth on Tuesday)
4. Tottenham - £95m
5. Leicester - £93m
6. Liverpool - £90.4m
7. Chelsea - £87.1m
8. West Ham - £85.6m
9. Southampton - £84.5m
Leicester players celebrate winning the Premier League
10. Everton - £82.9m
11. Stoke City - £79m
12. Swansea City - £75.3m
13. Watford - £74.1m
14. West Brom - £73m
15. Newcastle United - £72.7m
16. Crystal Palace - £72.4m
17. Sunderland - £71.7m
18. Bournemouth - £70.4m (if they remain 16th by losing to Manchester United)
19. Norwich City - £66.7m
20. Aston Villa - £66.2m
Register for free to continue reading
Registration is a free and easy way to support our truly independent journalism
By registering, you will also enjoy limited access to Premium articles, exclusive newsletters, commenting, and virtual events with our leading journalists
Already have an account? sign in
Register for free to continue reading
Registration is a free and easy way to support our truly independent journalism
By registering, you will also enjoy limited access to Premium articles, exclusive newsletters, commenting, and virtual events with our leading journalists
Already have an account? sign in
Join our new commenting forum
Join thought-provoking conversations, follow other Independent readers and see their replies