Man City's supporting cast show the aims have changed as win over Leicester edges them toward title
Leicester 0-2 Man City: Mendy and Jesus net second-half strikes to send City 17 points clear at the top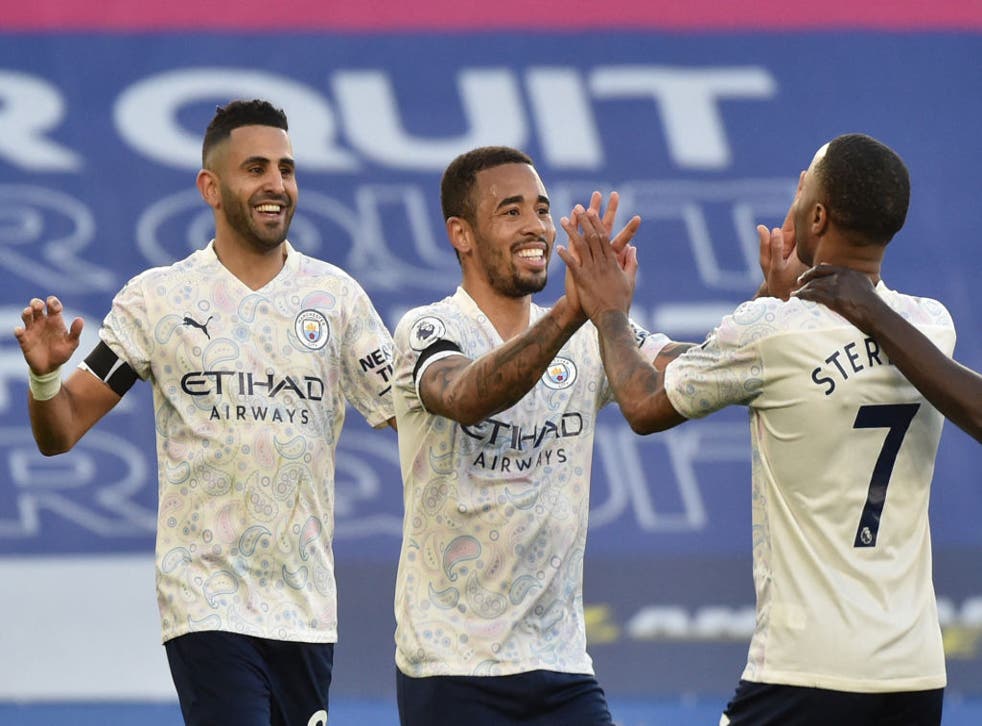 Erling Braut Haaland may occupy plenty of thoughts at Manchester City but at Leicester it was not because they were contemplating their summer transfer business. While Sergio Aguero began his long goodbye with the sort of rusty display to indicate why his contract is not being renewed, his presence on the pitch was a sign that their aims have changed.
It is a sign of City's superiority in the Premier League that they could beat the third-placed team without a host of regulars, rested to prepare for Haaland and Borussia Dortmund on Tuesday. The Premier League is all but won – officially, 11 points are needed, though fewer should suffice – but the Champions League again becomes the major objective.
City's run of 26 wins in 27 games has been notable for their ability to rotate between an enviably strong group, but Benjamin Mendy has rarely been required for the stiffer tests. City's third-choice left-back struck along with Gabriel Jesus, the perennial deputy: understudy to first Aguero, now a group of false nines and perhaps, in the future, Haaland.
Leicester can still savour the memories of September's 5-2 evisceration at the Etihad, the first time a Pep Guardiola team had ever conceded five, but this time City did not concede three penalties. Brendan Rodgers reprised some of that gameplan, but without the same end product and the visitors' victory was secured without John Stones, Joao Cancelo, Ilkay Gundogan or Bernardo Silva taking the field.
None was needed when Ruben Dias was this obdurate – a defender who signed for City after the 5-2 made a terrific intervention to turn Youri Tielemans' volley wide – and Kevin de Bruyne so purposeful and creative. He helped set up the second goal with a wonderfully incisive pass before a Guardiola-pleasing piece of unselfish play from Raheem Sterling, who passed when he could have shot, and a simple finish for Jesus.
Read more:
The opener stemmed from pressure. While Kasper Schmeichel saved from Riyad Mahrez, Leicester did not clear and Mendy used his less-favoured right foot to score just his second goal for City.
A game of two disallowed goals began with a microcosm of Aguero's season. Nothing has gone right and the guarantee of goals cost City one. Fernandinho thought he had drilled them ahead but Aguero was offside and Schmeichel's line of sight. Thereafter, Aguero ballooned a volley over the bar, connected better with a second that deflected wide off Timothy Castagne and made way for Sterling, who offered more incision to set up the second.
Before then, De Bruyne hit the bar with a whipped free kick, one of a series of fine shots from distance. Leicester's inability to contain him was summed up when Daniel Amartey took a swipe at the Belgian, somehow escaping punishment.
READ MORE:
The scoreline represented a sanction in itself, much as Leicester punished City's errors at the Etihad, scoring five goals with only 28 percent of possession. They camped in again, eschewing possession in an exercise in organisation and concentration. There were hints of counter-attacking menace, without the same end product
Jamie Vardy is the only man with twin hat-tricks against Guardiola's sides and started to celebrate what he thought was his fourth goal of the season against City.
He had latched on to Ayoze Perez's pass and darted past Ederson to slide a shot into the unguarded net, but he was offside. Yet he now only has one goal in 17 games and while James Maddison made a difference in a bright cameo, Rodgers may regret not starting with him.
For Guardiola, it was a cathartic win; after a 4-2 defeat at the King Power in 2016, he infamously declared he was not "a coach for the tackles." But his supporting cast tackled this task well. Glory beckons in England; maybe their fresher legs will help them achieve it in Europe as well.
Join our new commenting forum
Join thought-provoking conversations, follow other Independent readers and see their replies