Leighton Baines says current Everton side is 'as good as I have played in'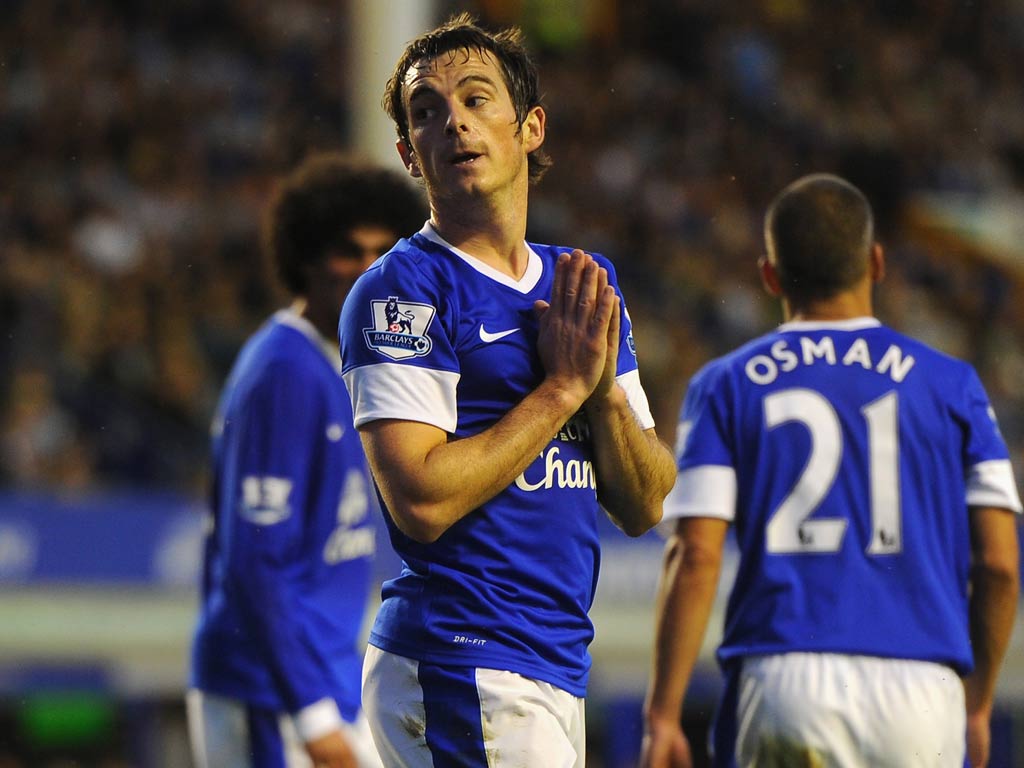 Leighton Baines believes the current Everton side is the best he has played in.
The England left-back has played a part in the Goodison Park club's excellent start to the Barclays Premier League campaign, which continued with a superb performance in the 3-0 win at Swansea.
Goals from Victor Anichebe, Kevin Mirallas and Marouane Fellaini gave David Moyes' men the spoils and increased hopes among the Toffees' faithful that they may be capable of challenging for Champions League qualification.
Baines is in his sixth season with Everton, having joined from Wigan in 2007, and has seen the club go through some difficult times on and off the field.
But Moyes now has a squad with a depth perhaps lacking in recent seasons; their victory in south Wales came without the injured Nikica Jelavic, Darron Gibson and Tony Hibbert, while Steven Naismith and Sylvain Distin had to settle for places on the bench.
Baines said: "I think this is as good an Everton side as I have played in. The last time we were at this level was when we went on to reach the FA Cup final (in 2009).
"We had a really strong squad then. Then it got broken up after that and I think it is only now that we are back to that level.
"We are a good team with good players sitting on the bench. That is going to be key as the season goes on.
"We have seen it when things have got a bit thin in terms of numbers and we have been forced to play young lads. Now we can call on experienced and seasoned professionals who would be playing in most teams. Victor's performance highlights that."
But the full-back insists the players and management at the Merseyside club are keeping their feet firmly on the ground, although he acknowledges bucking their reputation as slow starters has given Everton a chance of challenging near the top of the table come May.
"We have to take each game as it comes, so to speak, and see where we end up," he said.
"Our aim and target was to get a decent start and I think we have just about done that now. It is about taking that up to Christmas and staying at the top end of the table because over the years we have always done well after Christmas.
"It's not a given but we have given ourselves a decent chance."
The dominant manner of Everton's win took the wind out of Swansea's sails after an encouraging start to life under Michael Laudrup.
They racked up eight goals in their wins against QPR and West Ham, but they have conceded five and scored none in losses to Aston Villa and the Toffees.
Laudrup said: "You always have to be concerned when you concede goals or you don't score. It's a combination.
"The most important thing we can learn from this game, and what we have to talk about, is why we had to wait 30 minutes to come into the game, which we knew would be very difficult.
"That should be the main concern for us all from this game."
Another worry for Laudrup will be the knee injury picked up by record signing Pablo Hernandez, who was withdrawn after just 45 minutes of his first Premier League start.
The Spaniard is expected to undergo a scan early in the coming week.
PA
Join our commenting forum
Join thought-provoking conversations, follow other Independent readers and see their replies