Premier League ticket prices: Listen up, Liverpool - Stoke City show how to respect supporters
In the week of the Anfield £77 ticket scandal, Ian Herbert brings you the more heart-warming tale of a club who offer free replica shirts, reduced ticket prices for kids and pay for fans to attend away games
Ian Herbert
Saturday 13 February 2016 01:18 Comments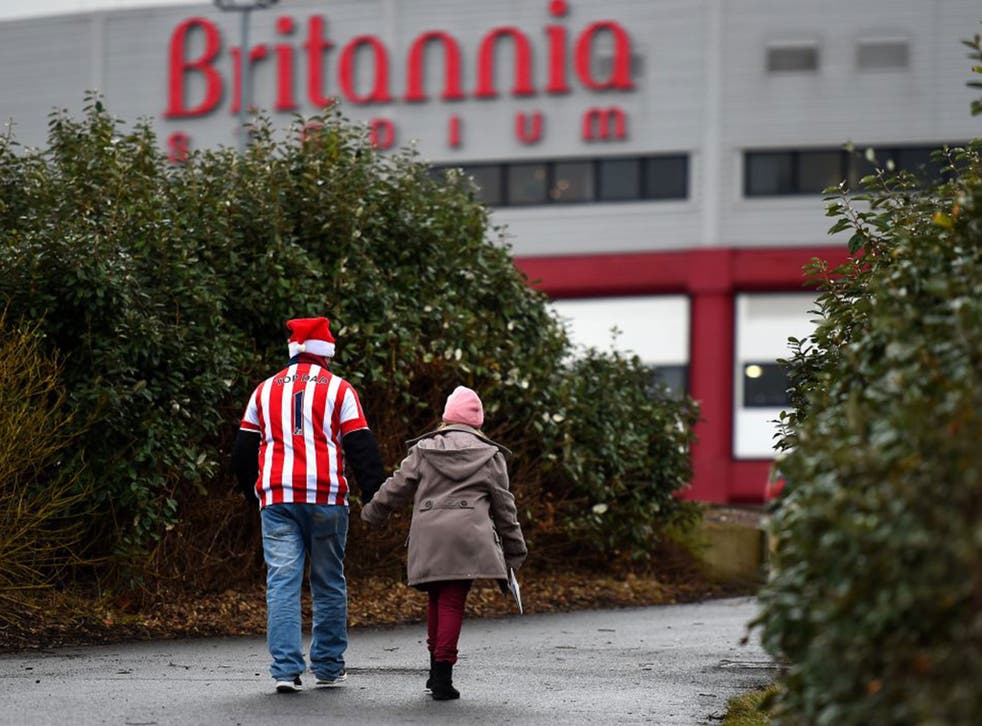 That Stoke City supporters should so often cite the story of Rory Delap's broken leg as an example of what makes them proud of their club demonstrates it is more than affordable football which a fanbase wants.
Delap had been promised his loan deal from Sunderland to the Potteries would be made permanent when, on a Tuesday night in October 2006, he suffered a fracture in two places, 12 minutes into a game against that side. Stoke owner Peter Coates saw to it that he and the club chief executive, Tony Scholes, went into the hospital the next day and put a contract before him to sign.
"It told us it was a club we wanted to support. What must that have meant for his family," reflects Martin Smith, editor of the club's fanzine, The Oatcake. It is a story which reveals how very far removed Stoke are from Liverpool, whose locally-born full-back Jon Flanagan – the life and soul of his home-town club – recently lived through the anxiety and ignominy of being put on a month-to-month contract when it was unclear how his very serious knee injury might respond to surgery. "It was the equivalent to him being asked to come in and sign on," says one source on Merseyside.
The contrasts between Stoke and Liverpool revealed themselves again this week, amid the public relations car crash provoked by the latter's now notorious attempt to introduce £77 tickets for next season. Though Stoke are actually very reluctant to talk about their own ticket pricing regime – lest they be perceived as "lording it" over Premier League clubs as one executive put it on Thursday – they put most of the rest to shame. Stoke have held their early purchase season-ticket prices at the same level since winning promotion to the top flight in 2008, the cheapest at £18.11 per match. In 2013, they also became the first club to offer free coach travel to all their Premier League away games – a commitment they have kept to ever since. When you purchase a ticket for an away game, you collect a coach ticket to go with it.
Just as remarkable as the relationship which has been nurtured between supporters and club is the fact that Coates is widely credited as being the one who did most to engender it. In his first spell as owner, he became one of the most reviled individuals among fans, when he presided over the fruitless struggle to bring an end to 23 seasons out of the top flight, seven of them in the third tier. No moment seemed to epitomise the hopelessness of that tenure more, says Smith, than the sale of Paul Peschisolido to Birmingham City on deadline day in March 1996. The club were building a run to the play-offs at the time – ultimately losing out to Leicester City who enjoyed a golden era while Stoke still suffered.
But since the development of his family Bet365 business gave him the resources to buy the club back in 2005, Coates has – by every available testimony – demonstrated the benefits of a proprietor steeped in the area, with a lifelong affinity for the club. "He told us that we had to stop fighting the battles of the past," says Smith, who was present in the Britannia Stadium boardroom on the morning Coates called together supporters groups, having resumed control. "He told us he had made mistakes but this was a new team and a new club."
It has certainly not all been wine and roses, as a relationship between fans and clubs always creates pressure points. There was resistance by fans to Coates' wish to bring back Tony Pulis, sacked by the Icelandic owners to whom he'd sold out first time. Smith is not the only supporter who remembers the excruciating 17-match run of games in Pulis' first spell when Stoke failed to register any more than one goal per game.
Stoke's revival under Pulis perhaps demonstrates that fans do not always know best – even when they think they do. But the establishment of an elected supporters' council – one representative from every area of the Britannia Stadium and every individual supporters' group is entitled to attend – has re-established trust in a place where things seemed unfixable. When Coates first stepped down, he said privately that he feared he would go to his grave being hated by fans.
Scholes, a Lancastrian, attends every meeting of the council, a model which the Premier League's supporter services operation has recently examined as a model to share. And though he can evidently be uncompromising when he needs to be, there is a sense that the supporters' views carry weight and are respected.
That flows from Coates, says Angela Smith, chairman of the council and a former British squash champion. "He knows first-hand that this is a working-class area, where people work hard and expect to get something for their money. With respect, the owners of a Liverpool or Manchester United are one step removed from that reality. There's a fine line between treating fans as people and as customers who can be replaced by other customers."
There have also been moments when the club made the supporters' business their own business. Martin Smith cites "the Old Trafford episode", notorious among Stoke fans: the heavy-handed and unlawful removal of 80 of the club's supporters who were rounded up at a pub by Greater Manchester Police in 2009 and bussed back to the Potteries, missing the game. The club funded the supporters' successful legal bid for compensation.
But it has been the rebuilding of the support base which has been the priority. Scholes said this week that a decade ago the club were "acutely aware that our support was ageing and numbers were dwindling." Initiatives making it easier for local young people to attend games – £2-a-game season tickets for under 11s and £8.90 for under 17s; free tickets and a replica shirt when children turn seven – has revived the age profile of the Britannia Stadium. Scholes says 25 per cent of crowds at the Britannia Stadium are now under the age of 21.
"The effect on us of the support when we travelled away was incredible," says Danny Higginbotham, a key member of that team that consolidated Premier League status under Pulis. It was a game at West Bromwich in April 2009 which has always lived with him most vividly. "The noise. Incredible. They packed out the away end," Higginbotham recalls. "Peter Coates was at the core of all that. I probably only spoke to him four times in the seven or eight years I was at Stoke but that was because he left the manager to manage. He loved and lived the club through and through."
When they arrived at Anfield in 2010, Liverpool's owners, Fenway Sports Group (FSG), seemed to have the same awareness that they were based in a working-class neighbourhood where money was tight. Principal owner John W Henry made that very observation on his first meeting with national journalists. But when it came to debating the fine detail of ticketing with those who buy the tickets, fans became customers. FSG declined to meet the ticket working group which is comprised of three of the club's supporters groups. This, despite the group sending them detailed proposals in response to the first drafts of theirs which were subsequently published. The influential Anfield Wrap podcast invited FSG and Liverpool to debate the issues this week but they declined.
It is a culture alien to Delap. He didn't play for a year after he broke his leg that autumn night, though his emergence as such an intrinsic part of the side which strengthened its grip on the Premier League seemed like a payback for loyalty.
"I would have understood perfectly if they had said, 'OK, go back to Sunderland and work on your fitness, and we'll see what happens after that,'" is Delap's reflection. "Instead, they said: 'We've given you our word, and we are going to keep it'. What a lift that gave me."
Register for free to continue reading
Registration is a free and easy way to support our truly independent journalism
By registering, you will also enjoy limited access to Premium articles, exclusive newsletters, commenting, and virtual events with our leading journalists
Already have an account? sign in
Join our new commenting forum
Join thought-provoking conversations, follow other Independent readers and see their replies