Liverpool manager Jurgen Klopp passionately defends 'proper captain' Jordan Henderson
Henderson came in for criticism following a below-par performance against Sevilla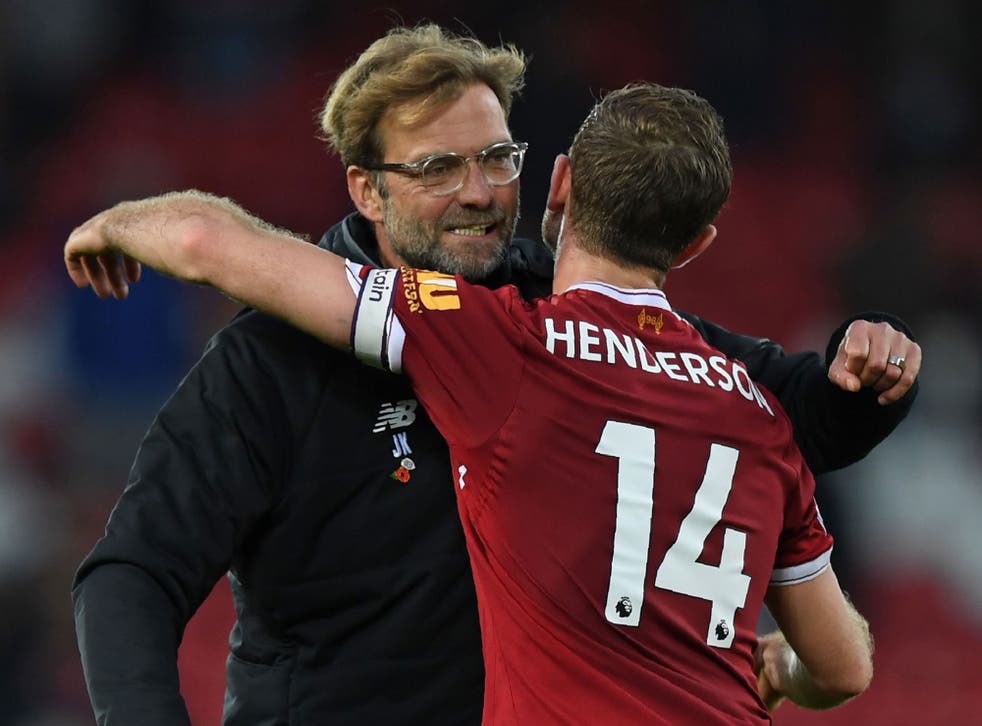 Jürgen Klopp launched a robust defence of Jordan Henderson on Friday following recent criticism of the Liverpool captain and questions over whether he can play as a defensive midfielder.
Henderson has been deployed at the base of a three-man midfield by Klopp since the start of last season, despite establishing himself at Anfield in a box-to-box role.
The 27-year-old's suitability as a 'No 6' has been called into question in the past but particularly so on Tuesday night, after Liverpool collapsed to a 3-3 Champions League draw with Sevilla having led 3-0 at half time.
Sevilla vs Liverpool: Player ratings

Show all 12
Liverpool comprehensively lost the midfield battle in the second half at the Ramon Sanchez Pizjuan and Henderson, who replaced Steven Gerrard as Liverpool captain in 2015, was singled out for criticism after a below-par display.
Klopp, however, insists that Liverpool's failure in Andalusia was a collective one and suggested that those targeting Henderson were creating a problem out of nothing
"First of all what I would really prefer is that we do not always talk about 'what people are saying'. If you always big up what people are saying on social media then we talk about it as if it is the truth," the Liverpool manager said.

"Even if they are pundits it doesn't mean it makes sense, it is only like creating a story. I heard a lot of things about what people said about this or that. We have to accept it at times but we should not suffer all the time.
"Of course Jordan can play the No 6. He played it for England, he played it for us. In this game, I would love to see one of the big pundits being on the pitch and in a game like this be the person who changed the whole game. That really is f****** legend. It really never happens.
"Could he change the game on the pitch? No. Was he too deep in a few positions? Yes. Does that make me think he cannot play the No 6? No, of course not. Can he improve? Yes. But did he improve already a lot? Wow, 100 per cent."
Since taking over as captain of Liverpool, Henderson has been regularly compared to his predecessor Gerrard, who led the club to Champions League, FA Cup and League Cup titles after taking on the mantle in 2003.
Klopp accepts that comparisons between the two will be made but believes that since his appointment a few months after Henderson first received the full-time armband, the midfielder has grown into the role.
"He is a proper captain," Klopp insisted. "Meanwhile, he wasn't when I came in but only because he didn't know how to do it because nobody had to think about how to be captain at Liverpool because they had one for 20 years [Gerrard].
"From the first moment, whatever he [Henderson] is doing it is not good enough because even when he is good he is still not as good as the other one was. I have no problem with that. We can all improve but it is not about the position 6 or whatever. We had to do much better in all positions.
"We spoke about a lot of things but not about the role of Jordan Henderson in this specific formation because it was not an issue. He was not better than the others unfortunately, but he was not worse.
Klopp added: "How you can say he needs to be better because he has the captaincy I will never get this kind of talk. I don't understand that."
Join our new commenting forum
Join thought-provoking conversations, follow other Independent readers and see their replies