Georginio Wijnaldum believes Liverpool must improve ruthlessness to close gap on Manchester City
The Reds' defence nearly threw away the three points as Liverpool lost control of the game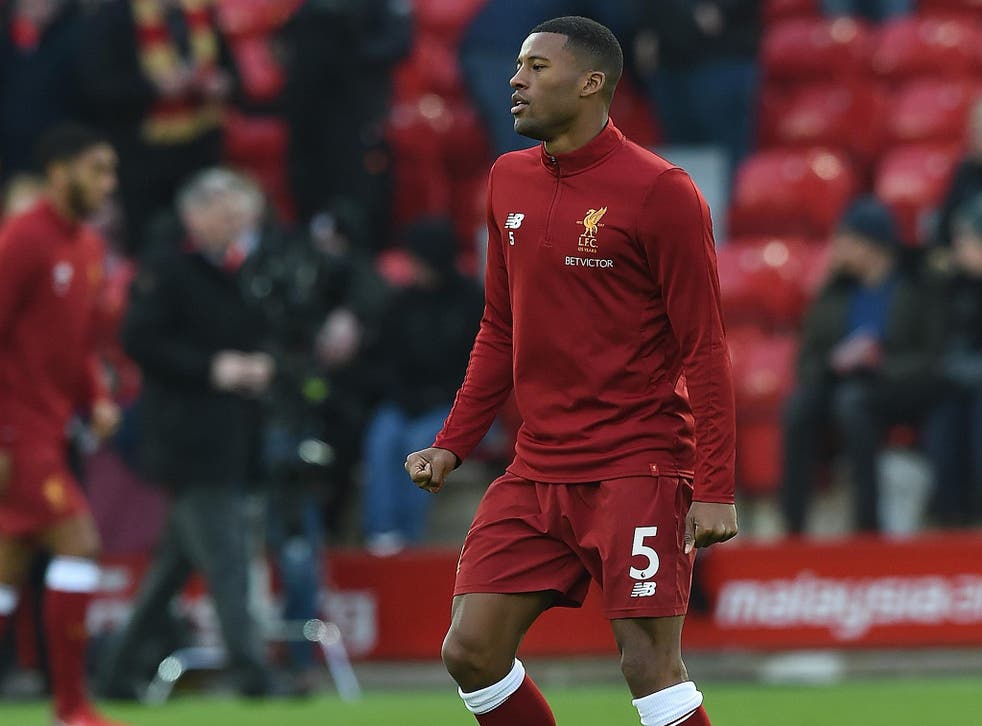 In the glow of victory there was a moment of clarity: a reminder of what Liverpool must do if they are to really rival Manchester City for titles in seasons to come.
It had been suggested to Georginio Wijnaldum, Liverpool's midfielder, that the fifteen point gap between the sides isn't necessarily a reflection of standards. He paused for a moment. And then he delivered his response.
"That's the reality and you have to accept it," he said. "They did it much better in some games. There were some games difficult for them but they still scored and killed the game. That is something we didn't do. Even today we still give them a chance to come back. That is the biggest thing we have to change if we want to compete with teams like City."
Liverpool vs Manchester City player ratings

Show all 23
Liverpool were celebrating a fabulous result. City's winless run at Anfield now stretches across sixteen years. On their day, Liverpool can probably beat any opponent in Europe because of their attacking threat and their ability to score lots of goals in short bursts. Yet their zaniness in defence, the uncertainty around their goalkeeper, can mean 4-1 leads suddenly become 4-3. At the end against City, Liverpool were hanging on. This could have been another Sevilla. Imagine the reaction if Sergio Agüero had stayed onside from Kevin De Bruyne's free-kick and planted a header past Loris Karius, whose performance at best should be described as uncertain.
"I don't want to say the difference is not big because they show it every game, and even in the games they did not play very well they won," Wijnaldum continued. "So that is the step we have to make to compete for the title. The first game against Watford we play well and conceded at the end of the game.
"Burnley at home we created chances and did not score often. At home, we have had games we did not score – you have around six points there already. We gave a lot of points away that we could have collected."
Liverpool have now lost only four times in 45 games. Wijnaldum was asked what this says about the levels of consistency required: have there have been too many draws? "In my opinion that is the difference," he replied.
Wijnaldum would later post a picture on Instagram of himself relaxing in a swimming pool following an afternoon where he had chased, chased and chased. Pep Guardiola had hinted that Liverpool's midfield hustled his own, particularly at the right times: when players were facing their own goal, meaning Liverpool had momentum in the right direction when they retrieved possession. Surely Liverpool's approach should encourage other teams to have a go rather than sit back and hope for the best.
Wijnaldum, though, warned about his own experience. De Bruyne's presence mean City can go long and spring a counter attack quickly because of his drive and passing range. David Silva or as it was here, İlkay Gündoğan's presence, mean City can keep the ball short and be patient if they want to.
"City are such a good team they can play a lot of systems in one game, so it is difficult to say you have to play like this against them," Wijnaldum added. "Every game is different. You might have teams who drop deep and counter-attack who also win. City can switch very quick in the game. What we did today was just play our own game. We analysed them and did our game plan.
"After the three [goals] in ten minutes we were still chasing them and trying to create chances but that is difficult for the whole game. It needs a lot of energy and you will get tired. We switched off for a few moments at the end. They are a good team."
Join our new commenting forum
Join thought-provoking conversations, follow other Independent readers and see their replies