Liverpool had more than Sadio Mane's sending-off to be worried about in heavy Manchester City defeat
The response to Mané's dismissal and second-half collapse was both disappointing and surprising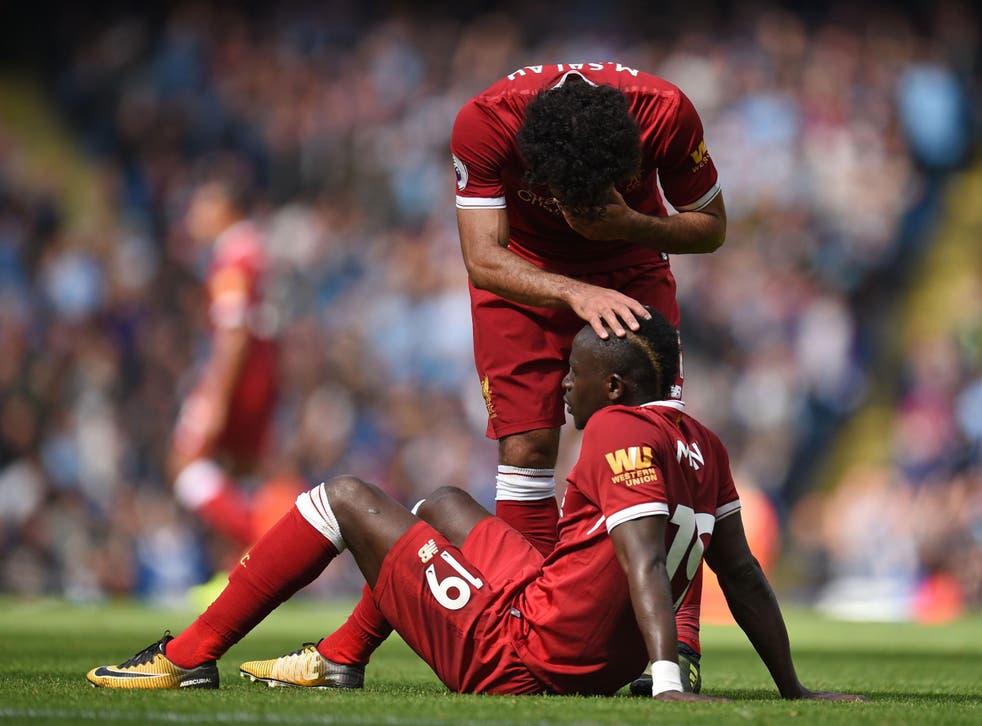 Saido Mané's sending-off may have dominated the post-match narrative following Liverpool's 5-0 defeat at Manchester City, but the all-round display that followed it will have been far more concerning for Jürgen Klopp.
It is common for heads to drop after a losing side goes down a man and then falls yet further behind on the scoresheet, as Liverpool did in an extended period of stoppage time at the end of the first half, but the extent to which their performance deteriorated was of the like not seen before under Klopp.
Before Mané's dismissal on Saturday, Klopp's Liverpool had received just two red cards throughout his tenure: one for James Milner while trailing 1-0 at Crystal Palace before coming back to win in March 2016 and one two months later for Brad Smith as a second-string side was defeated by Swansea City.

It is therefore fair to say then that once depleted at the Etihad, this group of players under this manager found themselves in an unfamiliar position. They needed a significant turnaround against a strong opponent that could boast one player more than them. They also needed an improvement on an opening 45 minutes in which they had struggled to find the verve and flair present in their excoriation of Arsenal.
Instead, Liverpool began to look resigned to their fate, aware that they could no longer press and harry their opponents with one less player on the pitch. Klopp's side struggled with the alien 3-5-1 system and the withdrawal of Mohamed Salah, presumably with Wednesday's night visit of Sevilla in mind, left them without a counter-attacking outlet. Once City began to expose them time and again, there was a sense that the white flag had been raised. More could certainly have been done to prevent Leroy Sané's second.
This submission, that saw Liverpool fail to register a single shot after the interval, can perhaps be explained by a collective sense of injustice following the pivotal sending-off. Up until the decision from referee Jon Moss, this was a scrappy, bitty game. The orchestra met the heavy metal band but it was all a bit 'Megadeath do the Proms': messy, chaotic and only bringing out the worst of both worlds. The Mané red card only provoked further sound and fury but the more the incident is reviewed, the less controversial a call it seems.
Those defending Mané can argue that a more lenient referee would have shown yellow rather than red, but that official would not have been following the letter of the law. Once his challenge had endangered Ederson's safety, the Senegalese was guilty of serious foul play - one of seven offences that, according to the laws of the game, should result in a red card. It was a fair decision and even if Liverpool's players felt aggrieved, they should have sought to set things right, not resign themselves to defeat.
The one true mitigating factor was City's quality, with Pep Guardiola's side finally 'clicking' once they found the lead. Granted, they were only truly dominant once up against 10 men playing well below their usual level, but the ruthlessness the hosts showed was impressive.
For Liverpool, the positive in all of this is that such a poor response is unlikely to be repeated. This team's collapse was so surprising because under Klopp, such collapses have been rare. With Champions League football returning to Anfield this week, it is his task to ensure that his players forget this heavy scoreline while learning from the mistakes which brought it about.
Register for free to continue reading
Registration is a free and easy way to support our truly independent journalism
By registering, you will also enjoy limited access to Premium articles, exclusive newsletters, commenting, and virtual events with our leading journalists
Already have an account? sign in
Register for free to continue reading
Registration is a free and easy way to support our truly independent journalism
By registering, you will also enjoy limited access to Premium articles, exclusive newsletters, commenting, and virtual events with our leading journalists
Already have an account? sign in
Join our new commenting forum
Join thought-provoking conversations, follow other Independent readers and see their replies