Liverpool's £20m buying cap revealed in club report
Benitez must work with limited transfer and wages budget for next five years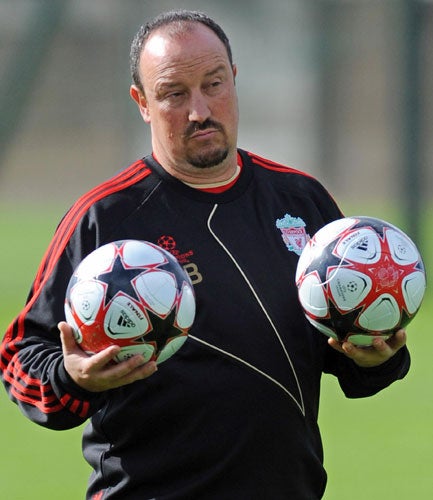 Rafael Benitez's struggle to keep pace with the Premier League elite is revealed in documents which suggest Liverpool's net summer spending will be locked at £20m until 2014 – a figure which will also include wage increases accruing from contract renewals. The figures, which suggest the manager must continue to sell before he can buy, are contained in a prospectus published in March by investment banks Rothschild and Merrill Lynch to attract potential investors in the club.
The prospectus, which provides a sense of how desperately Liverpool's owners Tom Hicks and George Gillett need new finance, reveal the Americans were considering increasing the average ticket price by eight per cent to help ease the club's debt problems. They were also seeking to raise £100m from investors and loans as pressure built to refinance a debt of £290m.
Gillett and Hicks paid £50m four months later, in July, to get a year's extension to the debt facility they have used to purchase and run the club since their takeover in February 2007. This season they have secured a new £20m-a-year sponsorship deal with Standard Chartered Bank, a major improvement on the previous £14.6m Carlsberg deal and hope to retain a role for Carlsberg, commercial director Ian Ayre revealed yesterday.
Yet the underlying lack of finance for Benitez remains a problem. It might not be as dire a position for the club as suggested by the banner unveiled by Liverpool fans before the Carling Cup tie with Leeds at Elland Road on Tuesday – "We are the new Leeds," it read – but Benitez is clearly limited in his options in the transfer market. The section of the Rothschild/Merrill Lynch document relating to "player transfer payments" states: "Management believes that the normalised long-run level of new net player capital expenditure is £20m." The accompanying data suggests "long run" means the next five years. This figure "will grow together with increases in media broadcasting revenues," the bankers promise. Though revenues from British broadcasters are expected to drop, overseas rights should grow before 2014.
This summer the £30m sale of Xabi Alonso to Real Madrid helped offset the outlay on Glen Johnson and Alberto Aquilani. The need to generate cash to finance future purchases next summer may make it more difficult to resist selling Javier Mascherano. Meanwhile, the Liverpool managing director, Christian Purslow, indicated, in a recent meeting with the Spirit of Shankly supporters' organisation, the minutes of which are published on its website, that money spent on improved contracts for players is considered part of the transfer budget.
Hicks and Gillett eventually decided against an increase in ticket price, which would have come as the majority of the 20 Premier League clubs decided to freeze or reduce prices of some tickets for this season. But other details of Hicks and Gillett's future commercial strategy for Liverpool, outlined in the document obtained by Bloomberg News, include plans to convert 1,000 regular seats at Anfield into corporate seats and the creation of Liverpool-branded academies. New secondary sponsors will be targeted and catering facilities improved to help realise ambitions to increase commercial revenue from £59m to £111.4m in the next five years – a lofty target.
The Football Association has decided it will not charge Mascherano with violent conduct over the incident in which he appeared to swing a forearm at Leeds' Jermaine Beckford during Liverpool's 1-0 victory at Elland Road.
20
The amount in millions Liverpool will get each year from new sponsors Standard Chartered.
Join our commenting forum
Join thought-provoking conversations, follow other Independent readers and see their replies