Liverpool vs Manchester United: Dietmar Hamann 'wouldn't start' Steven Gerrard or Daniel Sturridge due to fitness fears
Hamann believes the side's recent form plus Gerrard and Sturridge's recent injury troubles means Raheem Sterling should start in attack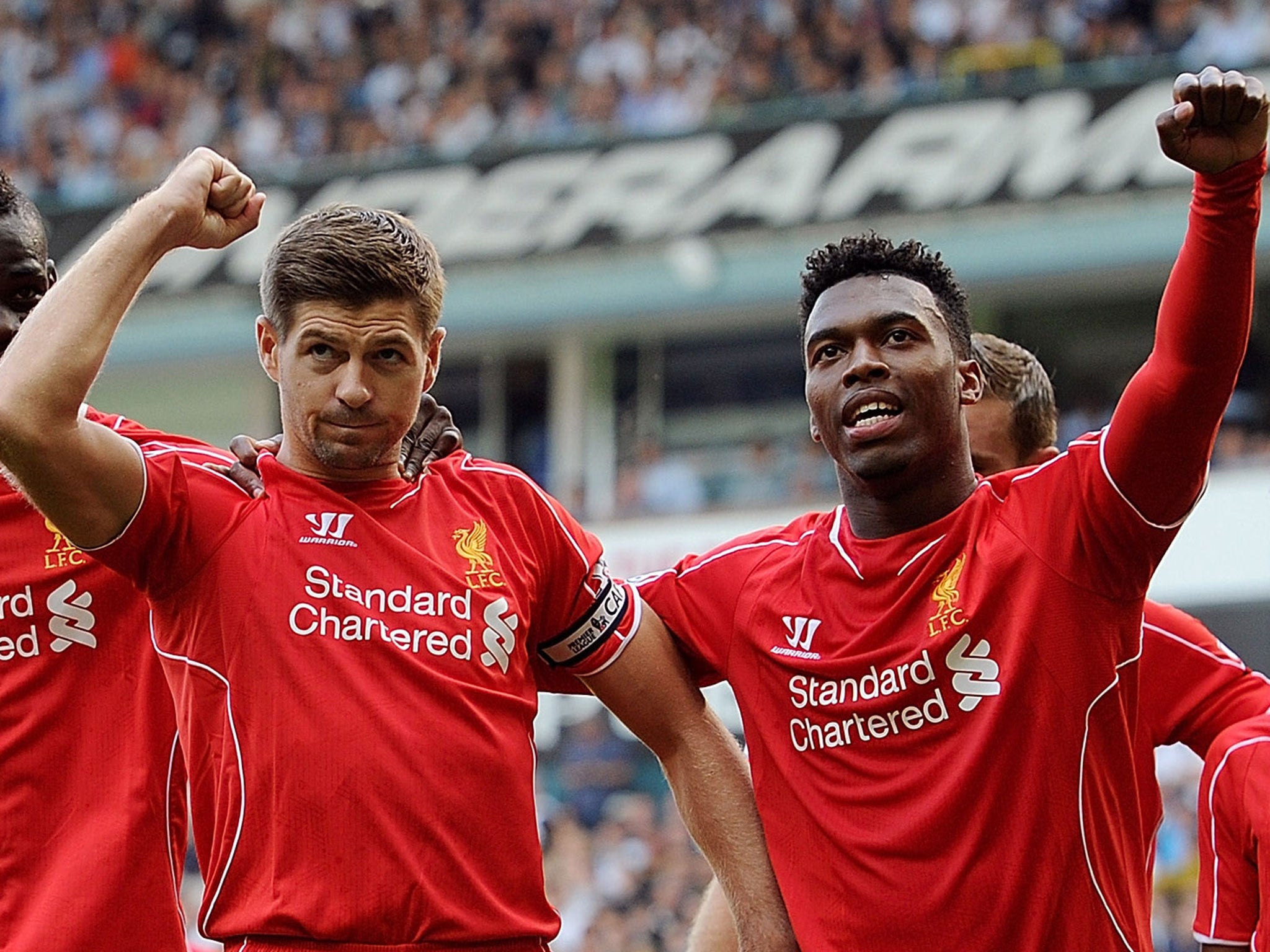 Dietmar Hamann would head into this weekend's match against Manchester United with both Steven Gerrard and Daniel Sturridge on the bench if he were Liverpool manager as he does not believe either of them are "100 per cent fit" following their recent injury struggles.
The former Liverpool midfielder believes that their resurgence in 2015 sees them head into Sunday's encounter at Anfield as slight favourites, despite trailing fourth-placed United by two points in the Premier League table.
Gerrard has only made one appearance of the bench since returning from a hamstring injury, which came in Monday's 1-0 victory over Swansea, while Sturridge has not rekindled his exceptional form of last season since coming back from a long-term injury that ruled him out for nearly the entire first half of the season.
Swansea 0 Liverpool 1 player ratings
Show all 23
With that in mind, Hamann suggests that neither can be fully fit and that he would be inclined to start Raheem Sterling as the lone striker with Lazar Markovic coming into the starting line-up.
"They won the last five or six games without him [Gerrard] so if he's not 100 per cent then I definitely wouldn't start him, if he is 100 per cent then you've got to think long and hard about it because in these games you want your talisman and most experienced players to maybe give the younger players a helping hand," Hamann said when speaking ahead of the Liverpool regional heat to find the 'People's Pundit' championed by Carlsberg, the official beer of the Premier League.
"The other question is whether to start Sturridge, because I don't think he is 100 per cent. It might make sense to bring Markovic in and bring Sturridge off the bench, because he can have a huge impact off the bench and play Sterling up top."
Hamann did stress that Liverpool manager Brendan Rodgers has done a good job of easing Sturridge back into action. The 25-year-old England striker picked up a thigh injury in just his fourth game of the season while on international duty, and further calf and thigh troubles meant that he missed nearly five months of action before returning at the end of January.
Since his comeback, he has only scored three goals in 12 appearances, seven of which have been starts, but Hamann feels that Rodgers is doing the right thing because he cannot risk seeing Sturridge spend another spell in the physio room.
"Yeah he's [Sturridge] had an effect, but I don't think he's in the form he's been before and whether this is due to the lack of games or whether he's still got a slight problem with his muscle, I do not know," added Hamann.
"But it's great to have him back because it's another option, but you've got to be careful that he doesn't break down again. I think he's got to be very careful with managing him and his playing minutes, because it will be very intense on Sunday, and it may not be a bad thing to leave him out and play Sterling up top.
"No player is any good in the treatment room and I think he's [Rodgers] been very careful with him [Sturridge] and the team performances have been top class with him and without him, and I think he handled it very well and that's why I think he may start off the bench on Sunday."
With Hamann no stranger to the central midfield picture at Anfield, he had special praise for the recent form of Jordan Henderson. The 24-year-old has scored three goals in his last four outings, including one against reigning champions Manchester City and the match-winner against Swansea on Monday, and Hamann believes that he is proving that the club will move on when Gerrard leaves for LA Galaxy in the summer, no matter how sad it is to see the Reds' skipper depart.
"He's been fantastic, he's scored some very important goals and did again on Monday," he said. "You need players in the absence of Gerrard, who's been the leader for so many years, you need two, three or four players stepping up and taking the responsibility, and he took it with both hands.
"I've been really impressed because he had a tough start to his Liverpool career, but in the last 15 to 18 months he's showed his worth to the club and I've been very impressed – not only by his goals but also his all-round game has been very good.
"Stevie will be a big loss, not only on the pitch but off the pitch as well. I think there has hardly been a better ambassador for the football club in recent years so of course he will be a loss. But you've got to move on, you know. If you look at the history of the club, there's been some top, top players leaving the club, and the club always moved on and lived on.
"It will be a sad day when he plays his last game for the club but that's the way it goes and we shouldn't take away what he's done for the club in the last 15 years, but someone has to take that mantle and responsibility next season, and yeah, of course the way the team has played in his absence lately – I don't want to say softens the blow – but it makes the fans and supporters look forward to next season a little bit more because they know the team won't be less competitive without him."
Liverpool's resurgence has seen the club put themselves firmly in the picture for a top-four finish. With Arsenal also showing good form in the Premier, the pressure is on both Manchester City and United to keep up their attempts to qualify for next season's Champions League, but Hamann feels it will be Louis van Gaal's side who ultimately miss out.
When asked for his pick of the top four come the end of the season, Hamann answered: "Chelsea, City, Liverpool and Arsenal.
"In which order? Well, a lot will depend on City. You can't rule United out, but I think the other teams are the in-form teams, and I want to see a few more performances from United like they did on Sunday before being confident that they can finish there. Yes, of course they can finish there, but I think other teams have got better claims at the moment."
The mission of the Carlsberg fan squad is to make football better for fans. That's why, If Carlsberg did Pundits…they'd probably be just like you. Carlsberg and talkSPORT have joined forces to give one fan their big break on national radio and this Thursday sees the potential pundits face off in Liverpool. If you fancy watching our pundits take each other on, head to The Shooters Bar, 6 Thomas Steers Way, Liverpool at 8pm. Find out more at ThePeoplesPundit.co.uk #PeoplesPundit
Join our commenting forum
Join thought-provoking conversations, follow other Independent readers and see their replies