Liverpool vs Tottenham: Daniel Sturridge is better than Harry Kane, claims Reds manager Brendan Rodgers on striker duel
The likes of Kane, Mason, Rose, Sturridge, Sterling and Ibe might make the next World Cup a rather more appealing prospect than the last one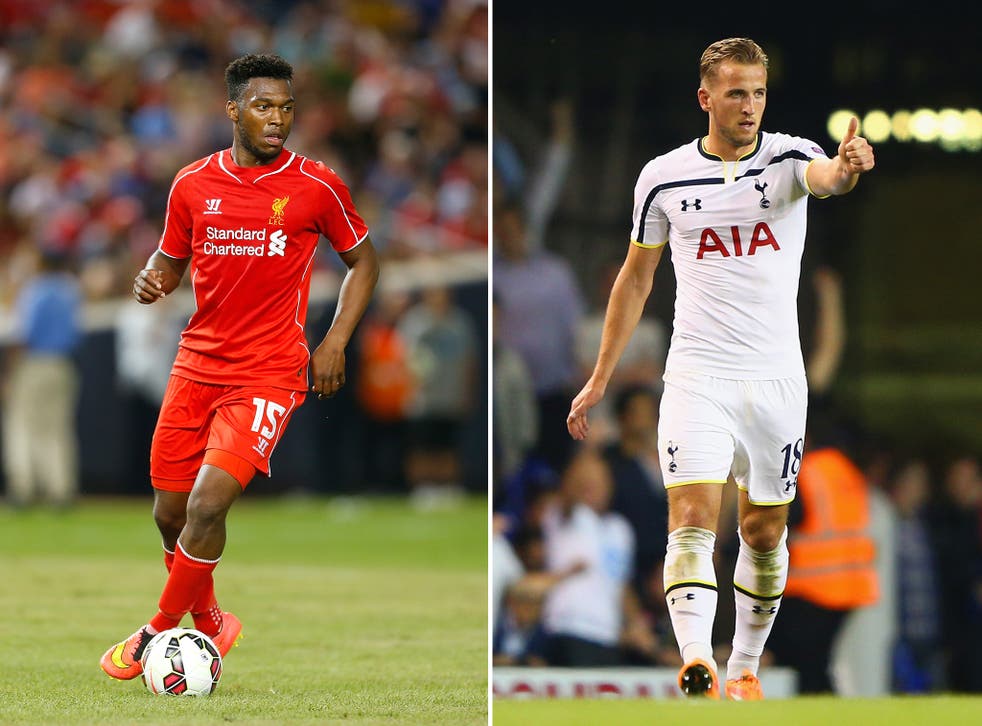 As Harry Kane prepared to lead the Tottenham attack at Anfield tonight, the Liverpool manager, Brendan Rodgers, claimed that, despite the 21-year-old's heroics, Daniel Sturridge was still England's best striker.
After his two goals turned the north London derby on its head on Saturday, the clamour for Kane to be called up by his country has risen to maximum volume. However, although Rodgers believes the Spurs striker should be part of Roy Hodgson's long-term plans for England, he insists Sturridge is still the country's No 1 forward.
"For me, there is not anyone better than Daniel Sturridge," he said. "He has got everything in his game if he is playing consistently – goalscoring record, pace, power. As an English striker, there is nobody better.
"But I am sure Daniel will look at it that there is another young English striker coming through and that will really help him when they come together at international level."
The one thing even Rodgers would concede Kane does better than Sturridge is stay fit. Had the 25-year-old not broken down on international duty following Liverpool's 3-0 win at White Hart Lane in August, it is unlikely they would be going into this game two places and four points behind Spurs.
Although Tottenham won their derby through Kane's goals, beating Arsenal 2-1, and Liverpool drew theirs 0-0 at Everton, the edge must be with the home side. Rodgers has won his last four matches against Spurs, who have recorded one league victory at Anfield since the year of Kane's birth in 1993. Tonight's encounter should be of considerable interest to Hodgson. Some 14 years ago, one of his predecessors as Liverpool manager, Gérard Houllier, sat in the Anfield press room and remarked that there was a wave of young English talent coming though that would shine brighter than that of every other European nation.
He was referring to the Golden Generation, whose time would come and go without a hint of triumph. What protected Hodgson when overseeing England's worst-ever World Cup performance in Brazil last summer was the realisation that, in terms of talent, he had inherited a generation that had fallen well short of bronze.
In the shape of Kane, Ryan Mason, Danny Rose, Sturridge, Raheem Sterling and Jordon Ibe, Anfield will see a new wave of English ability tonight that might make the next World Cup a rather more appealing prospect than the last one.
"There is talent," said Rodgers. "But it is all about opportunity. If you look through the academies and centres of excellence in this country, you'll see a lot of gifted players. It is just whether they will be given the opportunity. How long did it take before Harry Kane, Ryan Mason and the others got a chance?
"Unless you have an inherent belief in young players, it's always safer to go with an experienced footballer brought in from abroad. You can understand that from a manager's perspective but the talent is there."
Liverpool's owners have flown across from the United States to take in the game and Rodgers delivered the clearest possible indication that, although he is keen for Sterling to sign a new contract, there are certain financial boundaries Liverpool will not cross.
"Raheem has been offered a wonderful deal for a young player who is still developing," he said. "He has made some great strides in the last couple of years and will get rewarded for that. Hopefully, his representatives can find agreement with the club.
"But we are certainly not a club that is going to give out way above what a player is worth at a certain time in his career.
"If they get too much, too young, then it can sabotage their development," Rodgers added. "Raheem has been outstanding since we put him in the team but we mustn't forget this is a 17-year-old boy who was given an opportunity by Liverpool. In the two and a half years since, he has been fantastic but he has a long way to go."
Register for free to continue reading
Registration is a free and easy way to support our truly independent journalism
By registering, you will also enjoy limited access to Premium articles, exclusive newsletters, commenting, and virtual events with our leading journalists
Already have an account? sign in
Register for free to continue reading
Registration is a free and easy way to support our truly independent journalism
By registering, you will also enjoy limited access to Premium articles, exclusive newsletters, commenting, and virtual events with our leading journalists
Already have an account? sign in
Join our new commenting forum
Join thought-provoking conversations, follow other Independent readers and see their replies