Liverpool vs West Ham: Dimitri Payet 'excited' by Olympic Stadium project as Frenchman tasked with organising inconsistent Hammers
A season-opening victory over Arsenal was followed by defeats to Norwich and Bournemouth, but as Dmitiri Payet tells Tom Peck, the Hammers have already learnt from those defeats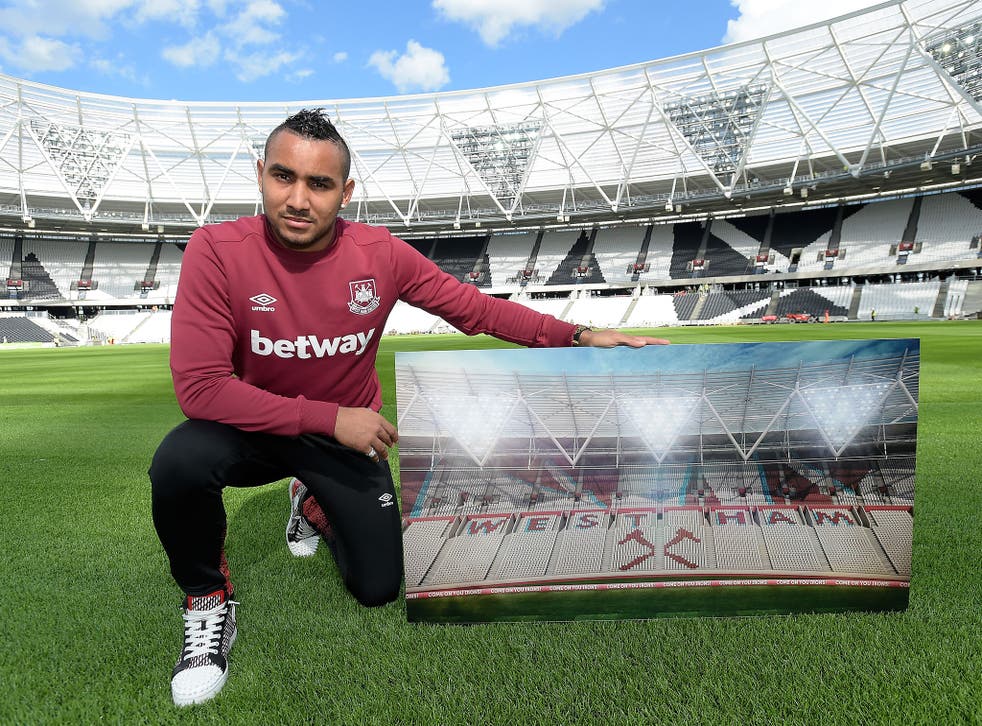 Sitting in what will become the home dugout, Dmitri Payet is wearing a gentle smile and looking out over the sweeping bowl of empty seats of the Olympic Stadium, his view only partially encumbered by a small troupe of cheerleaders and the training Barbarians launching kicks over the rugby posts.
The retractable seats, installed at vast cost to Mr and Mrs Taxpayer, are for the first time in "forward mode." On Saturday, when the BaaBaas, the old international invitational XV play Samoa, the Olympic Stadium will get its first little taste of team sports. West Ham United, everyone knows, are to be the main course. And this man, it is clear already, is the most mouthwatering ingredient.
It is a long way from Reunion, that tiny island in the middle of the Indian Ocean where parts of the missing Malaysian Airlines plane started washing up a few weeks ago, and where the most exciting West Ham player in a decade or more spent his formative years.
Premier League Power Rankings - Game Week 3

Show all 17
Payet, 28, has always promised much. Last year, he finally delivered. It has been much repeated that no player in all the major European leagues created more goals last season than he did (in fact he was second, behind Lionel Messi, but there's not much shame in that), in his last season as Marseilles. There were no shortage of offers for his services, but he admits that it is this new grand home that has brought him here.
"I've had a lot of clubs in my career where we've played in new stadiums," he says. Marseilles' charming old Stade Velodrome for example, with its famous semi-lunar stands, had had a huge refurbishment for next year's European Championships. "But this project excited me. It's an ambitious and exciting project. And I liked the coach too. That's what encouraged me to come here."
When news of the summer signing broke, the old France manager Raymond Domenech described Payet as "too good for West Ham", a sentiment that was immediately echoed by a large contingent of West Ham's supporters - at least the honest ones - on the opening day of the season when with pace, dynamism and stunning touch, Payet demolished the Arsenal defence, delivering a Man of the Match performance in a highly unlikely win at The Emirates.
"I played for four different clubs in France, I played for Marseilles, which is one of the biggest. I had to go away," he says.
"England was the best option. The level here in England is much higher than in France. Even clubs from the lower divisions are playing well. I realise that physicality is important here in England, but there are other aspects too, so it's not a problem for me."
The French national team, who he has played for fifteen times, has for decades drawn every advantage it can from the great diversity of eligible players in the Francophone world, and its Arabian and Sub-Saharan outposts. Payet's own style of play he attributes to an unlikely source.
"Not everybody has the chance to grow up on an island, so that was cool," he says. "But it's more difficult because to play football because of the sun. It's maybe why we're more technical players."
Even before the Arsenal match, in West Ham's extensive pre-season, it was clear the team has been built around him. Payet says West Ham coach Slaven Bilic has told him his job is "to organise the game." But things have not gone so well since, with home losses against Leicester and Bournemouth, characterised by defensive disarray, and a narrowness up front and in midfield that allowed the Premier League's lesser luminaries simply to walk around them. On Saturday, they travel to Anfield, and face a new look Liverpool team who, though they failed to score at the Emirates on Monday, revealed themselves more than capable of creating chances.
"It was much easier against Arsenal because we were coming as outsiders," he says. "The other two matches weren't that bad and we've learned a lot from the defeats."
Perhaps they were not, from his personal point of view. Whether they have learnt enough, or simply re-remembered the fundamentals that a finely organised defence, in which full-back Aaron Cresswell was named the club's Player of the Year, seemed to have no problem with last year, but which have suddenly deserted them.
In a year, France will host the European Championships, but he was not in the squad announced this week. "At the moment I am not good enough for that," he admits, though it is tempting to wonder whether wins against the likes of Leicester and Bournemouth might have transformed his cause. "But it's not my priority, I'm not too disappointed.
"My main goal is to be happy with West Ham and for West Ham to be happy with me."
A win at Anfield would do it. The last time West Ham managed that, it was September 1963, Bobby Moore was captain, and Geoff Hurst and Martin Peters scored. There would be no quicker way to make yourself a West Ham hero.
Register for free to continue reading
Registration is a free and easy way to support our truly independent journalism
By registering, you will also enjoy limited access to Premium articles, exclusive newsletters, commenting, and virtual events with our leading journalists
Already have an account? sign in
Register for free to continue reading
Registration is a free and easy way to support our truly independent journalism
By registering, you will also enjoy limited access to Premium articles, exclusive newsletters, commenting, and virtual events with our leading journalists
Already have an account? sign in
Join our new commenting forum
Join thought-provoking conversations, follow other Independent readers and see their replies