Mohamed Salah hits FOUR as Liverpool move back up to third by putting abject Watford to the sword
Liverpool 5 Watford 0: Salah now has 28 goals in just 30 Premier League games, while Roberto Firmino also got on the scoresheet for the Reds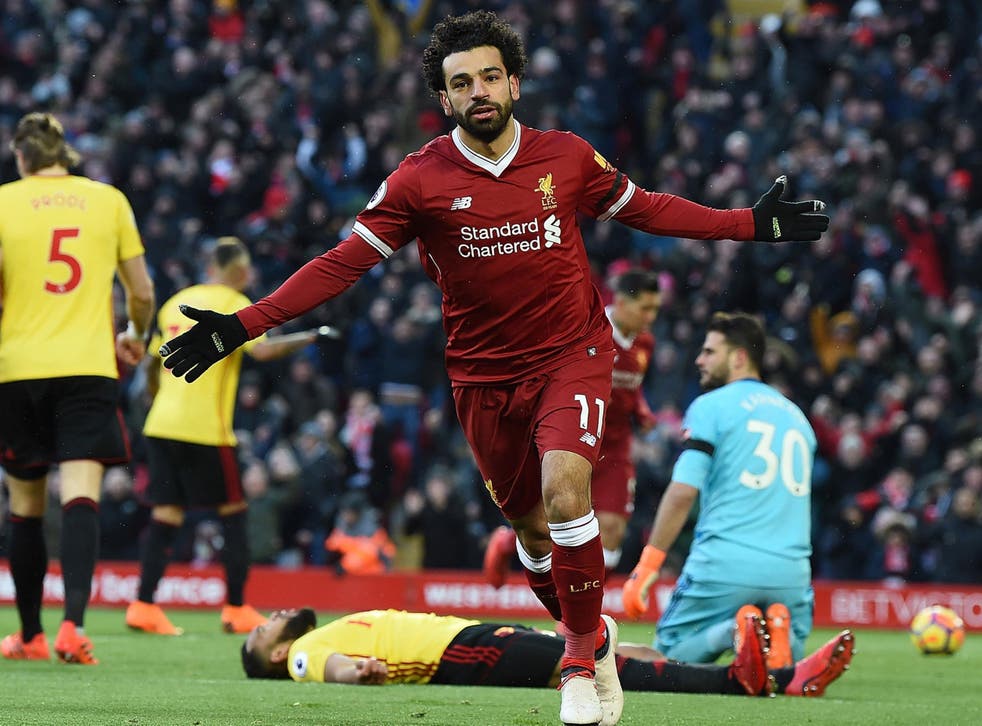 Sometimes it feels like you are watching Lionel Messi.
His record, this season at least, is better than Messi. Mohamed Salah has now scored more times in a debut campaign than any Liverpool player in the club's entire history. He reached number 36 here via a four-goal haul, surpassing Fernando Torres in the record books and surpassing Messi's total, albeit in two fewer games. What a signing he has been.
Surely only Sergio Agüero can stop Salah now from topping the Premier League charts come May, when you take into account Harry Kane's injury. It is worth remembering too Salah did not arrive from Roma last summer as a forward. For his recruitment at a fee that now feels like loose change, you have to credit Michael Edwards, Liverpool's sporting director. For Salah's subtle repositioning, you have to credit Jürgen Klopp and commend his vision. For delivering, you can only credit the player, who is currently in the process of redefining expectations on wingers in this country.
Liverpool have at the very least nine games left to play. If they reach the Champions League final it will be twelve. From here then at this rate and this state of almost permanent form – at the very least - it would be a surprise if Salah did not reach 40. In doing so, he would become the first Liverpool player since Ian Rush in 1987 to reach the landmark. Rush, of course, is Liverpool's all-time leading goalscorer, though Rush played in Liverpool's greatest team and this is not quite Liverpool's greatest team – though a very, very good team nevertheless.
If there was a temptation to fall into a slump after last weekend's defeat to Manchester United and think, 'typical Liverpool,' it is worth remembering that typical Liverpool is now a team that responds to set-backs by finding the right result in the next game.
Watford might have little to play for because their position in the league is comfortable. Yet if Liverpool consider their place in next season's Champions League secure already they are not showing it. There was an appetite about this performance and a confidence that reassures absolutely they are a side heading in the right direction.
It helps when a lead is established as early in the fourth minute. Salah's brilliance has been well documented elsewhere in this report so let's focus on the opponent trying to stop him for a moment. Last week it was Ashley Young, a better player than many consider him to be. It was an off day for Liverpool but it was also an off day for Salah. He is not at Messi's level. Not yet.
This time his opponent was Miguel Britos - not at Young's level - but at the standard of the majority of Premier League left sided defenders. Britos seemed terrified to get too close to the Egyptian after he received a pass from Sadio Mané that slid across the snow but by reacting in such a way, he afforded too much space. As Salah turned past him, Britos fell dramatically, as though he'd been speared through the throat. With a swish of the right foot, Liverpool were ahead.
Watford were in an awkward position because if you chase Liverpool, gaps open and they are more than likely to punish you. Despite being behind their game plan did not alter. It felt like the sensible thing to do for a while because Liverpool did not take control totally until three minutes before half time when Andrew Robertson's cross – which could be made into a video, it was that good - was met by Salah at the far post.
Liverpool started to have fun. If you have not seen their third goal yet, make an effort to. Again, it involved a cross and this one was hammered by Salah – though the speed was necessary in order to negate the influence of defenders. Roberto Firmino's finish was from the Matrix, taking the sting out of the delivery with his back heel and in finishing past Orestis Karnezis, he somersaulted in one movement in front of the Kop.
From there it might have been tempting for Klopp to give Salah a rest. Yet with him chasing more records, he remained involved. Number three for the evening was another one to watch again and again and it is not too far a stretch to compare it to the moment Diego Maradona bamboozled Belgium's entire defence in 1986. This time it was Watford, admittedly, with three yellow shirts being fooled and falling all over the place in trying to stop him but they could not. Salah had his hat-trick but still he was not done, adding a fourth from a rebound following Danny Ings's shot.
Only then, Salah was finished. It feels like only a side with the crudest intentions can stop him.
Register for free to continue reading
Registration is a free and easy way to support our truly independent journalism
By registering, you will also enjoy limited access to Premium articles, exclusive newsletters, commenting, and virtual events with our leading journalists
Already have an account? sign in
Register for free to continue reading
Registration is a free and easy way to support our truly independent journalism
By registering, you will also enjoy limited access to Premium articles, exclusive newsletters, commenting, and virtual events with our leading journalists
Already have an account? sign in
Join our new commenting forum
Join thought-provoking conversations, follow other Independent readers and see their replies