Liverpool vs Wolves: Adam Lallana delivers timely reminder of his talent with shouldered assist
Five things we learned: VAR reared its head once more as Jordan Henderson and Joe Gomez put in impressive performances for a more disciplined and resolute Liverpool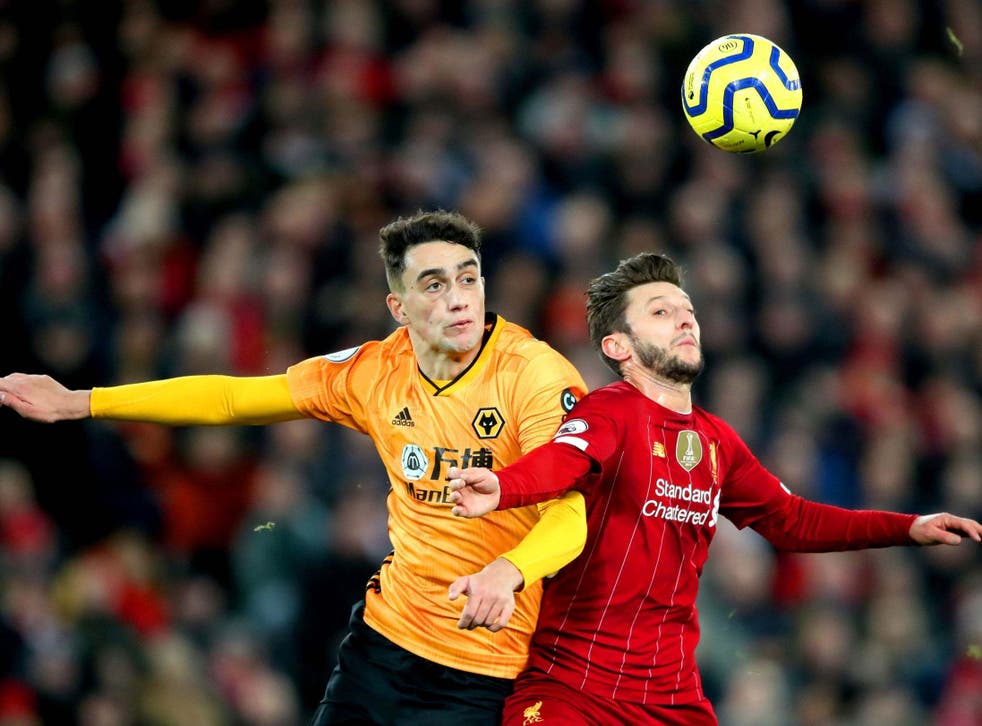 VAR shows its pros and cons
Another game, another controversy created by the party guest we wish we'd never invited. This time we saw the good side of VAR – Adam Lallana's assist was correctly adjudged to have come off his shoulder rather than his arm – the bad, when Wolves' equaliser was ruled out for a stray big toe in the build up, and the ugly, in the storm that followed on the pitch and on social media.
Jonny may well have been marginally offside, although we know there is no certainty with VAR technology, but the bigger question is whether VAR truly upholds the spirit of the game. Should goals like this one, which only six months ago would have been widely agreed to be fair, now be chalked off? Aren't we taking away the most entertaining part of football – goals – every time VAR uncovers some imperceptible infringement?
Perhaps Graeme Souness's suggestion, made in the Sky Sports studio at half-time, wasn't such a bad one. Souness would prefer that the attacker needs only to have a part of their body onside, rather than every part that can score a goal. That might only shift the pedantry back a year, but at least it would shift it in a direction that would allow more goals, not fewer.
Lallana sends out timely reminder
It was a couple of years since Adam Lallana's previous Premier League assist, so the midfielder would have been delighted to end 2019 with that particularly itch finally scratched. His shouldered pass into the path of Sadio Mane became the subject of VAR debate, denying it the proper praise it should have received. The movement was very deliberate and the measured control was perfect for Mane to finish what would ultimately be the game's decisive goal.
At a time when Liverpool are storming towards the title, fighting to defend their Champions League crown and with Euro 2020 on the horizon, there could not be a better moment for Lallana to resurface.
Ratings: Wolves vs Liverpool

Show all 22
Henderson digs in for his team
There can be few more reliable footballers in the Premier League right now than Jordan Henderson. The Liverpool captain switched roles today, dropping into the holding position which Fabinho usually occupies, to great effect. There he quietly directed proceedings, rarely looking flustered and constantly providing an option for his team-mates as Liverpool played a more patient game than their normal fast and furious approach. He made a key late block and it was indicative of a disciplined performance, even if it will win few plaudits.
Wolves pay price of festive schedule
Wolves came admirably close to taking something from Anfield, particularly considering they were playing, and beating, Manchester City 48 hours earlier. Nuno Espirito Santo made four changes coming into the game, leaving out important players including Raul Jimenez, Adama Traore and Romain Saiss. Ultimately their chances here were probably held back by the TV scheduling, and that doesn't seem quite right.
Gomez back in form
Joe Gomez had slipped down the pecking order this season, with Joel Matip and Dejan Lovren getting opportunities alongside Virgil van Dijk as he recovered from an ankle injury. But the 22-year-old is back in the side at centre-half and playing exceptionally well, keeping clean sheets against Watford, Flamengo, Leicester and now Wolves. It's great news for Liverpool and just as big a boost for England and Gareth Southgate too, given the mixed form of John Stones and Harry Maguire.
Register for free to continue reading
Registration is a free and easy way to support our truly independent journalism
By registering, you will also enjoy limited access to Premium articles, exclusive newsletters, commenting, and virtual events with our leading journalists
Already have an account? sign in
Register for free to continue reading
Registration is a free and easy way to support our truly independent journalism
By registering, you will also enjoy limited access to Premium articles, exclusive newsletters, commenting, and virtual events with our leading journalists
Already have an account? sign in
Join our new commenting forum
Join thought-provoking conversations, follow other Independent readers and see their replies