Robertson and Alexander-Arnold - Liverpool's dynamic full-backs
Ben Davies outlines goals after completing 'surprise' Liverpool transfer
The 25-year-old has made the switch to Anfield from Championship side Preston
Ben Davies is eager to play immediately to show what he can do after admitting some fans may never have seen him play after completing a "surprise" £2m transfer from Preston to Liverpool.
A fee was agreed on Sunday, and the Reds wrapped up a move ahead of tonight's deadline to boost Jurgen Klopp's options amid an injury crisis.
Virgil van Dijk, Joe Gomez and Joel Matip are all out injured, forcing the likes of Fabinho, Jordan Henderson, Nathaniel Phillips and Rhys Williams to fill in at centre-back in recent weeks.
READ MORE: Who is Ben Davies? Liverpool's new centre-back is a versatile and modern ball-playing defender
"I want to come in and play games to start with, I want to get my foot in the door and make myself a Premier League player rather than obviously a Championship player. And then take it from there really," Davies told Liverpool's official website.
"I know we've got some top players here and players I can certainly learn from. Once you get your foot in the door then you're here as well. Hopefully I can take my chance and then move forward with it.
FOLLOW LIVE TRANSFER DEADLINE DAY NEWS: Liverpool agree deal for Kabak, Newcastle line up Willock
"I'm looking forward to coming in and playing in front of everyone and showing everyone what I can do. I'm sure a lot of fans and people don't know [me], or haven't even seen me play.
"It's definitely an exciting time and I think they'll quite enjoy watching me when I'm playing well."
Davies also revealed his excitement at being able to play at Anfield, with his first opportunity to play at the home of the champions potentially coming as early as Wednesday against Brighton.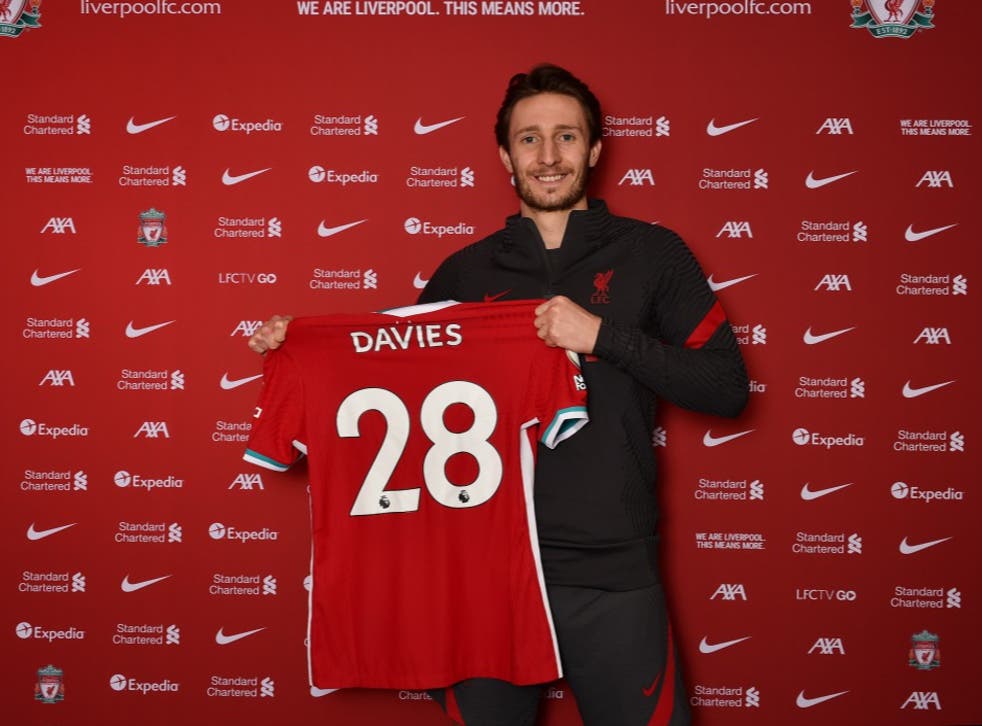 "I'm obviously delighted to be here," Davies added. "It's a huge opportunity. Obviously it came as a bit of a surprise when it first came but once you start to get your head around it, the opportunity that is in front of me is incredible. I'd be silly to not make the most of it and learn off the players [at the club].
"I've never actually been to Anfield and I haven't had a look around yet. I had a quick look out and had a look at the pitch and it looks like carpet, which obviously you'd expect.
"I haven't actually walked out of the tunnel yet, so I'm looking forward to that. Just to be in this kind of atmosphere is brilliant."
Join our new commenting forum
Join thought-provoking conversations, follow other Independent readers and see their replies