Confident Chelsea advance Champions League ambitions while slicing through Liverpool's at Anfield
Liverpool 0-1 Chelsea: Mount's fine finish condemned the champions to a fifth straight home loss for the first time in their history
Melissa Reddy
Anfield
Thursday 04 March 2021 22:17 Comments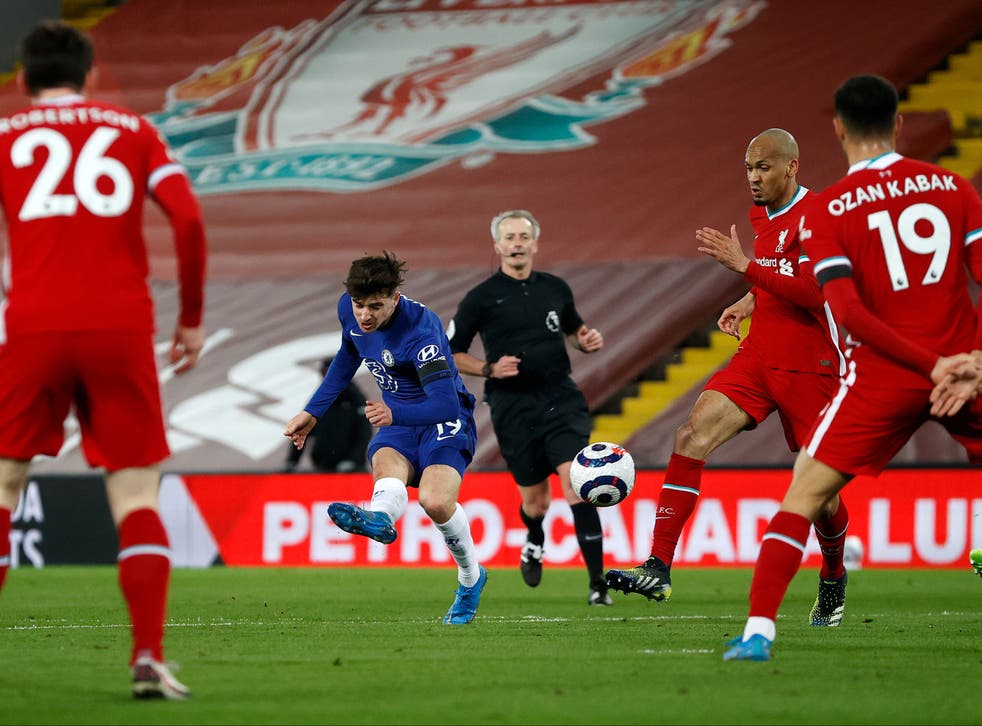 Chelsea confidently advanced their Champions League ambitions while slicing through Liverpool's, spearing them to a fifth consecutive defeat at Anfield for the first time in the club's history on Thursday night.
Thomas Tuchel's men were the superior side in all respects and never looked in danger of conceding, let alone succumbing to the malfunctioning champions.
Mason Mount's individual brilliance was enough to decide the fixture, but Chelsea's performance was worth more than a solitary goal.
READ MORE: Liverpool won't be last club to stop players going on international duty
Having been compared to Jurgen Klopp for over a decade, never shifting his shadow at Mainz and Borussia Dortmund, Thomas Tuchel finally had the measure of his countryman. 
The affair was not solely a pitting together of two managers whose careers have been juxtaposed, but teams with contrasting strengths that share the same issue and objective. 
Where Chelsea had built their unbeaten streak under Tuchel on defensive solidity, with Takumi Minamino the only opposition player to have scored against them, Liverpool have had no rearguard stability. 
Fabinho, fresh from a long lay-off, returned at centre-back for the injured Nathaniel Phillips. The Brazilian's partnership with Ozan Kabak was the club's 20th of the season in the heart of defence. 
The commonality for Liverpool and Chelsea was in struggling to fully hit their attacking flow, dominating possession in games but doing very little in the final third. 
With Champions League football on the line, and only a point separating them – as well as Tottenham and Everton both securing pivotal victories ahead of kick-off here – there was no margin to fluff lines at Anfield. 
To that end, Tuchel opted to field Timo Werner because, as he emphasised: "Speed. Speed. Speed. Speed against the high line."
The Germany international had two chances in the opening 20 minutes. He first expertly controlled a Ben Chilwell diagonal pass, worked a yard of space and directed a hide just over. 
Thiago then misjudged the bounce of a Cesar Azpilicueta hook and Werner found himself left unattended by the penalty spot, but couldn't get good enough contact to trouble Alisson.
The striker thought it was third time lucky when he was sent clear after Jorginho was allowed to split Liverpool's midfield with a simple pass. Alisson rushed out to clear, but Werner reached the ball first, rounded him and rolled into the net despite a desperate last-ditch dive from Kabak.
VAR had ruled he was offside in one of the calls that make you wonder if you even know what football is anymore.
By this point, Liverpool's best chances had fallen to Sadio Mane. He might have gotten a penalty had he gone down after Andreas Christensen stuck out a lazy leg. Later, he could only connect with air when Mohamed Salah fed a delightful cross into the box from the right.
Liverpool were too passive and predictable. Their use of a high line without putting pressure on the man in possession was a tactic begging to be taken to task and Chelsea were happy to oblige. The Reds' vulnerability to the high ball was an invitation to hurt them and the visitors rubbed their hands together.
When their breakthrough came, it wasn't via Werner but the gifted Mount. Liverpool had lost the ball, N'Golo Kante allowed Chelsea to transition rapidly with a ball over the top that the midfielder collected, dropping his shoulder to motion past Fabinho. He created more space for himself with a few touches, Liverpool players all backing off, before picking his spot past Alisson in the far corner. 
The Merseysiders started the second period with more urgency. Roberto Firmino dribbled down the right, with his flick hitting the raised arm of Kante. VAR wasn't interested in appeals for handball in one of the calls that make you wonder if you even know what handball is anymore. 
Fabinho headed wide from the first corner Liverpool won, but Chelsea once again displayed more verve in their offensive play.  Alisson parried Ben Chilwell's shot, which fell to Hakim Ziyech. His effort was darting in towards the bottom right, but Fabinho cleared off the line.
Klopp threw on Diogo Jota and Alex Oxlade-Chamberlain, but from the moment Mount scored, there only looked to be one winner. Forget a goal, the defending champions only registered their first effort on target on 85 minutes through a Gini Wijnaldum header.
Chelsea's trajectory under Tuchel – unbeaten in 10 matches across all competitions, with only Manchester City amassing more league points during this period – spells mixing it with Europe's elite. 
Liverpool's immediate reality is far more bleak. 
Register for free to continue reading
Registration is a free and easy way to support our truly independent journalism
By registering, you will also enjoy limited access to Premium articles, exclusive newsletters, commenting, and virtual events with our leading journalists
Already have an account? sign in
Join our new commenting forum
Join thought-provoking conversations, follow other Independent readers and see their replies