Living Wage campaign: Manchester clubs urged to pay employees 'fairly'
City in negotiations with contractors to raise wages but United making no moves to do so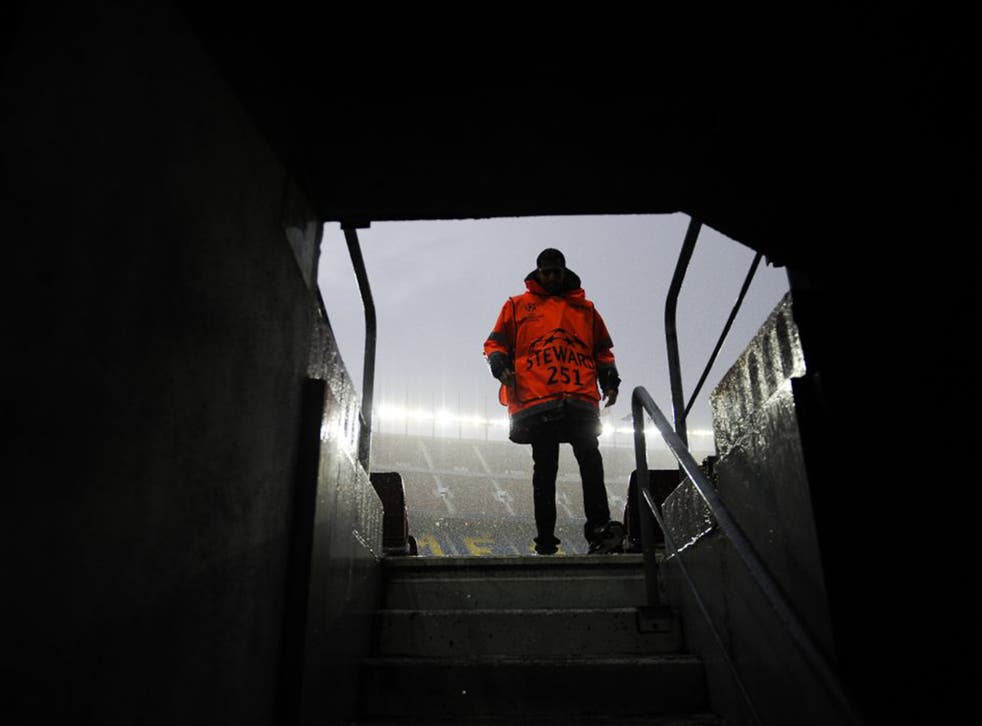 Church leaders and MPs have joined a fans' campaign for the big Manchester clubs to pay the Living Wage to all employees. The Bishop of Salford heads the signatories on an open letter to the clubs released ahead of Sunday's derby.
Manchester City have come under pressure from their supporters for more than a year to pay the Living Wage to contracted employees as well as permanent staff. With progress being made by City, the focus is now turning to United, who appear resistant to extending the Living Wage to the army of part-time staff who enable Old Trafford to function on match days.
While campaign leaders stress both clubs do significant work in the community, they argue they can afford to pay the Living Wage to all employees – and morally ought to. United are the most profitable club in Europe, City spent more than £150m on summer transfers.
The open letter to City chairman Khaldoon al-Mubarak and United executive vice-chairman Ed Woodward has been signed by the Right Reverend John Arnold, the Roman Catholic Bishop of Salford, whose diocese covers both clubs, local MPs Kate Green, Angela Rayner, Jeff Smith and Rebecca Long-Bailey, City Mayor of Salford Ian Stewart and a number of other councillors, religious leaders, community organisations, charities, campaign groups and fans.
Green, the MP for Stretford and Urmston and a member of the Shadow Cabinet, said: "Ahead of this weekend's derby, it's great that football fans and community leaders from across our great city have put aside sporting rivalries and come together to show support for the Living Wage.
"I'm calling on both Manchester City and Manchester United, great clubs with a fantastic record of supporting the local community, to become accredited Living Wage employers to ensure all staff are paid at least £7.85 per hour. Everyone is entitled to a fair day's pay for a fair day's work."
The Premier League has committed all clubs to paying the Living Wage to permanent, directly employed staff by the start of next season. Several, including City and United, already do so.
However, the bulk of those who work at clubs – as cleaners, caterers, stewards and many other roles – are employed indirectly by agencies or contractors and do not receive the Living Wage.
City have been seeking to upgrade employees on to the Living Wage as contracts are renegotiated. Although a commitment to pay the Living Wage is not a requirement, the tendering process is weighted in favour of companies that commit. So far this has meant the traffic management and matchday security contractors now pay the Living Wage, with the cleaning and site security likely to follow suit in the near future. This leaves the catering contract, which comes up for renegotiation in 2017.
United, unusually, do not use outside contractors but employ matchday staff directly, so could, if they wanted, move all employees on to the Living Wage overnight. However, at present the club indicates there is no move towards doing so.
The non-league club formed by United fans disillusioned with the Glazers' ownership at Old Trafford, FC United of Manchester, who play in National League North, do pay the Living Wage to all employees.
They, Scottish club Hearts and League Two Luton Town are the only clubs to have achieved Living Wage Foundation accreditation for paying the Living Wage to all employees, though Chelsea, having committed to do so by 2017 as contracts with outside agencies are renegotiated, are also accredited.
Norwich City, Tottenham, West Ham and West Bromwich Albion are at various stages of the same process, though they do not have accreditation.
Sarah Vero, director of the Living Wage Foundation, said: "Research proves that consumers are happier to spend their money with a Living Wage employer and where football is concerned, more proud that their team stands for fairness too.
"We hope that both Manchester United and Manchester City can work with the Foundation and be the first region in the Premier League to take the lead in fair pay. We believe work should be the surest way out of poverty."
This week Tracey Crouch, the sports minister, in a written Commons reply, said Chelsea's commitment was "a big step forward, and one that I expect all Premier League clubs to follow". She added: "I will press home that message to the Premier League's executive chairman [Richard Scudamore]."
From April many part-time and contracted staff employed at clubs will receive the National Living Wage proposed by the Chancellor, George Osbourne. That is £7.20 an hour, rising to £9 by 2020, but only applies to over-25s.
However, in some cases the proposed changes to tax credits will mean their total income drops. Those aged 21 to 24 will in most cases still receive the minimum wage (£6.70), with under-21s paid the lower youth wage (£5.30). The Living Wage, as independently assessed for the Living Wage Foundation as the sum required to meet basic living needs, is currently £9.15 in London, £7.85 outside.
Do Premier League clubs pay their staff the living wage?
Club/Full-time staff/Part-time or indirectly employed staff
Arsenal Yes/Encouraging contractors to
Aston Villa No comment/No comment
Bournemouth Yes/No comment
Chelsea Yes/Yes, by 2017
Crystal Palace No comment/No comment
Everton Yes/Encouraging contractors to
Leicester No comment/No comment
Liverpool No/No
Man City Yes/Encouraging contractors to
Man United Yes/No
Newcastle No comment/No comment
Norwich End of season/Next season
Southampton No comment/No comment
Stoke No comment/No comment
Sunderland No comment/No comment
Swansea No comment/No comment
Tottenham Yes/Encouraging contractors to
Watford No/No
West Brom No/Next season
West Ham Yes/From June
Research by Alex Keble
Join our new commenting forum
Join thought-provoking conversations, follow other Independent readers and see their replies