Louis van Gaal interview: Manchester United manager discusses tactics and rebuilding after the David Moyes era
An audience with Manchester United's new manager can often resemble an argument – one he wins. Ian Herbert enjoys a colourful discussion on tactics, the merits of the English footballer and rebuilding the club from its foundations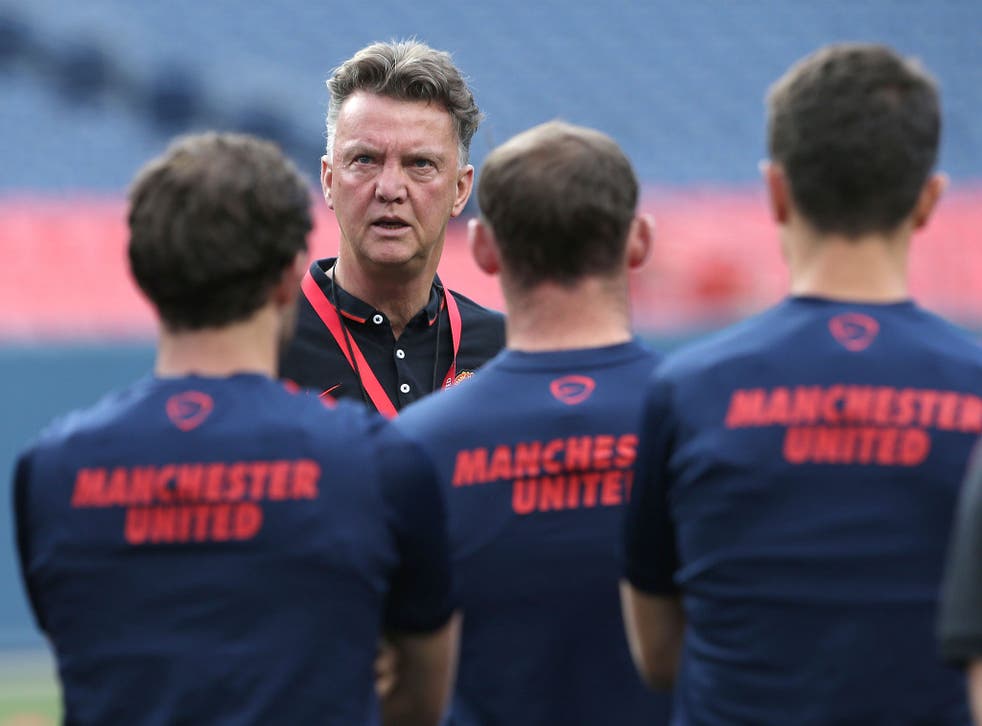 The Dutch have always felt the English lack the technical component which is to be found in their own football.
It is why they like to call their brand of the sport "the Dutch School" and why Jan Mulder, the great centre-forward with Anderlecht and Ajax, once laughed when he talked about the unsophisticated fighting spirit of Manchester United's Steve Bruce and Gary Pallister. "Every team has its Bruces and Pallisters!" he said. "They never learn. It's great that they have too much spirit and not enough technique."
Putting this suggestion to Louis van Gaal is a delicate business, however. One of the traits we have quickly come to know in these past weeks is that any general assertion about football must always be backed up by arguments. Not beetroot-faced arguments of the Sir Alex Ferguson kind but arguments as in "the reasons why". There can be no denying that your correspondent lacks them when posing to Van Gaal the statement that the British footballer has drawn on physique and spirit more than the Dutch footballer's technical qualities, which the new United manager requires. He turns his distinctive head slowly to fix a critical stare before a challenging minute ensues...
LVG: That is your opinion. You say that to me. And you say that I have to say that?
Q: Is that wrong?
LVG: It's your statement.
Q: OK, but is that an unfair statement?
LVG: I don't know because I have to know the players first, then I can judge. You can judge because you have been a journalist for many years and you have seen the culture but I don't...
Another approach comes from elsewhere across the table.
Q: From the outside, what are your views of the character a British player?
LVG: It is what he has mentioned.
Q: So you share a similar view?
LVG: No! Because I have already said the players under the direction of David Moyes are a lot different to the players under the direction of Alex Ferguson, but also under the direction of me. So we shall have to wait and see. But from the outside, yeah, I think it is fair to say that [about British players.] I don't want to be judging as an outsider. You do that. But I don't. I want to feel that and hear that but at the moment they are doing great.
All of which seems to suggest that Van Gaal really does feel players from the nation which invented the game have something to learn. Some big beasts of Old Trafford certainly have done, in the course of the past few weeks. When Bryan Robson initiated a discussion at dinner on Saturday night along the lines of how the 3-4-1-2 works, Van Gaal began re-arranging the wine glasses to demonstrate. Robson's head was hurting by the time the exposition had finished. The players know how he feels.
The narrative for them has been intense double training sessions, videoed and analysed; minutely detailed tactical instruction and a public kind of censure they have never known.
In a whirlwind press conference in the early hours of Tuesday Van Gaal told the world that Britain's most expensive teenage footballer – Luke Shaw – was unfit and Wilfried Zaha would never be a Manchester United winger.
And yet, for all that, there is a clarity and sense of conviction that no manager – perhaps not even Ferguson – brought to this club. The players love that.
Manchester United: Potential summer transfer targets

Show all 10
Van Gaal has never lacked self-belief, but this is the conviction of a man who has committed to a last hurrah on his one piece of unconquered football high ground. "I already had a lot of opportunities [to manage in the Premier League]," he says. "But the priority was not like it is now. I am already 62, so my career is reaching the end. There is only one football country I wanted to see inside and that was England, because of the level and the atmosphere and that was why I announced in October, so that all the English clubs knew…"
That declaration, eight months before a World Cup, made the Dutch angry, though they knew what they could do with their anger. "They said it was unbelievable that I could say that before the World Cup," he says. "I said that was bullshit because the pressure I put on myself is higher than the press ever can do."
It is not a "dream" job, he says, because he is 62 – "I am not a child any more" – though if his account of his past flirtations with United is accurate, then Ferguson has considered leaving more times than we previously knew. Van Gaal says he was approached in the 1990s by United. "Ferguson wanted to quit at that time," he explains, dispensing with the "Sir Alex" in the way he generally does. He probably meant 2002 – the year Ferguson's first retirement announcement. The enigma hangs there just for now.
The task certainly is vastly greater than back then: the full-scale reconstruction job of a club and its players, which could commit him to the realm of legends if he repairs things.
In his still eccentric English, he insists that his description of United as "broken" is not "hard" because when a group like this has finished a league campaign seventh, "the team is not happy and unsatisfied and without confidence and when you are like that you are broken. So now they have me: a new manager so new chances for the players and they want to show themselves."
He is asking one hell of a lot of them: not only to begin performing but do so in a way of playing football that he is putting it mildly to say "is not the same as before". He wants multifunctional, two-footed players, capable of defence and attack, with the tactical nous to function in many formations and to deliver the ball incredibly rapidly. "They have to decide [what to do with the ball] within one second and that is not easy," he says. He is asking them to relearn the game: to play less instinctively and more cerebrally. "The most important thing is they have to know why we do things and when," he says. "A lot of players are playing intuitively and I want them to think and know why they do something." This bewildering concept alone seemed to require an hour's time that Van Gaal, a man in a hurry, does not have.
The fascinating part of what is about to unfold will be to see who has what Van Gaal requires, because many of them will be young.
"The argument for that is when you use youth players of the club they know the culture of the club and they want to defend that culture and wear that culture and transfer that culture," he says. "When you buy a player from outside you have to wait and see and not every player will fulfil your expectation, it is much more difficult, also for the player." It is what Ferguson always said.
Van Gaal wants those who can both analyse and communicate, too. "The most important thing about a person is that you know who you are and what you want," Van Gaal once said. "You should be capable of introspection and evaluate yourself." Has anyone ever spoken of English football this way?
He has been hand-picking individual players to appear at press conferences with him and was delighted with Chris Smalling's delivery at Tuesday night's. He lists those he launched at Barcelona: Xavi, Andres Iniesta, Carles Puyol, Victor Valdes and Thiago Motta. And at Bayern Munich: Thomas Müller, David Alaba, Toni Kroos. "When I buy, I buy players for the long term, not the short term," he says. "When you see Ajax I had the youngest team to win the Champions League with 17, 18, 19-year-old players."
Perhaps Ben Pearson, Andreas Pereira or Saidy Janko, in the United youth ranks, might come to suit his style. Nobody knows.
All that he wants to achieve is not complicated, he reflects, though his elaboration on the point turns out to be precisely that. "I give this press conference with a lot of arguments," he says, going back to his "reasons why". [I] have transformed the Dutch school from 4-3-3 to 3-5-2 and, depending on the opponent, it can be 5-3-2 also. All the players here at Manchester United are used to playing 4-3-3 but I can change like I did with the Dutch team against Mexico [in the World Cup round of 16] to 4-3-3. I only have to change one position and we play 4-3-3."
This tactical lesson is broken up when he is told his next appointment awaits. "You're all coaches now. Interesting eh? Interesting..." It will most certainly be that.
Register for free to continue reading
Registration is a free and easy way to support our truly independent journalism
By registering, you will also enjoy limited access to Premium articles, exclusive newsletters, commenting, and virtual events with our leading journalists
Already have an account? sign in
Register for free to continue reading
Registration is a free and easy way to support our truly independent journalism
By registering, you will also enjoy limited access to Premium articles, exclusive newsletters, commenting, and virtual events with our leading journalists
Already have an account? sign in
Join our new commenting forum
Join thought-provoking conversations, follow other Independent readers and see their replies