Louis van Gaal: Manchester United boss believes club are beyond help but board urges him to stay on
Exclusive: It is understood the Dutch manager has spoken with United's executive vice-chairman since the excruciating 2-0 defeat at Stoke on Saturday and been reassured that the club still believe he is the man for the job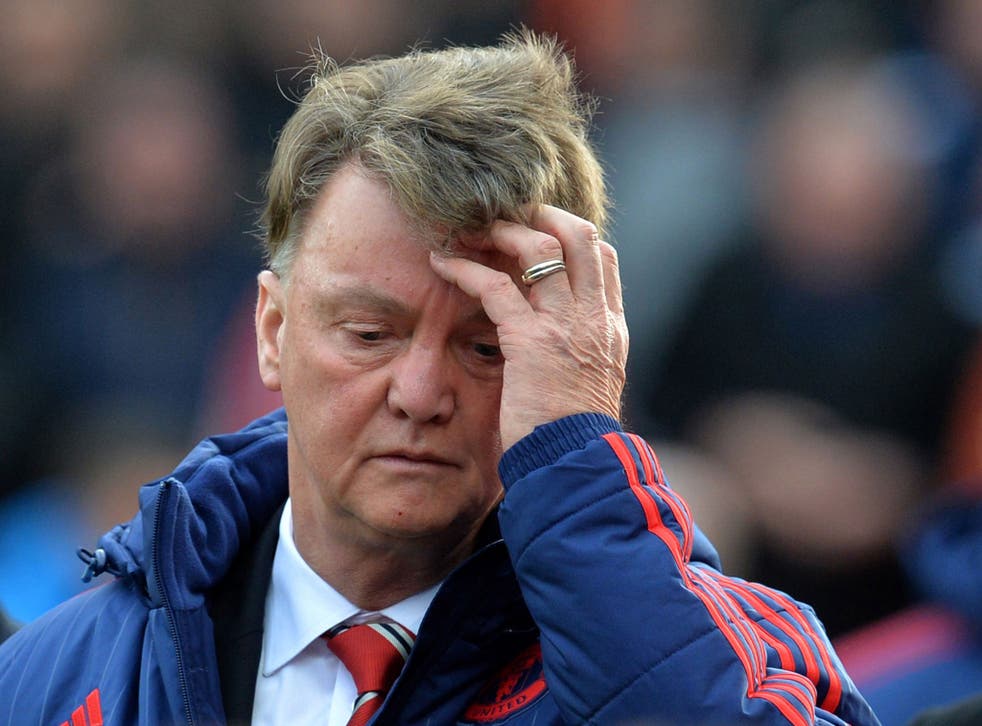 Manchester United are engaged in a desperate attempt to stop Louis van Gaal walking away from Old Trafford, with the manager deeply embarrassed by a losing streak and convinced ahead of Monday night's match against Chelsea that his team is gone and beyond help.
The Independent understands that Van Gaal has spoken with United's executive vice-chairman, Ed Woodward, since the excruciating 2-0 defeat at Stoke on Saturday and been reassured that the club still believe he is the man to stay at the helm.
But Van Gaal, who looked desolate and defeated behind the scenes at Stoke on Saturday afternoon, has told sources that he now believes the team have gone, feels ashamed by four consecutive defeats – a run almost unprecedented in his managerial career – and does not know what more he can do.
United's position could change if they lose on Monday night but this newspaper understands that Woodward reaffirmed to Van Gaal this weekend that the club are not contemplating sacking him and are prepared to look at how they can reinforce the squad in January. But defeat against Chelsea is almost certain to push the fiercely proud Dutchman, who has resigned from six of his eight posts and been sacked only twice, to walk away from Old Trafford.
The conversation between Woodward and Van Gaal at the weekend came seven or eight days after the Dutchman broached the question of whether United wanted to continue with his services, telling his employers that he would leave if they wished. Woodward, who was not present at the Britannia Stadium, is thought to have urged the Dutchman at that time not to walk away and said that the board desperately wants to stick with him for as long as possible.
Mark Ogden - Jose Mourinho 'perfect' for Man Utd
Some team members feel differently, however. Van Gaal showed no sign of taking a different tack with his players in the aftermath of the Stoke catastrophe. He took the non-playing squad members back to Carrington for a 5pm "recovery session" on Saturday, to the bewilderment of some. Dissatisfaction with his methods is not believed to be universal in the dressing room. Wayne Rooney is thought to have found the manager receptive to him putting forward ideas. After being dropped to the bench on Saturday, however, Rooney is thought to be concerned by what another five months under Van Gaal could do to his England prospects.
The search for solutions to the United crisis went on at an extended player meeting with Van Gaal on Sunday.
The 13 players that have left Manchester United under Louis van Gaal

Show all 13
He clearly sees a fourth successive defeat – a run last experienced by United in 1961 – as a tipping point. The United board's hope is that a victory against Chelsea could be the catalyst for a turnaround, with struggling Swansea City and Sheffield United in the FA Cup to follow.
Van Gaal said publicly he cannot resurrect his players' self-belief. "No, because it's not so easy any more," he said. "When you lose four in a row, it's much more difficult than after the third. There are no ways – artificial ways – to solve that."
The Jose Mourinho camp desperately want United to feel urgency about recruiting the Portuguese, but there is unease about bringing him in. Should Van Gaal depart, it is likely that Ryan Giggs would initially take charge.
Join our new commenting forum
Join thought-provoking conversations, follow other Independent readers and see their replies