Louis van Gaal future: 72m reasons why Adidas could spell the end for the Manchester United boss
Football matters: If United fail to qualify for the Champions League this season, another failure to finish in the top four would see their £750m Adidas deal cut by 30 per cent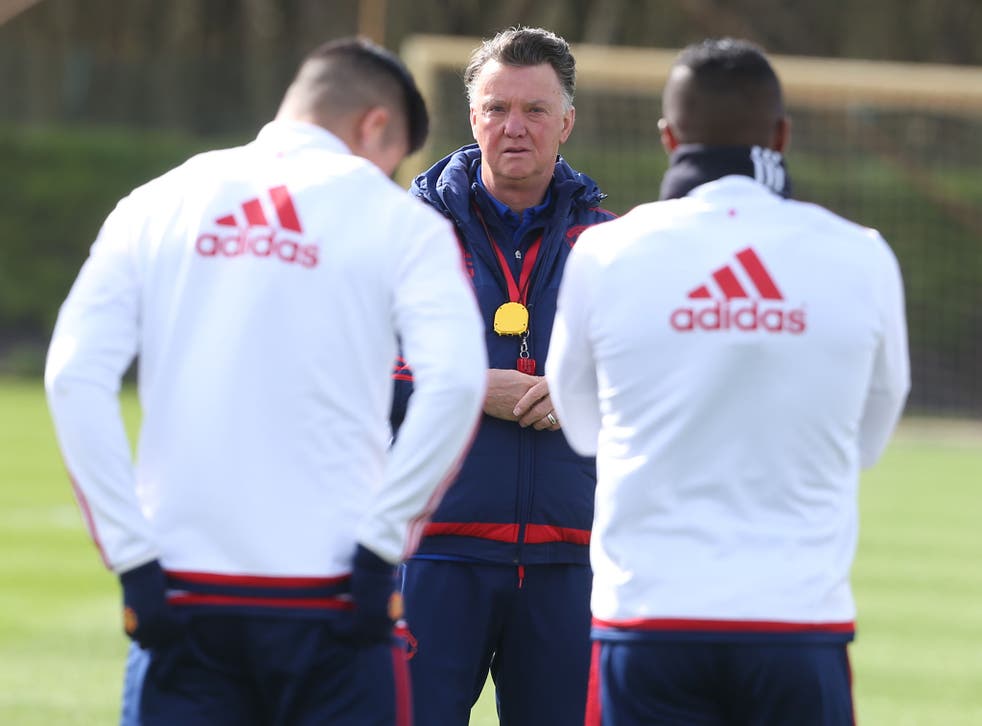 There are seventy-two million reasons why Louis van Gaal's fate as Manchester United manager may ultimately have nothing to do with the outcome of Wednesday's FA Cup quarter-final replay against West Ham United.
Mathematically, Van Gaal can still comfortably steer his team into the top four over the final six games of the Premier League season and secure Champions League qualification, but in the real world, that prospect is becoming increasingly unlikely and the trip to Upton Park is one that threatens to end with the curtain falling on United's season.
Whether it will also signal Van Gaal being nudged towards the trap door remains to be seen, but do not be fooled by the noises from within Old Trafford that the Dutchman's work behind the scenes and his readiness to promote emerging youngsters will be enough to keep him in a job.
Ed Woodward, United's executive vice-chairman, and the man who appointed Van Gaal as successor to David Moyes two years ago, has afforded his manager admirable backing and support both publicly and privately this season, but in the final reckoning, it is those seventy-two million reasons which will make all the difference.
If United fail to qualify for the Champions League this season, the terms of their £75m-a-year, ten-year kit deal with Adidas ensure that another failure to finish in the top four at the end of the 2016-17 season would see that deal cut by 30 per cent -- an annual drop from £75m to £52.5m until they play in the competition again.
Last season's absence from the Champions League, following the disastrous campaign under Moyes, cost United just short of £50m in lost prize money, so the numbers are already stacking up against Van Gaal.
And the problem for the former Ajax, Barcelona and Bayern Munich coach is that money talks loudest at Old Trafford and the club's owners, the Glazer family, can ill afford to write off more than £70m in lost earnings simply because their manager's philosophy might work somewhere down the line.
So Van Gaal's fate rests in him qualifying for the Champions League this season as anything but will leave him vulnerable to the Glazers realising that there really will be no margin for error next season.
Missing out on £50m in prize money next season will be difficult enough for the Americans to stomach, but that figure being topped up as a result of a reduction in the income from Adidas the following year would see the Van Gaal experiment become a very costly one indeed.
Commercially, United are still pretty much able to print their own money, but prolonged failure and the diminishing of their brand alongside the likes of Barcelona, Real Madrid and Bayern Munich will quickly see the Glazers get much less bang for their buck.
Yet it all stems back to the football pitch.
A winning team makes it easy to sell shirt space and secure those official tyre partners in Indonesia and soft drinks partners in Nigeria -- a team which cannot even qualify for the Champions League becomes less attractive to sponsors, and a less lucrative commodity for the Glazers.
The Glazers have remained silent, as ever, on the fate of Van Gaal, so they can only be judged on previous actions.
Moyes was ushered out of the door within 24 hours of United's failure to qualify for the 2014-15 Champions League being confirmed, while six months earlier, coach Greg Schiano and general manager Mark Dominik were sacked at Tampa Bay Buccaneers because, in the words of Bryan Glazer, "results over the past two years have not lived up to our standards and we believe the time has come to find a new direction.
"We feel these moves are necessary in order to achieve our goals," Glazer added.
So it is little wonder that the spectre of Jose Mourinho looms large over Van Gaal.
If United miss out on the Champions League this season, they simply have to return to the top four next season and Mourinho, despite Chelsea's meltdown this season, offers more guarantees to guide them there than Van Gaal.
Marcus Rashford and Timothy Fosu-Mensah may well have benefited from Van Gaal's trust in youth and United are likely to reap the dividends in the future.
But the only dividends that the Glazers are interested in are financial and, even if Van Gaal can win the FA Cup next month, it will count for little if United once again find themselves with their face pressed up against the Champions League window next season.
Title success may not give Schmeichel the peace he deserves
Kasper Schmeichel does not enjoy comparisons to his father, Peter, with the Leicester City goalkeeper quite rightly determined to make his own name in the game.
At 29, following a career that has taken him to the likes of Darlington, Bury and Falkirk, Schmeichel junior is on the brink of winning a Premier League title medal and will no longer have to glance at photographs of himself and his old man to see one hung around his neck.
But with Kasper on course to make the Schmeichels the first father and son pairing to win Premier League winners' medals, he will have to brace himself for those comparisons all over again.
Wildcard Carroll must prove fitness first
Roy Hodgson will name his 23-man squad for Euro 2016 on May 12 and, following his hat-trick against Arsenal at the weekend, Andy Carroll is unlikely to have been completely overlooked by the England manager.
On his day, the 27-year-old is unplayable and the kind of wildcard who could give England a unique threat in France.
But his day rarely comes around and the big question with Carroll is not whether he can make Hodgson's squad, but whether he can stay fit over the next month to even give Hodgson something to think about.
Join our new commenting forum
Join thought-provoking conversations, follow other Independent readers and see their replies