Make your mind up on new Arsenal deal, frustrated Arsène Wenger tells Theo Walcott
Arsenal manager says football is 'much deeper and much bigger than splashing cash about'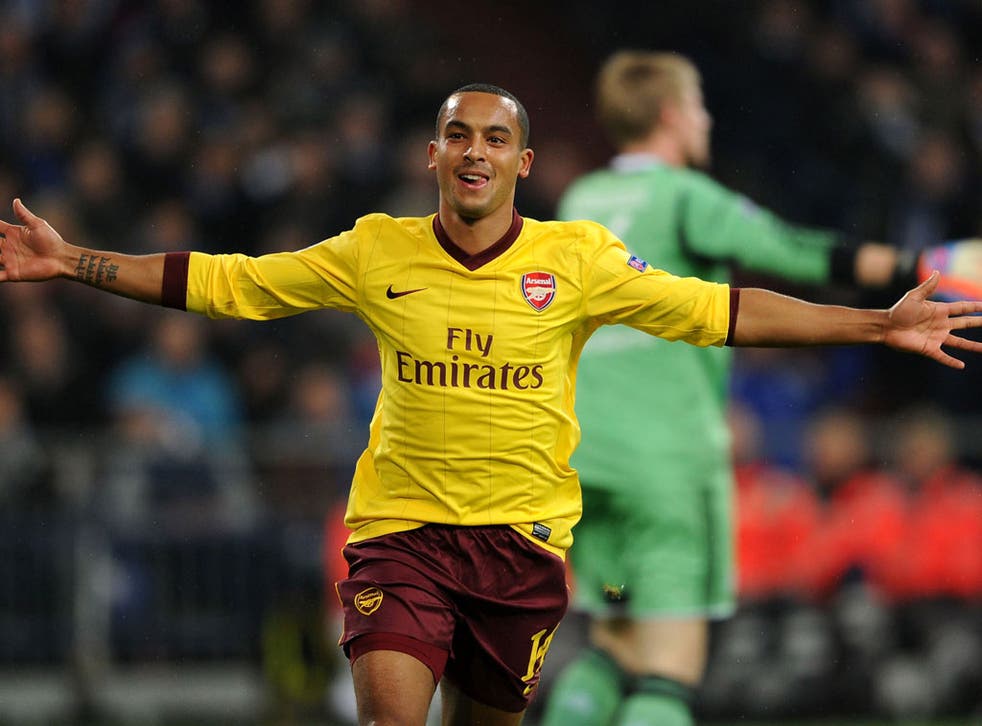 Arsène Wenger insists that Arsenal's cautious approach to spending is on the right side of history, but admits the failure to tie Theo Walcott to a new contract has left him "frustrated".
The forward's deal expires this summer and the club have not yet been able to offer him the terms he wants. His manager conceded yesterday that the parties "have not made any progress" and told the England international "to make up his mind".
Although there is no public threat to sell Walcott in January if he does not sign, his eventual departure would be yet another failure by Arsenal to keep one of their best players. However, Wenger is adamant that the club's approach is correct and the lavish spending of Chelsea and Manchester City is not.
Since Arsenal's last title those clubs, funded by billionaires, have won four Premier League titles and five FA Cups between them. Wenger's side are currently in 10th place in the league, already 12 points behind City.
"Football is not only to splash money out and work, it is about patience and the pride to create your own players," Wenger said. "I always said that. I continue to believe that. I have big respect for the passion about the game in England. I have big respect for this country. But football is more than just splashing out. It's much deeper, much bigger than that. It is about sweat, thinking, working hard."
Wenger has watched while foreign money at Chelsea and City has taken them well beyond Arsenal off and on the pitch, but the Frenchman proudly claimed that his methods were closer to the treasured traditions of the English game.
"You have a big tradition of that in England," Wenger said of that old hard mental work, which he feels is being lost in a sea of imported cash. "I believe the pride of this country historically is built on that. It's what makes this football strong and interesting.
"If you go to Nottingham Forest, they have won the league; if you go to Aston Villa, they have won the league. That means historically this country has always been about effort, thoughtful thinking about the game. I am scared all these qualities today have less importance in the game."
With Arsenal pursuing their famous "self-sustaining model", Wenger is under vocal pressure from his supporters to keep pace with City and Chelsea's spending. Arsenal have bought players in the last few years but no one for nearly as much as City and Chelsea paid for Sergio Aguero or Fernando Torres respectively.
But Wenger insisted he would not alter his approach to catch up. "It won't change," he said. "It doesn't mean we will not spend money. I am always painted like a guy who refuses to spend money, like a greedy guy, and people who live with me can tell you that. But I just think I act like a responsible manager because we went through a period where we had restricted funds and I acted in a responsible way."
Wenger recognised that money did help to improve teams but said he would "continue to believe" there were other important things too. "If needed, we want to be the best. But the best is not only about buying players. We need to continue with what has made our strengths until now.
"I don't say that money doesn't play a part in it, but it's not only about that. We have to continue to believe that it's not only about that. What is the game about, then? Football has to be even, interesting, unpredictable. Nobody can tell you what will happen in Man City v United but it has to be level chances as well."
Wenger also said he was "quite amazed" by speculation that Bacary Sagna would leave Arsenal, given that negotiations over a contract extension were "very positive.
"He has one and a half years of his contract to go," Wenger said. "We are in negotiations which are very positive. These statements [about a wish to leave] are completely opposite of the feelings we have with the player and about his extension."
Join our new commenting forum
Join thought-provoking conversations, follow other Independent readers and see their replies