Manchester City's entertaining draw against Liverpool shows that Pep Guardiola has no appetite for change
City's 1-1 draw against Liverpool was a match played in the long shadow of Monaco and their exciting, attacking display showed that there is little chance Guardiola will amend his philosophy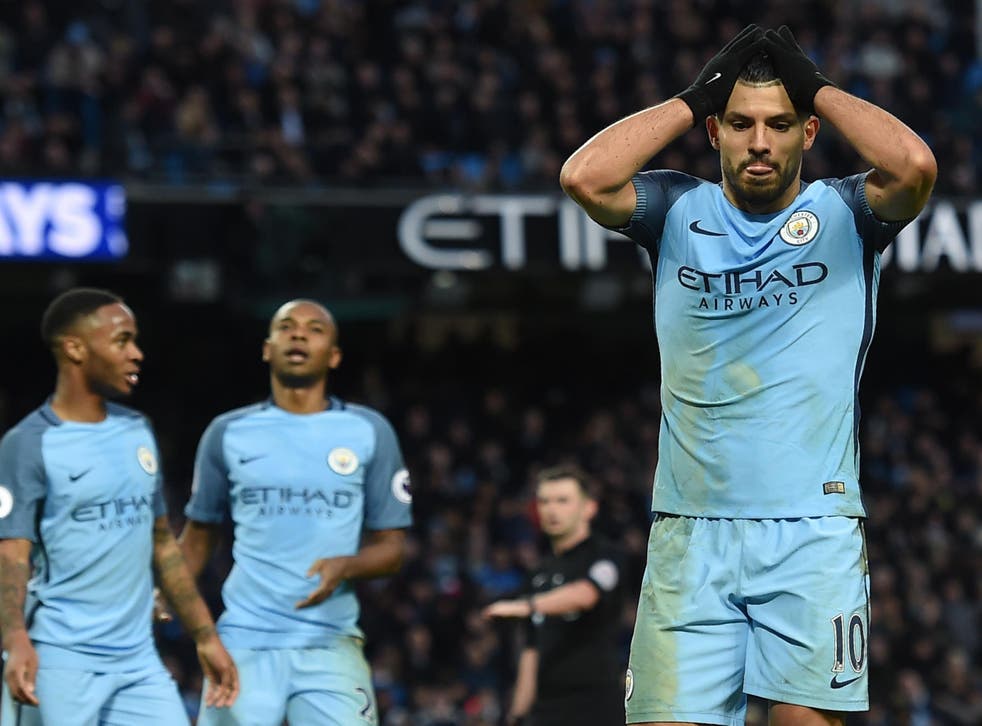 Manchester City were selling tickets for their Champions League quarter-final. The game was against Fortuna Hjorring from Denmark and Manchester City would be represented by their women's team.
This was a match played in the long shadow of Monaco, the night when people began to wonder how Pep Guardiola would ever bring the European Cup to the Etihad Stadium when his side concedes an average of two goals in every Champions League fixture.
Unlike Manuel Pellegrini, an honourable man who was sacked for being insufficiently famous, Guardiola will not be winning the Premier League in his first season and this was an afternoon in which he and his players badly needed to make a statement of what they were about.
Mostly, they did. Guardiola protected himself from the driving rain with a woolly hat and raincoat, a considerably more elegant combination than Jurgen Klopp's choice of cagoule and baseball cap, and often City's football was as slick as the pitch.
Some of the play, especially from Leroy Sane, whose play reflects that fact he is the son of a footballer and a gymnast, made you realise the sheer sense of thrill that Guardiola has brought to Manchester City.
Manchester City 1 Liverpool 1 player ratings

Show all 22
The way Sergio Aguero, whose two goals in the first leg against Monaco should have secured a Champions League quarter-final, took the equaliser suggested that talk City could do without him might be very premature. The lovely over-the-top chip from David Silva that sent Raheem Sterling through, underlined the point that the old guard who sustained the regimes of Pellegrini and Roberto Mancini still have a distance left to run.
As always with Manchester City, the problems lay in defence. This is not solely a phenomenon of Guardiola's regime. The last time Liverpool came to the Etihad Stadium, in November 2015, they destroyed Manchester City 4-1 in one of the first demonstrations of what damage Klopp's high-pressing game could do in England.
Then, Liverpool's opener was an own-goal scored by Eliaquim Mangala, a centre-half who cost the club £42m and who is not considered remotely good enough even for Guardiola's squad. Valencia, where Mangala plays on loan, have shown not the slightest interest in making the move permanent. It says something that a club as well-resourced as Manchester City should have employed Fernandinho as a right-back.
Here, Liverpool owed their point to a wild, uncontrolled challenge from Gael Clichy, the sort that completely belied his experience. Roberto Firmino did not have the ball under control when Clichy charged in. However much they howled down their former player, James Milner is probably the Premier League's best penalty-taker. This was his seventh of the season and was as emphatically converted as his spot-kick at Old Trafford in January had been.
This was an afternoon when Guardiola emphasised that he will not change. Defending a two-goal lead in Monaco, he had employed five attacking footballers and paid the price. He selected the same five against Liverpool.
They produced a fabulously entertaining game which showed the Premier League at its best just when it is agonising over its continual failure to make an impact in the Champions League.
The match programme printed an evocative photograph of Joe Mercer and Bill Shankly chatting in the corridors of Maine Road in 1971. Neither club won a trophy in a year that was dominated by London. Arsenal won the Double, Tottenham the League Cup, while Chelsea beat Real Madrid to win the Cup-Winners' Cup. However, in 1971 Liverpool and Manchester City could claim to be England's two most exciting clubs and, then as now, that is not a bad accolade to aim for.
Register for free to continue reading
Registration is a free and easy way to support our truly independent journalism
By registering, you will also enjoy limited access to Premium articles, exclusive newsletters, commenting, and virtual events with our leading journalists
Already have an account? sign in
Register for free to continue reading
Registration is a free and easy way to support our truly independent journalism
By registering, you will also enjoy limited access to Premium articles, exclusive newsletters, commenting, and virtual events with our leading journalists
Already have an account? sign in
Join our new commenting forum
Join thought-provoking conversations, follow other Independent readers and see their replies