Manchester City continue their march towards the title as sensational Sergio Aguero dismantles Bournemouth
Manchester City 4 AFC Bournemouth 0: Pep Guardiola's side won their seventeenth league match in a row as Sergio Aguero scored two goals and made another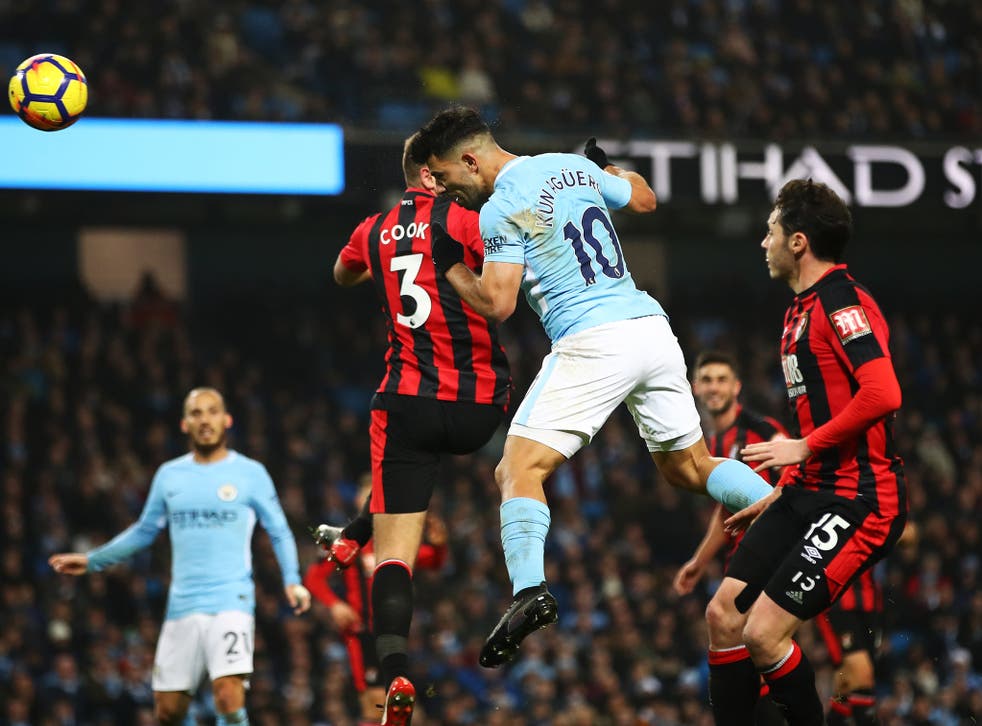 During a week that involved very little goodwill to all men, least of all Raheem Sterling, Manchester City secured a 17th straight Premier League victory that will have pleased the City winger more than most.
Sterling was the victim of a racial attack at City's training ground ahead of last weekend's victory over Tottenham Hotspur and the perpetrator – whose name is not even worthy of recording – was sentenced to 16 weeks imprisonment on Wednesday.
However, Sterling - and City in general - were clearly not affected by the fact the club have featured at the wrong end of the newspapers all week and although Bournemouth tried as hard as anyone recently, City just keep rolling on, spurred on by Sterling and the brilliantly ruthless Sergio Aguero.
Beating Bournemouth felt like an inevitability before a ball was even kicked at the Etihad because City's self-belief is so ridiculously high at the moment and a clinical headed brace from Aguero, a goal from Sterling himself and a late finish from Danilo secured yet another victory for Guardiola's side.
City have not lost in the Premier League since a defeat to Chelsea on April 5 and they have now won 24 of the 27 Premier League fixtures they have contested since that Stamford Bridge loss.
Plainly, those are the kind of figures from which Premier League champions are forged and although City are not there yet this season, it is already clear that something truly seismic and remarkable will have to occur to prevent Guardiola from winning his maiden Premier League title.
Bournemouth's supporters had to undergo a 498-mile round trip for this encounter and few would have complained if they had eschewed the occasion, preferring instead to indulge in some couch-time, the pleasures of a dreadful World War 2 film and a box of Quality Street.
Yet they themselves will not require a Great Escape if they contest the remainder of the season with the verve they showed here. They were well organised, noble and more than happy to try and chip away at City's self-regard.
But the truth for Bournemouth – and the rest of the Premier League – is that City are footballing Teflon at the moment. Nothing, nobody, can touch them.
Eddie Howe's side employed a 5-4-1 formation early on – a collector's item in itself – and the discipline with which Bournemouth adhered to Howe's gameplan was impressive.
With a miserly set-up like that, City were going to have to take advantage of every small opening, hence Aguero's disappointment after 19 minutes when he tamely chipped over the crossbar when well placed.
Nicolas Otamendi was the next City player to come close, thrashing an effort goalward from a full 30 yards that Asmir Begovic did well to spot early and palm clear.
However, City could not and would not be denied all afternoon.
City's pressing remained relentless and Bournemouth finally crumbled as Fernandinho's curling cross was met by a diving Aguero who had the presence of mind to calmly head past the onrushing Begovic.
Yet, it was Bournemouth who finished the first half as the better side as a peculiar ennui affected City's game after the goal.
As the interval approached, City inexplicably switched off and nearly gifted the visitors an equaliser as Ederson, Kompany and Kyle Walker conspired to miscommunicate on the edge of the area.
Yet they survived that blip and very nearly doubled their advantage straight after the re-start as Steve Cook wonderfully denied David Silva from six yards out with a last-gasp gamble of a sliding tackle.
Bournemouth's resistance was fully-hearted but futile, and when Sterling collected an Aguero through ball and thrashed home a second after 53 minutes any hopes of a Bournemouth comeback became instantly fanciful.
That feeling was confirmed when Aguero headed home Bernardo Silva's intelligent cross with 11 minutes left before a marauding finish saw Danilo slip a low effort past Begovic following an impressive Sterling thrust forward to make it 4-0.
Sterling has had to week to forget. Yet he is part of a team, and a season, that will be remembered for a long, long time.
Join our new commenting forum
Join thought-provoking conversations, follow other Independent readers and see their replies