Manchester City begin to rebuild and rebrand for future
Deposed champions arrive in US to unveil kit deal, talk players and announce a sister club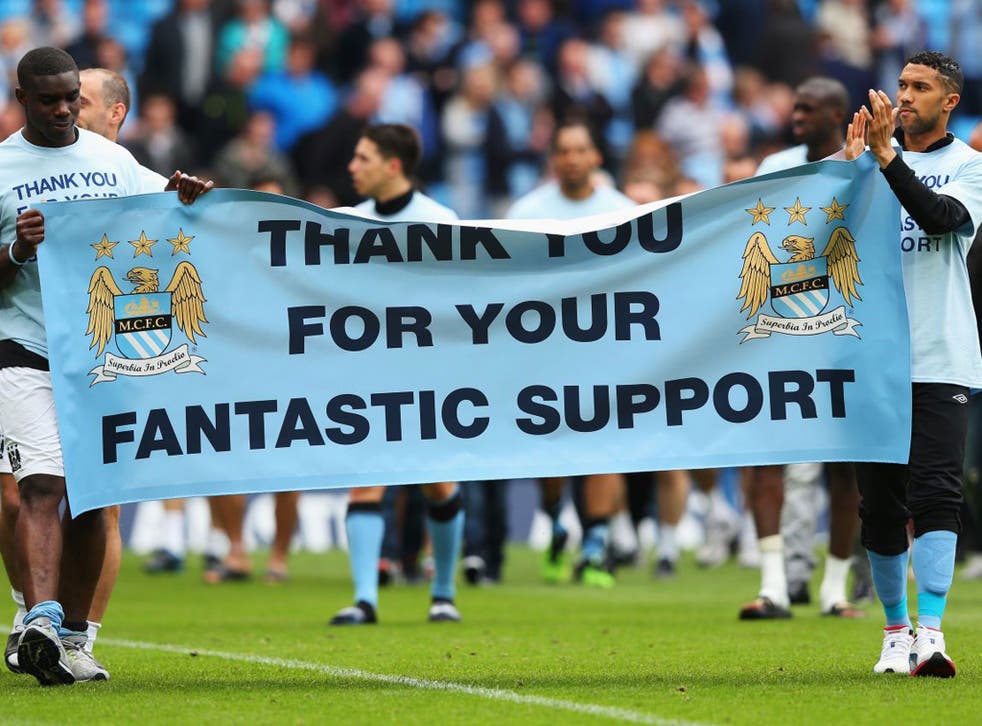 Manchester City touched down in New York intent on building on their status as Abu Dhabi's prime football franchise, in the week that Sheikh Mansour bin Zayed al-Nahyan is expected to announce he has secured a deal to establish a Major League Soccer (MLS) franchise.
As The Independent reported last month, City's arrival is timed to coincide with the expected announcement of a $100m (£65m) Abu Dhabi deal to establish the 20th MLS team, to be called New York City FC. There has been some resistance from locals opposed to the idea of a 13-acre plot of the Flushing Meadows-Corona Park, in Queens, being given to Sheikh Mansour for a nominal sum in return for the construction of a $340m (£220m) stadium.
But that is seen as no more than par for the course in this city. "You try and set up a lemonade stand here and some people will organise against it," one observer said last night. New York's outgoing mayor, Michael Bloomberg, appears to have won through in his attempts to ensure that the Abu Dhabi money is secured for the city.
The trip is about City, too. The club's need for new revenues has never been greater and against the New York skyline today they are expected to announce a new, six-year kit deal with Nike, worth £12m a year. That represents a considerable increase on the previous deal, at a time that Manchester United are negotiating their own kit sponsorship tie-up, possibly worth up to £58m a year.
City are also understood to be making progress in their pursuit of the Napoli striker Edinson Cavani, as they seek to make their squad capable of winning back the title they relinquished to Manchester United. But no breakthrough is imminent with Napoli and uncertainty also surrounds the future of Sergio Aguero, which is hampering attempts to settle on a strike force for the 2013-14 season. Aguero's split from his wife, Giannina, who is installed with their four-year-old son, Ben, in Madrid, has created the threat of Aguero leaving City for the Bernabeu after two seasons in England.
The concerns about Aguero's intentions have put Carlos Tevez in limbo, with the Argentine one year away from the expiry of his City contract. The sale of Tevez would release £250,000 a week from the wage bill and help City to pay the wages required to make them the most attractive proposition to Cavani. But if City were to lose Aguero and Tevez they would be left virtually to rebuild their strike force.
City are not seeking to buy Radamel Falcao, despite Atletico Madrid's declaration yesterday that they are selling. Monaco is almost certainly Falcao's destination. The wait for Manuel Pellegrini's appointment as first-team coach is also contributing to uncertainty for Tevez, though the creation of a squad for next season is progressing without the 59-year-old.
City have had an active interest in Cavani for several years, though his cost has always been a problem. The representative of the club who first met his agent was quoted €50m, at a time when City were telling agents that the days of them paying overinflated transfer fees to accelerate their progress were now over. He has a £52m buyout clause at the Italian club.
City play Chelsea twice in the next few days – in Saint Louis on Thursday and in New York next Saturday. The squad arrived to a noisy welcome from local schoolchildren – but also to a cover story about Wigan Athletic in the sports section of the New York Times, reflecting on a team "Lingering at the Exit".
There was no mention of the profile City are expected to command here this week – or their presence. All that may change when they have a sister club playing in the MLS franchise from the 2014-15 season. When Sheikh Mansour embarks on a project, he does not do it by halves.
All sewn up: Top kit deals
1. Real Madrid Adidas (until 2020) £28.5m per year
2. Barcelona Nike (until 2018) £26.3m
3. Liverpool Warrior (until 2015) £25m
4. Bayern Munich Adidas (until 2020) £23.6m
5. Manchester United Nike (until 2015) £23.5m
6. Chelsea Adidas (until 2018) £20m
7. Manchester City
Nike (until 2019) £12m
International
1. France Nike (until 2018) £36m per year
2. England Nike (until 2018) £25m
3. Germany Adidas (until 2018) £22m
4. Brazil Nike (until 2018) £21m
Join our new commenting forum
Join thought-provoking conversations, follow other Independent readers and see their replies