Pep Guardiola sets Manchester City target of winning 10 games to claim the Premier League title
Guardiola has finally allowed himself to talk up City's chances of winning the Premier League title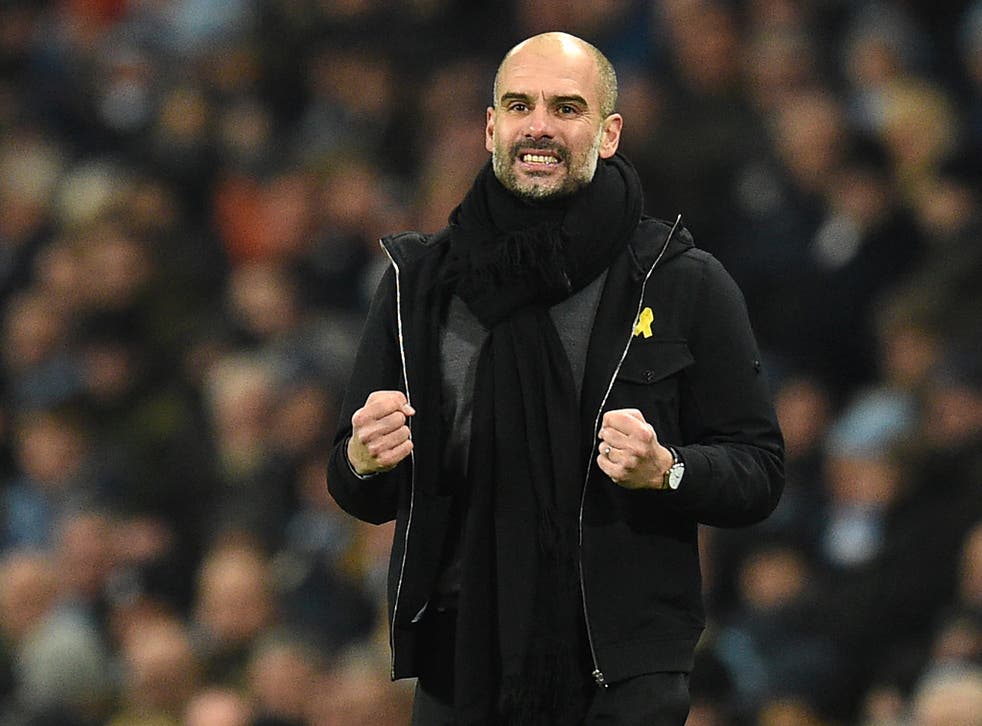 Pep Guardiola is not afraid to set his Manchester City players the target of 10 more victories and is confident they will remain focused as they continue to stroll towards becoming Premier League champions.
Guardiola has rarely spoken directly about what City have left to do in a title race that some would say last looked competitive in September, but that changed following Saturday's 3-1 win over Newcastle United.
After Sergio Aguero's hat-trick had helped to maintain City's 12-point lead at the top of the table, Guardiola noted that 10 wins from the final 14 games will be enough for his side to be crowned as champions, no matter what the chasing pack come up with.
Premier League gameweek 24 in pictures

Show all 49
The Catalan is still preaching caution, especially after Liverpool inflicted City's first league defeat of the season just last week. Guardiola also noted how in 1996, Newcastle themselves let the same lead slip at this stage of the season and eventually collapsed to a runners-up finish.
Nevertheless, he is still encouraging his players to concentrate on their ultimate target: the Premier League title.
"Today I read Newcastle dropped a 12-point advantage years ago and United won the league," Guardiola said on Saturday after City's victory. "Two months ago, I heard that the Premier League is done.
"We passed 'the Premier League is done' and you lose one game? I said many times that is going to happen. In Anfield we can lose, what is important is the reaction we have to do.
"Still we have 42 points to play. It is 14 games. It is a lot of games to play and difficult games like today, like it was in Liverpool, it is important to show the team is already there, it is still there."
The City manager added: "I don't have the feeling we give up. Today the team was so quiet in our meetings, quiet in the warm-up. That feels [like] the people has focus and that is so important."
Guardiola admitted that he has discussed targets for this season's final 14 league games with his players as he believes it is beneficial to look "forwards".
"I cannot deny, we spoke about that [targets]," he said. "We have two chances: to see what happened behind or to see what happens in the 11 games we have to win. The best way is to maintain forwards. What happened happened.
"I said to them, until fixture 24 we were the best team, but that doesn't count. It counts after fixture 38. Still we have 14 and to win 10 or 11 games, it will be tough. Every team play for something, to stay here, for Europa League, for Champions League and they'll be focused.
"I said: 'Don't look back, don't look at our contenders behind, look at what we have to achieve'. If you try to wait what happened behind, if we look at what they do, that is not a good solution from my experience."
Guardiola added: "Today, we win the game and we play how we are. We won and after we have Carabao, FA Cup and West Brom next week here so that is the best way. If we go forward we are going to win games and after we will be closer to the championship."
Register for free to continue reading
Registration is a free and easy way to support our truly independent journalism
By registering, you will also enjoy limited access to Premium articles, exclusive newsletters, commenting, and virtual events with our leading journalists
Already have an account? sign in
Register for free to continue reading
Registration is a free and easy way to support our truly independent journalism
By registering, you will also enjoy limited access to Premium articles, exclusive newsletters, commenting, and virtual events with our leading journalists
Already have an account? sign in
Join our new commenting forum
Join thought-provoking conversations, follow other Independent readers and see their replies