Sergio Aguero deserving of his place in Manchester City folklore, says Pep Guardiola
Aguero is on the verge of becoming City's all-time record scorer, going into Saturday's home match against Crystal Palace two goals behind Eric Brook, the current holder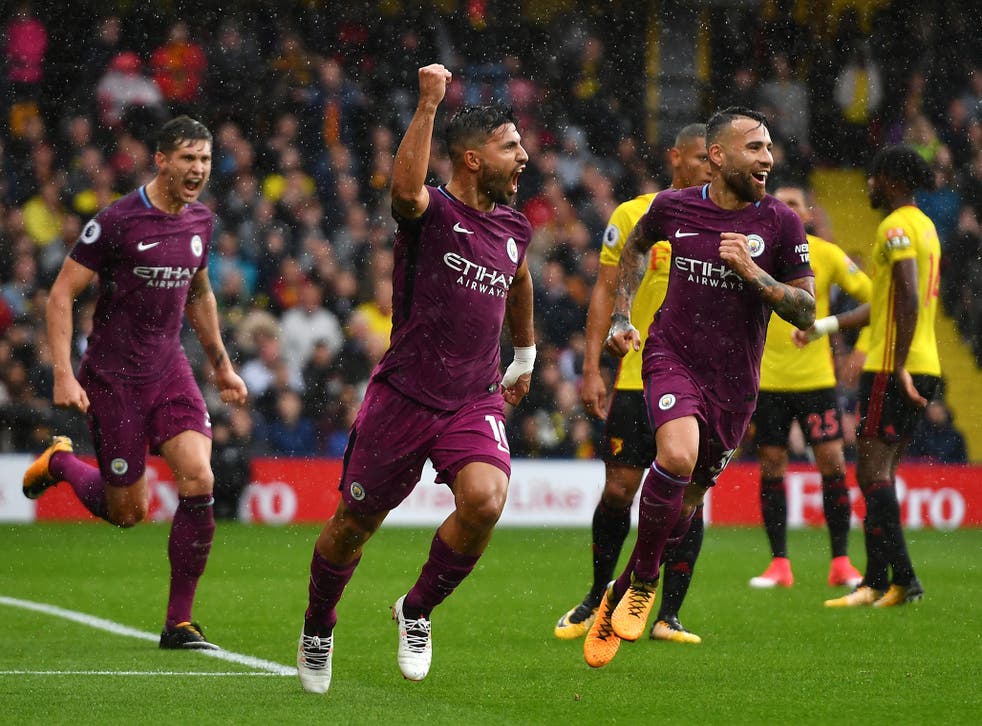 Pep Guardiola has declared that Sergio Aguero is fully deserving of his place in Manchester City folklore, even if he continues to be ignored when it comes to personal honours.
Aguero is on the verge of becoming City's all-time record scorer, going into Saturday's home match against Crystal Palace two goals behind Eric Brook, the current holder.
Brook's record of 177 goals has stood since 1939, but the Argentina forward has made rapid strides towards it this month, scoring five goals in his last three matches, including a hat-trick in last Saturday's 6-0 win at Watford.
Another three goals against bottom club Palace would make the record Aguero's outright, but even if he does not manage that on Saturday, Guardiola is certain that it is only a matter of time.
"The record is going to be broken," said the City manager. "Where, I don't know. Maybe at home would be better."
Yet personal recognition has eluded Aguero, despite his consistency since joining City from Atletico Madrid in 2011.
Not only has he never won any of the English game's player of the year awards, he has also not been named in the Professional Footballers' Association's team of the season once. There was further personal disappointment this week as he was left off the 55-man shortlist for the Fifpro World XI.
Guardiola says that it does not matter if Aguero keeps on missing out on those personal honours, though, because he has respect where it matters.
The City manager said: "I always encourage my players to fight for the recognition of his team-mates. That is the best way.
"The best present you can have is the feeling that your team-mates is when you have the feeling that your team-mates love you and you feel you have helped them.
"Recognition in the media and prizes are OK for ten minutes and then after that they disappear. So he's not in the Fifpro team this week. He will be in the next one. It doesn't matter."
If Aguero's omission from every single one of the six PFA teams of the year selected during his time in England is baffling, his failure to make the Fifpro list is a little more understandable given that he has faced a tricky 12 months.
The forward has faced something of a battle to prove his worth to Guardiola, who demanded that the striker increase his work off the ball, and also lost his place in the Argentina starting line-up, as they struggle to qualify for next summer's World Cup.
Guardiola admits that Aguero does not always look the most enthusiastic player on the training ground, but always sees him come to life on a matchday.
The manager said: "Sometimes his body language [in training] is like: 'I'm tired, I don't like this, it's cold, it's freezing.' But he loves to play football.
"He likes the ball and when he can score a goal, his eyes open. He's a football player.
"Sergio has the character to score goals. He had it in the past with Argentina, his mother and father gave him that talent. He will die scoring goals, there is no doubt about that."
Register for free to continue reading
Registration is a free and easy way to support our truly independent journalism
By registering, you will also enjoy limited access to Premium articles, exclusive newsletters, commenting, and virtual events with our leading journalists
Already have an account? sign in
Register for free to continue reading
Registration is a free and easy way to support our truly independent journalism
By registering, you will also enjoy limited access to Premium articles, exclusive newsletters, commenting, and virtual events with our leading journalists
Already have an account? sign in
Join our new commenting forum
Join thought-provoking conversations, follow other Independent readers and see their replies