Manchester City v Manchester United: Roberto Mancini dives into war of words with Sir Alex Ferguson
Dispute over penalty bias kicks off the verbal hostilities ahead of tomorrow's pitch battle at the Etihad Stadium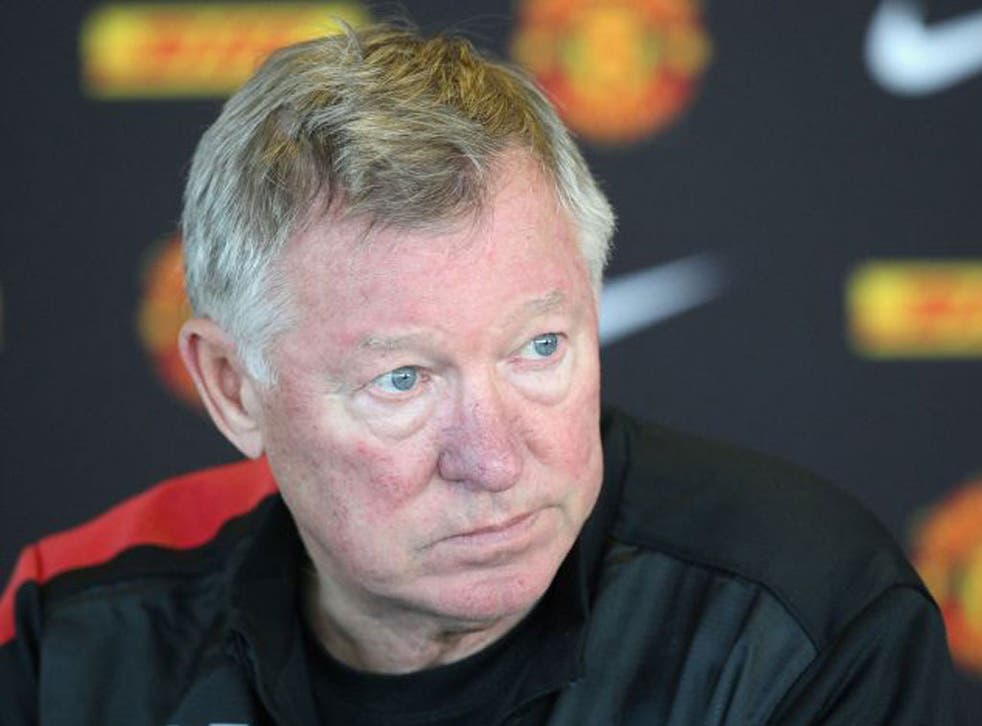 Roberto Mancini was plunged into a war of words with Sir Alex Ferguson about the number of penalties Manchester City are awarded, after biting on a classic piece of sophistry from the Manchester United manager ahead of tomorrow's derby clash between the sides.
Ferguson proved what an assiduous reader of newspapers he is by reciting the fact that City have been awarded 21 spot-kicks since the start of the season before last – a figure published in this paper and others on Monday after Everton manager David Moyes called into question some of the officiating at the Etihad.
"It's 21 [penalties] in the last year isn't it? Something like that," Ferguson said. "If we were to get that number of penalty kicks there would have been an inquiry in the House of Commons – and protests."
Mancini returned the barb with interest, alluding to the way Ashley Young won consecutive penalties for United with swallow dives in consecutive home games against Queen's Park Rangers and Aston Villa last season. "I remember very well last year when Young was swimming in the ..." he said, gesturing like a swimmer rather than completing his sentence. "Four or five times in the last 10 games and no one said nothing. This can happen. Probably. Fergie is clever for this."
He was right: Ferguson's suggestion of bias was unjustified. United and City have actually been awarded precisely the same number of penalties in the Premier League since the start of the 2010-11 season – with the only difference being City's greater ability to convert them. They have scored 18 from 21, United only 14. But 20 of those 21 League penalties for City have been awarded at the Etihad and, as usual, Ferguson was getting in an early reminder to tomorrow's referee, Martin Atkinson. He is the man who allowed six minutes of injury time in the Etihad Manchester derby of 2009, which United exploited to win 4-3. Premier League rules would have prevented Ferguson from discussing the fact that the four penalties Atkinson has awarded this season is surpassed only by Phil Dowd's five.
Ferguson said in April that he had "had a word" with Young about his theatrics and has also publicly criticised Wayne Rooney and Ruud van Nistelrooy for that crime in the past. It is his view that the fault lies with Uefa and Fifa for not dealing with simulation robustly enough.
United's manager avoided further verbal warfare ahead of a match which he and Mancini now believe is between the two title contestants. "I have never entered into the revenge stuff. It doesn't work," he said of City's title win last season.
He also refused to enter into a discussion about the fact that City have become a more respectful adversary than in the brash early days, when the United manager tagged them "noisy neighbours". "Listen I am not interested in that part," he said. And though Ryan Giggs yesterday reflected on the fact that being at home in Worsley during the summer brought frequent reminders of City's title – "You see a lot more City shirts knocking about and you get the odd comment," he said – Ferguson insisted he had put the matter away. "It's gone. It goes away quickly," he said.
Mancini admitted that retaining the title is proving harder than winning it, while Ferguson said that longevity was vital to his own side's ability to reclaim the crown time and again.
As for tomorrow's team line-up, Ferguson said that Nemanja Vidic did not have the "confidence" to return to United's side until next weekend, having come back prematurely from knee surgery earlier this season and suffered a setback. Neither will Shinji Kagawa be back before Sunderland's visit next Saturday. Aleksandr Kolarov's hamstring injury keeps him out for City, though Gaël Clichy and David Silva will possibly return.
Mancini said that United had a superiority this season based on their greater experience. "We have been here only two years and they are used to playing this game for the title race for 20 years," he said. "This is normal when you play against a team that won everything in the last 15 years. You can't change this in two years or three years and you need more time. For this reason, they have a small advantage."
Spot of bother: The true penalty count
* Sir Alex Ferguson yesterday criticised Manchester City's penalty count since the start of the 2010-11 season. But City are joint top with United as they have been awarded 21 each. City have had 20 penalties at home and one away, while United have been awarded just 13 at home and eight away. But this season United lead the way with five penalties awarded to them, with City on four. The clubs have missed one each.
Join our new commenting forum
Join thought-provoking conversations, follow other Independent readers and see their replies