Manchester City vs Borussia Dortmund report: Angus Gunn clinches shootout victory for City in China
Manchester City needed penalties to beat Borussia Dortmund in Shenzen in the International Champions Cup with City players young and old impressing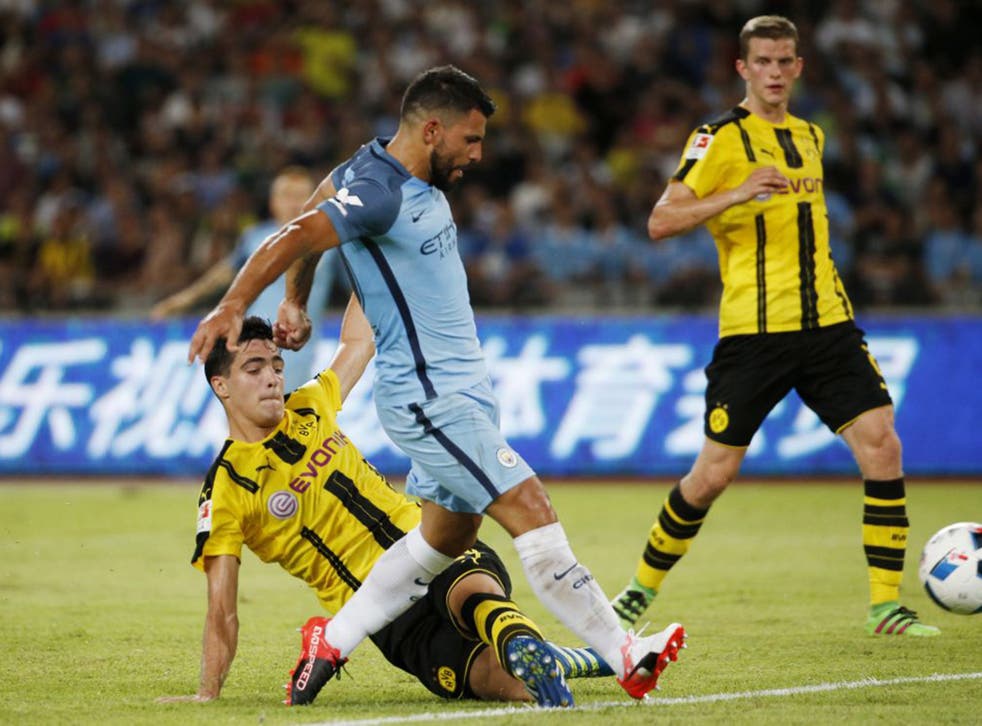 Two steps back to move one step forward
Everyone knows that Pep Guardiola teams play out from the back but some Manchester City players still need to get up to speed. Willy Caballero twice put City under pressure in the opening stages when he skewed passed straight to Borussia Dortmund players, who were smart enough to anticipate the danger. First Nicolas Otamendi had to block from Ousmane Dembele, before Emre Mor shot needlessly wide. It was the same when young Angus Gunn replaced Caballero, and when Joe Hart returns to the team he will need to be sharper than he often is too. More work is clearly required.
Garcia seizes his chance to impress
There is no more important player to a Guardiola team than the "organising midfielder", sat in front of the defence, directing play, just as Guardiola himself did for Barcelona in the 1990s. That is why Manchester City bought Ilkay Gundogan this summer, but he will not be ready for the start of the season. There is a gap to be filled and this was an excellent audition from Aleix Garcia, the 19-year-old signed from Villarreal last summer. He looked comfortable on the ball, finding team-mates, and playing the clever pass through to David Silva which made City's winner. Should not be too disheartened by his saved penalty.
Aguero proves why he's a cut above the rest
One of City's biggest weak spots last season was up front, where the combination of Sergio Aguero, Wifried Bony and Kelechi Iheanacho misfired too often. Iheanacho started this game, with Bony and Aguero coming on in the second half, and it was clear again why Aguero needs more top-quality support. Iheanacho's touch was inconsistent, while Bony worked hard but snatched at his chances. Aguero, as ever, was on another level and he stayed onside, took a late pass from Silva to put City 1-0 up.
Dortmund buy smart to forget another depleting summer
It is not easy to lose your best players ever year and stay stable. This has been another difficult summer for Borussia Dortmund, who have lost Henrikh Mkhitaryan, Ilkay Gundogan and Mats Hummels, and yet on this evidence they have bought well enough to ensure that they will be strong for years to come. The stars were two 19-year-olds among the best youngsters in Europe: Ousmane Dembele, signed from Rennes, and Emre Mor, from Nordsjaelland. Dembele was lightning quick down the left and never let City rest, while Mor's delicate feet on the right could skip through any gap. And this was without Mario Götze or André Schürrle.
Nod to the future gives City more options
If Manchester City have struggled to bring through players in the last few years, that might change now. In Tosin Adarabioyo they have a very talented young centre-back who has been at the club since he was 5 years old. Adarabioyo played all 90 minutes in the heat, and impressed with his composure, his anticipation and his reach in the tackle. Then Angus Gunn came on at half-time for Willy Caballero, and confidently saved three penalties in the shoot-out which Manchester City won. With goalkeeper and centre-back positions at City still unclear, those two youngsters could certainly contribute this season.
Register for free to continue reading
Registration is a free and easy way to support our truly independent journalism
By registering, you will also enjoy limited access to Premium articles, exclusive newsletters, commenting, and virtual events with our leading journalists
Already have an account? sign in
Register for free to continue reading
Registration is a free and easy way to support our truly independent journalism
By registering, you will also enjoy limited access to Premium articles, exclusive newsletters, commenting, and virtual events with our leading journalists
Already have an account? sign in
Join our new commenting forum
Join thought-provoking conversations, follow other Independent readers and see their replies