Man City vs Manchester United: Familiar derby raises new questions for remainder of season
Defeat could have a major bearing on Pep Guardiola's approach to the Champions League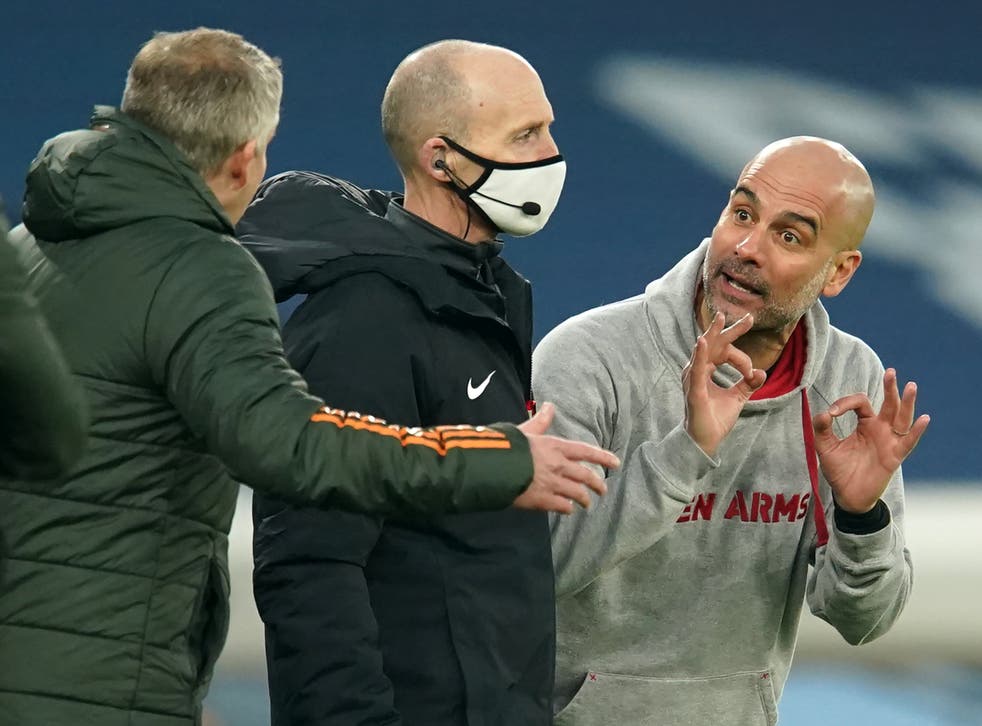 A match that we've seen before, and really told us nothing new about either side, but one that may throw up a few new questions for what remains of this season.
Manchester City's growing air of invincibility is gone, their run stopped at 15 consecutive league victories. That won't be any way relevant to their inevitable lifting of a seventh domestic title, but may be important as regards what they really want, which is that Champions League. The question, particularly for Europe, is how quickly they can get back to this kind of form; how they react.
Manchester United, not for the first time under Ole Gunnar Solskjaer, have reacted well to another bad run. The fight for top four has been greatly eased. They have once more got a fine result, in a big game, just when it looked like a drop-off could develop into a crisis.
We've seen that so many times before. It is a sequence of events that is by now more predictable than some of City's attacking in this game.
As if to emphasise that, we've seen this very performance so far before. One was in the last time this fixture was played, when United won 2-1 at this stadium in December 2019.
Solskjaer, whatever the wider debate about his exact capabilities, clearly has a number over Pep Guardiola. It is also why this told us nothing new about United. It is encouraging, but another part of a big pattern.
The temptation is to ask "if only" and wonder what might have been this season, given recent results against weaker sides, but this only shows what United currently are: a competitive team and one capable of big results, yet still not really pushing for the biggest trophies.
A far more interesting question surrounds Guardiola's side. Is it possible, for all their wider superiority, they still have something of a lingering inferiority complex regarding their biggest rivals?
That is what really might be relevant to that European quest, especially with how Guardiola's second-guessing and more curious decisions have contributed to eliminations that shouldn't really have happened. There was, at the very least, a warning for City.
After a long spell where they looked like the best side in Europe, and were building up to surely claim that Champions League at last, this was the first time since December they looked really vulnerable and a little jaded. It was also the first time in a while Guardiola looked agitated and intense on the line, in classic fashion.
That's all because it was the first time they were really tactically tested, in a way that is only going to be amplified as they go deeper into the Champions League.
For all City's brilliance over the last few weeks, it shouldn't be overlooked that most games have been comfortable, but one sudden long ball up still caught out Ruben Dias in that win over Liverpool. In this match, with Gabriel Jesus having been panicked into a bizarre foul early on, United were repeatedly getting at them.
It is highly possible that vulnerabilities remain there, that just haven't been got at yet. European managers will be watching.
It's also possible that it may encourage Guardiola's capacity for second-guessing, for doing something unexpected, and sometimes unnecessary.
That's what these defeats can sometimes do. It's all the more marked that neither side did that much different in this game. It completely fell to formula.
United, at least, have done something different this season. They've won a big-six game. They've scored a goal from open play in a big-six game. That will banish that talk, to go with any old perceptions about Luke Shaw. He might now be the Premier League's best left-back again.
He is certainly United's player of the season after Bruno Fernandes, and currently more dynamic in open play.
It was fitting Shaw got a fine winner, to cap his recent resurgence. He effectively set up his own goal by first making that initial burst, and then showing such contrasting composure to keep control on the ball and firing in the most elegant of finishes. It was really a Solskjaer finish: low into the corner, through the defender's legs, while using him as a shield.
How many times did the manager score a goal like that in his playing career?
How many times has he now secured a win like this in his managerial career? Well, this is the fourth against City. It's nothing new, but throws up new questions for the season.
Join our new commenting forum
Join thought-provoking conversations, follow other Independent readers and see their replies