Man City vs Tottenham result: Five things we learned as Pep Guardiola's side go seven points clear at the top
Man City 3-0 Tottenham: Ilkay Gundogan starred in a comfortable victory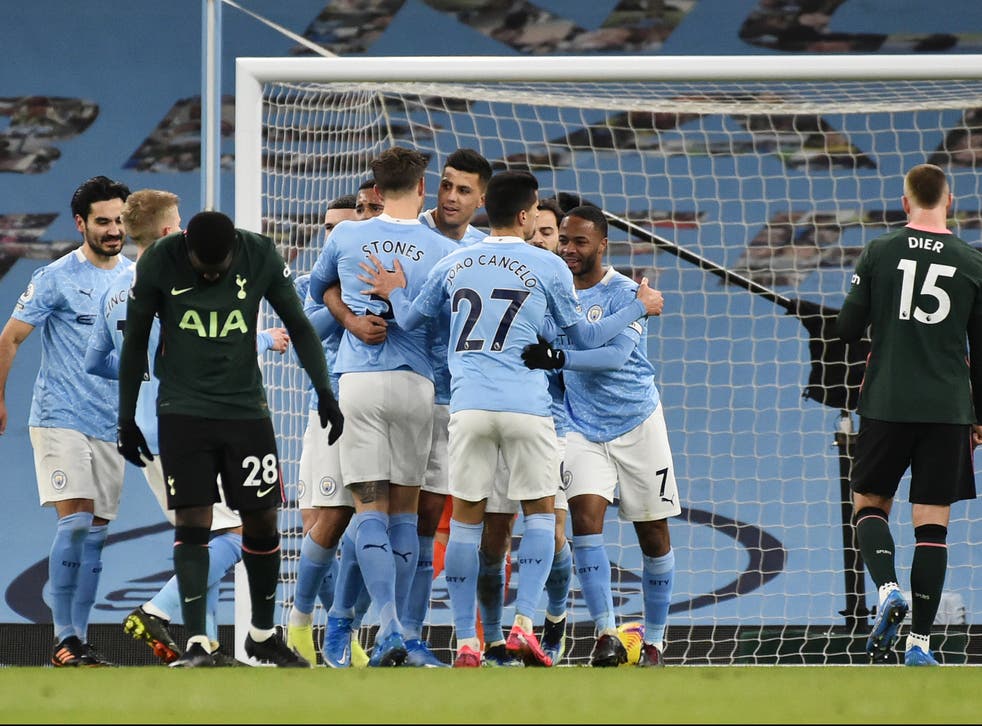 Manchester City comfortably beat Tottenham Hotspur in the Premier League on Saturday evening, triumphing 3-0 at home to go seven points clear at the top.
The away side went closest first when Harry Kane struck the crossbar with a free-kick, but a clumsy challenge from Pierre-Emile Hojbjerg saw City awarded a penalty - which Rodri just about squeezed past Hugo Lloris.
There were further chances for Pep Guardiola team before the break, with Ilkay Gundogan seeing a good chance blocked and Gabriel Jesus striking the rebound onto the crossbar and over.
READ MORE: Premier League fixtures and table - all matches by date and kick-off time
Spurs made a change at the break to get back into the match but it was taken away from them within minutes, Raheem Sterling teeing up Gundogan for 2-0. Just after the hour mark the German scored his second, running through after Ederson's long pass to finish in clinical fashion. Here are five things we learned from the game at the Etihad Stadium.
City's latest spot-kick candidate
A rotating cast have had the chance to score from 12 yards for Man City over the past couple of seasons, with the manager even suggesting that goalkeeper Ederson was an option for them after another missed effort against Liverpool recently.
Riyad Mahrez, Gabriel Jesus and Gundogan have all missed from the spot over the last year or two, with Kevin De Bruyne now the regular taker - but out injured presently.
Rodri stepped up this time and, although he scored, it wasn't the most well-struck penalty of the season and Hugo Lloris probably should have saved it after getting a hand to the ball.
Cup final preview?
If this was anything to go by, the EFL may as well tell Man City to not bother bringing the Carabao Cup trophy with them to Wembley, because they'll be retaining it once again when they face Spurs.
Other than an early set-piece effort, Jose Mourinho's team didn't lay a glove on Guardiola's here.
It was a submissive and listless showing - perhaps understandable given their 120 minute exertions in midweek in an enthralling FA Cup tie which, ultimately, they lost.
Stellar home record
City's win streak now stands at 16 games in all competitions, which is incredible considering the season and the inconsistencies being shown elsewhere.
But at home they are becoming almost impossible to earn anything off at all, even a goal.
In the last 11 they have conceded precisely two goals, both times resulting in 1-1 draws. And those two strikes were an own goal and a penalty - the last goal in open play they conceded at home was against Leicester in September, their first home match of the season.
Lloris drop-off
Spurs had several poor performers on the day, notably Ben Davies at left-back and anyone with an attacking mandate, so the blame can't all go to one person.
But goalkeeper and captain Hugo Lloris is having a dreadful recent run.
Here he should ideally have fared better with all three goals, even the penalty which he got a hand to but wasn't strong enough to keep out.
His reflexes weren't great for Gundogan's first, and again he didn't keep out a ball he got part of his body to, while for the third he went down rather easily, wasn't particularly far off his line despite the pass originating from opposite number Ederson and didn't make it tough for Gundogan to net.
A bad recent run, after similarly weak showings against Everton and Liverpool of late.
Title race all but over?
On a day when Jurgen Klopp acknowledged the Premier League title fight is over for Liverpool, Manchester City perhaps showed that nobody is close enough to have a chance of closing the gap already.
Gundogan went off injured, which is a worry, but his goalscoring form of late has helped City show the kind of consistency no other club has come close to managing this season.
Seven points is the gap, but they also still have a game in hand on Leicester and are a further point ahead of Man United.
Perhaps this, in the weeks to come, might allow Guardiola and his side to really focus on the prize of the Champions League.
Register for free to continue reading
Registration is a free and easy way to support our truly independent journalism
By registering, you will also enjoy limited access to Premium articles, exclusive newsletters, commenting, and virtual events with our leading journalists
Already have an account? sign in
Register for free to continue reading
Registration is a free and easy way to support our truly independent journalism
By registering, you will also enjoy limited access to Premium articles, exclusive newsletters, commenting, and virtual events with our leading journalists
Already have an account? sign in
Join our new commenting forum
Join thought-provoking conversations, follow other Independent readers and see their replies