Jose Mourinho admits Manchester United are playing to be best of the rest with City 15 points out in front
United's disappointing midweek defeat at Tottenham allowed Pep Guardiola's side to open a commanding 15-point gap at the top of the table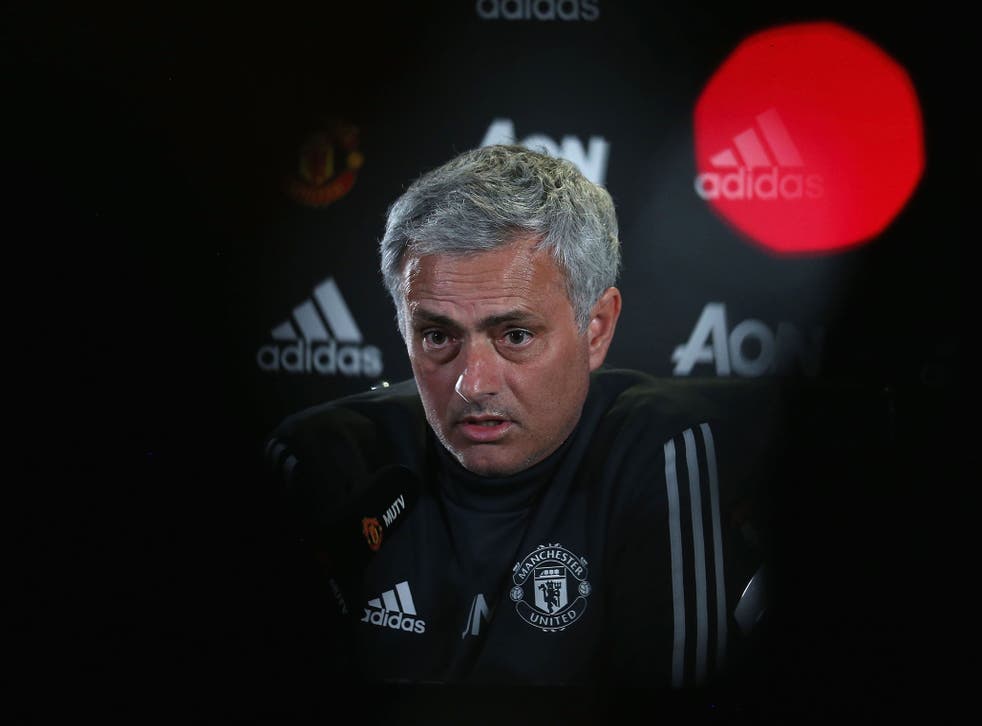 Jose Mourinho has admitted that Manchester United are playing to be "first of the last" after effectively conceding the Premier League title to rivals City for the first time.
United's disappointing midweek defeat at Tottenham allowed Pep Guardiola's side to open a commanding 15-point gap at the top of the table, with just 13 games remaining.
But the United manager insisted that there is still plenty for his team to play for in the league this season, with second place and a continued improvement in his club's overall development, the key aims.
"It makes me feel that they are doing so, so well that they are not letting the others come close to that, as simple as that," said Mourinho when asked how City's dominance made him feel.
"With the number of points and improvement we have in relation to last season, in normal conditions the distance would be a distance that leaves the fight open.
"And, at the moment, the fight is open for second, third, fourth, fifth and sixth but it is practically closed for the first.
"I cannot say that we are doing bad or Tottenham is doing bad or Chelsea is doing bad because the number of points we have are a very reasonable number of points.
Fantasy Premier League tips: Gameweek 26

Show all 10
"But Man City started strong and kept being strong with results and managed to win matches even when they didn't deserve.
"And they managed to win matches - I give them credit for this - with that last push of the last minute goal, the winning goal in extra time, they managed to do that in a way where that's the distance.
"If you tell me all six want to be champion and only one will be champion and the other five fail, I think is too pragmatic a way to look at it because you can do positive work and not win the title."
Mourinho was talking ahead of the home Premier League meeting with Huddersfield, a game at which United will mark the 60th anniversary of the Munich air disaster that falls on Tuesday.
The United manager is deeply respectful of the tragedy that shaped his club's history but insisted that it is also vital that they return to winning ways in the league.
"It's not because of this Munich disaster (anniversary) that the game becomes important for us," he said. "The game is important because we need points to be the first of the last, we have to try to finish second.
"We are in these positions all season. We were first for a few weeks and then we were always second, I don't remember us being fourth, fifth or sixth, we have been there since the beginning of the season, better than last season in every aspect - points, position, number of goals scored, conceded, better in everything.
"So we have to try to stay there and is not easy because there are very good teams. Chelsea is champions again, (had a) fantastic (transfer) market, Liverpool is a great team, Arsenal improved a lot in the market, Tottenham is a fantastic team and they are five points behind us.
"So we are doing quite well, with some negative moments, Wednesday was one. It is very important to do better than last season and try to win something, and if not do better."
United will, however, be without Marouane Fellaini for this game, and several weeks beyond, after he suffered a knee injury at Tottenham.
"I don't have good news, I don't have news because I don't want to give news based on an initial approach but I don't think the news is very good," said Mourinho.
"He has a problem in his knee, it is the same knee (as previous injury) but not the same local. The was internal, now external, so let's wait a couple of more days but he is out of the game tomorrow.
"They [the medical team] are still working on it. It's an injury and I feel sorry for him personally and I feel sorry for the team because he's an important player for us."
Meanwhile, Mourinho has revealed that he expects Eric Bailly and Zlatan Ibrahimovic to be fit and playing by the end of this month.
Join our new commenting forum
Join thought-provoking conversations, follow other Independent readers and see their replies