Jose Mourinho laments Manchester United defenders' aerial mistakes after defeat at Newcastle
The criticism from Mourinho was saved for those defenders who had not done their job in the only goal of an enthralling game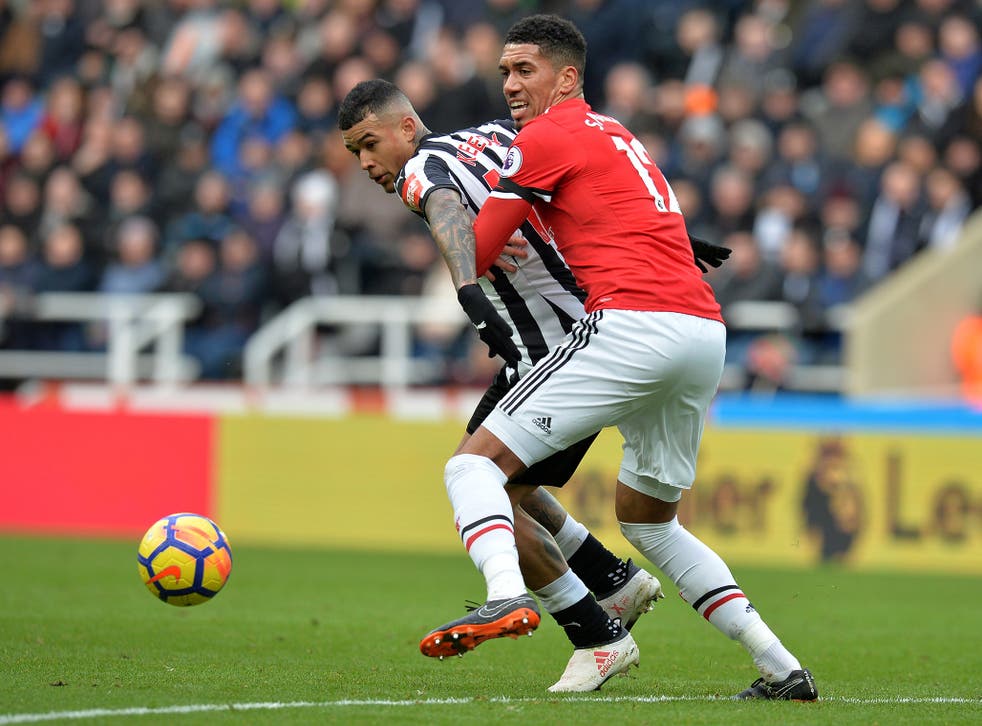 Jose Mourinho turned on his Manchester United defenders after his side suffered a shock defeat at St James' Park, a ground where he has still to win a Premier League game.
Mourinho's men were undone in the 65th minute when they failed to deal with a Jonjo Shelvey free-kick that was eventually hammered past David de Gea by Matt Ritchie. The Manchester United manager immediately withdrew Paul Pogba, who was criticised heavily on the morning of the game by Graeme Souness, who labelled the £89m signing a 'schoolboy'.
The criticism from Mourinho was saved for those defenders who had not done their job in the only goal of an enthralling game, ignoring the decision of referee Craig Pawson, who booked Chris Smalling for diving.
"I don't like to complain about referees in this kind of situation," he said. "I don't know if it's a free-kick. What I know is we missed a challenge in the air and missed the second ball. I coach my payers, I don't coach the referees. I have to be more disappointed with my players for losing that challenge.
"We train, we work, we organise. The players have their individual jobs in defence or not. The player know their responsibilities.
"A lateral free-kick is not even a lateral free-kick from a dangerous position. It's really far from the ball. We miss the challenge in the air. I remember clearly without television but just with my memory from the touchline, a Newcastle player jumping and two of my players looking at him and staying on the floor.
"A defender has to concede free-kicks now and again. It was an intuitive thing. Players [who do it] in the box deserve a card more than (Chris) Smalling in that situation. Clearly I know we lost the duel in the air and it's difficult to accept that."
On Pogba, Mourinho added: "I don't analyse players individually. There's no problem with Pogba. I wanted a better way to come out against a compact team by bringing out Michael Carrick. He makes everything simple."
Mourinho's winless run in the Premier League at St James' Park extended to seven games in his side's 1-0 defeat. Newcastle produced their greatest display of the season in victory, and the Manchester United was effusive in his praise.
"They went to the limited with their sacrifice, which managers like to see," he added. "Newcastle fought like animals. Animals is a good word. It's a compliment. They gave everything they had. They fought like animals. We made a mistake but then they gave their lives to keep a clean sheet. It was then down to the gods of football.
"They came here today to fight for a point but they found themselves in a position of being one-nil and in that moment they went over all the limits of the effort, the sacrifice, of everything a manager likes to see in his team.
"The gods of football were clearly in their side. They must have an amazing feeling after giving absolutely everything."
Rafa Benitez saw his side rise to 13th with the dramatic victory. He praised the spirit and unity of his side.
"Today it was just a question of passion and commitment from everyone," said the Newcastle manager. "My message to our fans, and I think they know it really well, is that this is a team that cares.
"The players do not give up and they continue working hard. We will have some limitations and some problems, but you could still see this was another game when they were giving everything, and that is the positive thing. If we understand that and we are behind the players, they can perform like today.
"I am not thinking about that (beating Mourinho). I was just trying to get three points against anyone, and today it just happened to be Manchester United. Hopefully it will be the same against Bournemouth.
"Against a top side, you have to play in this way. It is good to see him praising our players, but that is the only way for us and I am really proud of them. That is the way to be sure that you can stay in the Premier League."
Join our new commenting forum
Join thought-provoking conversations, follow other Independent readers and see their replies