Manchester United latest: Angel Di Maria move no closer as Juan Mata emerges as Louis van Gaal's favoured No 10 as prospect of signing
The Spanish playmaker signed from Chelsea has made a big impression on the new Manchester United manager and can expect to play a key role in the season ahead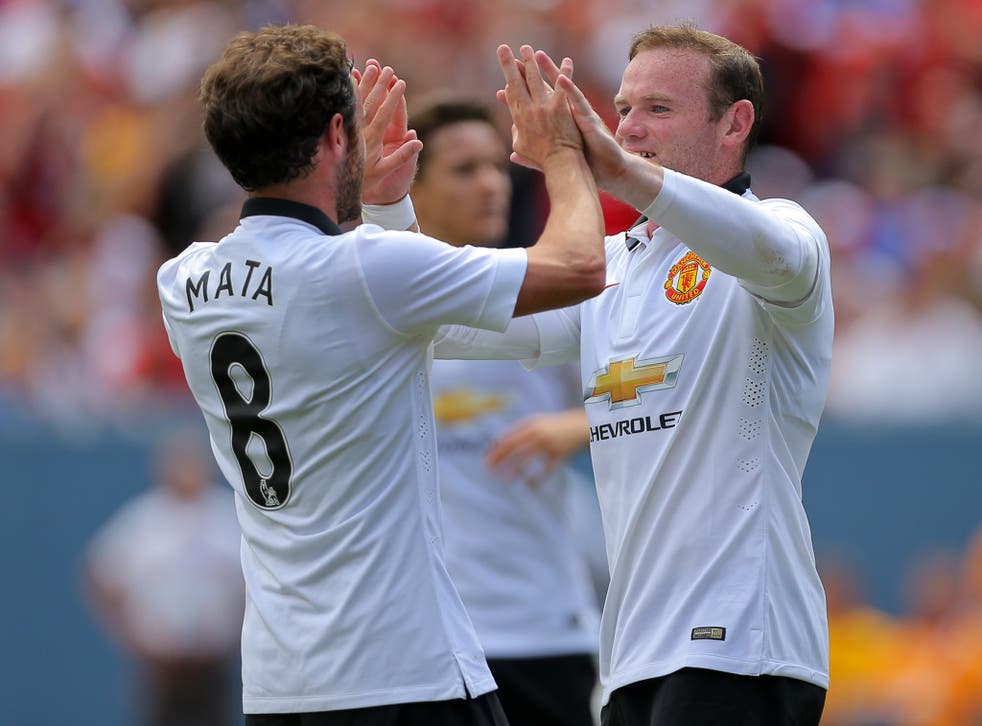 Louis van Gaal is understood to be deeply impressed by Juan Mata's football intelligence and technical ability and has made him his first choice No 10 for Manchester United.
Suggestions that the prospects of an Angel Di Maria move to United have improved are wide of the mark, with the club having no sense that his mooted transfer to PSG is in trouble.
But Mata has emerged as the foremost creative option. The Spaniard's role at the club had seemed uncertain ever since he moved there last January and was promptly located on the right by David Moyes for his debut at Stoke City. It was in greater doubt when Ryan Giggs omitted him from the first line up of his own four games at the helm. Mata's performance from the bench on that occasion, against Norwich City, underlined his professionalism.
Mata's positive personality is of a kind that has always appealed to Van Gaal, who considers him to be a greater asset to United in the same position Rafael Benitez deployed him in, during his spell at Chelsea during the 2012/13 season. Mata will be the nexus of the fast, possession based football Van Gaal will look to take into next season. His contribution in the 3-2 win over AS Roma on Saturday was less substantial than in the 7-0 win over LA Galaxy – Mata later cited a dry pitch which made it play slow – though the way he took down Wayne Rooney's sublime 30-yard pass with his left foot and despatching it in off the post with his right left the Dutch manager discussing the football brains of both players.
As encouraging for Van Gaal as Mata's is, his interaction and obvious affinity with his compatriot Ander Herrera had been less expected. Herrera's ability intuitively to shift the ball fast and intricately created the penalty which Rooney converted for United's third in 31C temperatures here.
The connection between Mata and Herrera goes back ten years - "he is a good guy; my friend and we have known each other since we were 15," Mata said - though their combined roles in the 2011 Spain Under-21 team which demoralised Switzerland to take the Under-21 European Championship cemented the relationship. Herrera scored that night but his link-up play with Thiago Alcantara and Mata was fundamental. Only the presence of Xavi and Xabi Alonso has prevented Herrera stepping up to Vicente del Bosque's first team. His part in the two halves of football he played last week suggests that United's decision to hold out for a £5m better deal last year was ill-advised.
Manchester United: Potential summer transfer targets

Show all 10
Herrera has impressed more than many had expected in United's two tour games, demonstrating that he can comfortably operate slightly deeper, building the play and freeing up the No 10 role for Mata. He has that vision to know where his pass is going before he receives the ball that Van Gaal is looking for and has looked a tougher prospect than Mata, capable also of breaking up play. He is a tough character, too.
The challenge will be for Danny Welbeck to maintain his part in the United front three. He has been sharp on this tour but Robin van Persie will walk back into the place Welbeck is holding. Tom Cleverley's frustration at his own struggle to make an impression on Van Gaal at the Mile High Stadium seemed evident. It is three years since his pre-season performance against Barcelona in Washington DC. His career trajectory has changed.
"I think I can be [van Gaal's] type of player," Cleverley said at the weekend. "I have to show that in training and most importantly in the games. I think there is a place for me. I have to prove that." Early days, but the player who needs a change of fortune after the most difficult year imaginable has not yet found one.
Mata is not the type of individual to pour scorn on a previous manager but there was no doubting his delight in the decisiveness of Van Gaal. "We feel the manager is a great manager who has brought a strong mentality," he said. "As a player you want a coach like this, always demanding more and to play better and try to win the games earlier or in a different way." The opposition gets tougher this week – Inter Milan in Washington and Real Madrid in Ann Arbor, near Detroit. Van Gaal may be about to learn who else he can believe in.
Register for free to continue reading
Registration is a free and easy way to support our truly independent journalism
By registering, you will also enjoy limited access to Premium articles, exclusive newsletters, commenting, and virtual events with our leading journalists
Already have an account? sign in
Register for free to continue reading
Registration is a free and easy way to support our truly independent journalism
By registering, you will also enjoy limited access to Premium articles, exclusive newsletters, commenting, and virtual events with our leading journalists
Already have an account? sign in
Join our new commenting forum
Join thought-provoking conversations, follow other Independent readers and see their replies