Jose Mourinho's revealing post-match quote leaves one question hanging over Manchester United's title credentials
Anthony Martial arguably personifies this entire issue - and just what does he have to do to start a game?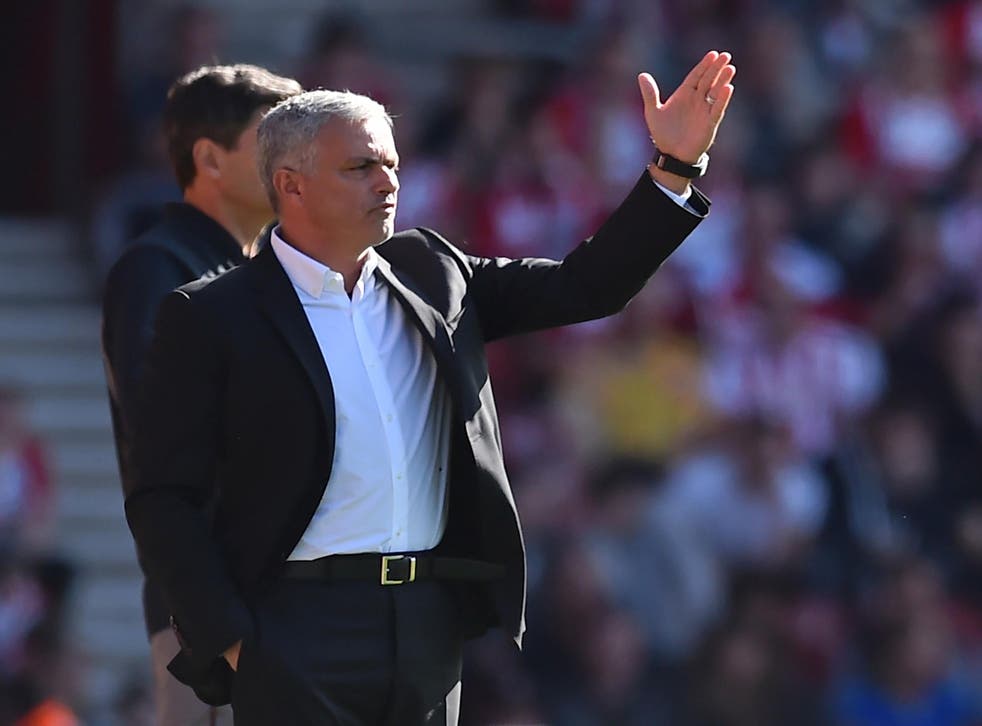 It was the type of game that Jose Mourinho was right in saying that Manchester United did not win last season but that is not why the 1-0 victory over Southampton could end up telling a lot about whether they can finally win the title again. There was a crux issue in this match that could well be the key to their entire campaign.
Because, buried in all of the comments and fully justifiable controversy about the Romelu Lukaku chant, there was a rather revelatory statement from the Portuguese.
"We had opportunities in the first half to score the second goal and then the game is different," Mourinho said. "Lukaku and [Ander] Herrera, too, and if we'd done that I would have brought on [Anthony] Martial and [Jesse] Lingard and go for a different result."
Instead, he went the same way he nearly always does, and looked to lock things down against an inferior side that United had been dominating.
It stood out all the more this season because Mourinho's attack have been so free-scoring… when they have got that second goal in games against West Ham United, Swansea City and Everton. Those sides collapsed, but also because United finally had the confidence to really go for it, to let players like Martial really play.
While it would obviously be an exaggeration to say that the nature of those wins made the supposed high level of those performances somewhat illusory, it doesn't mean that they didn't exaggerate United's actual level. This is also why there remain some doubts about the side's true standards right now, why some still aren't getting carried away with a properly impressive return of five wins and one draw from six games.
There remains the slight feeling that circumstances in a short sample of games played into their hands, and meant events allowed people to overlook remaining questions with the team. One of them was evident in this Southampton match, and in Mourinho's comment. In an era when goal averages are at a high, and the norm is expansive football, why does one of the game's best managers and one of the Premier League's best teams rein it in when it comes right down to it? Why still close it down? It did seem to put United under unnecessary pressure, and the three points in doubt, and that against a side that has now failed to score in 10 of their last 13 home games. The wonder is still how that will play out in the long term, when Manchester City and Chelsea genuinely play a more open game - and appear to be making more chances.
Martial arguably personifies this entire issue. Sure, the stats might state he's played every second game this season, but he has only started one league game - and that is United's priority. Given how brilliant he's looked, how much he elevates United's attack, the question is what he has to do to start… other than seemingly changing his name or his entire game, so that it is based on defensively responsibility rather than attacking risk?
It comes right down to a philosophical view, really. At 1-0, do you have the trust to go for it, or the caution to rein it in?
The question could well decide the title - and it came close to deciding this game.
Register for free to continue reading
Registration is a free and easy way to support our truly independent journalism
By registering, you will also enjoy limited access to Premium articles, exclusive newsletters, commenting, and virtual events with our leading journalists
Already have an account? sign in
Register for free to continue reading
Registration is a free and easy way to support our truly independent journalism
By registering, you will also enjoy limited access to Premium articles, exclusive newsletters, commenting, and virtual events with our leading journalists
Already have an account? sign in
Join our new commenting forum
Join thought-provoking conversations, follow other Independent readers and see their replies