Southampton vs Manchester United: Five things we learned from the visitors' 1-0 win on the south coast
Romelu Lukaku's first-half strike proved to be the difference at St Mary's
Saturday 23 September 2017 16:04
Comments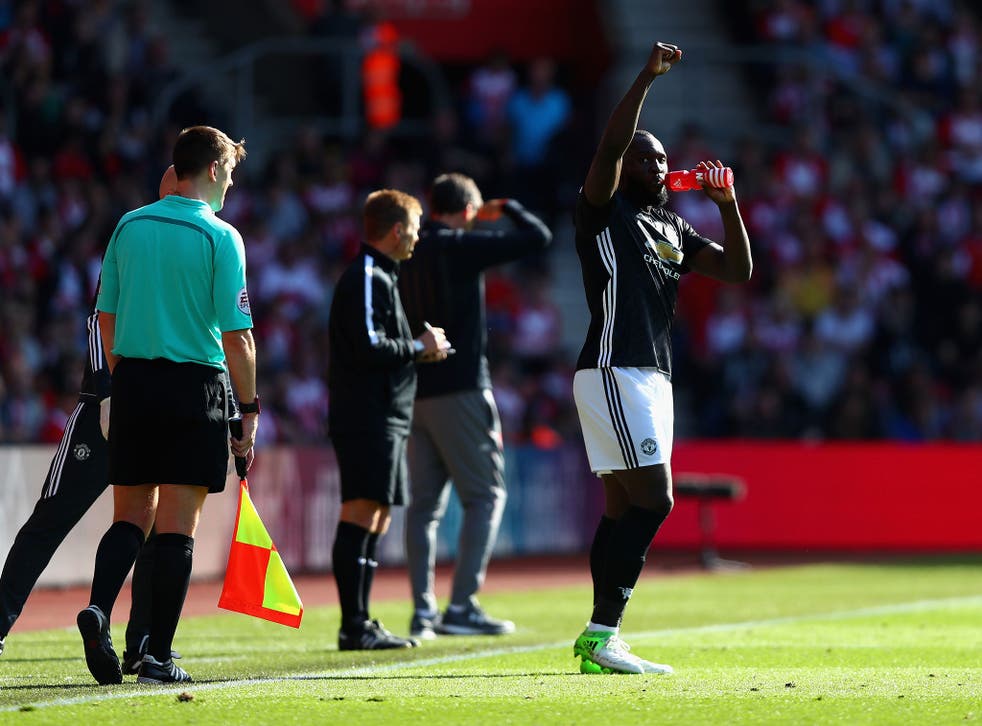 Manchester United secured their fifth league win of the season on Saturday afternoon, beating Southampton 1-0.
In a closely-contested affair at St Mary's, Romelu Lukaku's first-half goal clinched victory as Jose Mourinho's men retained their place at the top of the table alongside rivals City.
Southampton enjoyed a number of close chances in the second half but failed to find a deserved equaliser.
Here's five things we learned:
Mourinho remains the only man Martial must convince
Anthony Martial was magical in United's midweek win against Burton in the EFL Cup. It was his movement and quick feet, dancing his way through the visiting defence, which set Jesse Lingard up for United's third while his assertive and composed finish from close range extended the home side's lead to four goals. In all, it was a dazzling display of football which alluded to a rediscovered sense of purpose and confidence.
But there seems to be one man who remains unconvinced. Despite fans' pleas to field both Martial and Marcus Rashford, Mourinho once again overlooked the Frenchman, opting to leave him on the bench. It's true: Martial's impressive midweek performance came against a side currently sat in 19th of the Championship, meaning we can't jump to any conclusions over the Frenchman. It may well be the case that Mourinho is waiting for the youngster to recreate such a display against one of the Premier League's bigger sides before he's given the nod. But until that moment, it looks like he'll have to make do with starting from the bench.
United showing resilience of champions – but how long will this last?
As was the case against Everton last weekend, today's scoreline fails to fully reflect the nature of the game. Given Southampton's dominance in the second half, and their plethora of chances in front of goal, United should have ultimately been held to a draw.
Nonetheless, the visitors managed to hold on for all three points. It's these sort of backs-against-the-wall victories which often make the difference between league champions and also-rans, and United will undoubtedly feel buoyed by the result. But despite taking all three points at St Mary's, there's an elephant in the room which is growing increasingly harder to ignore. If United are only capable of scraping past sides such as Southampton, how will they ultimately fare against their top-six rivals. In truth, Mourinho's men have enjoyed a relatively soft start to the campaign. Their biggest tests are yet to come and victories such as these today could be propagating a false sense of security at the club.
Southampton fail to take their chances
With six goals to his name in the league so far this season, Lukaku has found the back of the net on two more occasions than the whole of Southampton's side. It's a damning statistic that points to the home side's blunted attack, which once again failed to deliver. From Dusan Tadic and Shane Long to Oriol Romeu, Southampton enjoyed their fair share of chances, especially in the second half, but they were incapable of finding that all-important equaliser. The January window can't come soon enough when the club should be looking to recruit a reliable goalscorer.
Young offers food for thought
That United are lacking a go-to left-back is common knowledge, with Daley Blind, Matteo Darmian, Luke Shaw and Ashley Young all being handed their chance to make a claim for the spot. But against Southampton today, 32-year-old Young certainly offered Mourinho food for thought. It was his delicious cross, coming after some neat footwork, that set Lukaku up for his goal while the defensive aspects of his game - which were always going to face scrutiny - were surprisingly sound. On those occasions where he lost Tadic, he did well to recover and put in a number of important blocks inside United's final third. He's still far from what Mourinho wants and needs, and at 32 his shelf life is no doubt coming to an end, but he could prove to be a quick fix before the January transfer window opens.
United need to take hardline approach over Lukaku chant
And so a small minority of United's fans once again reared their ugly heads after signing that Romelu Lukaku chant - and appearing seemingy proud to do so. Ignoring pleas not to do so, this group of supporters proceeded to sing the song after the forward had put United ahead in the 20th minute. To make it worst, these fans were then heard gleefully boosting about such insubordination: "We're Man United, we'll sing what we want."
After both the FA and Kick It Out contacted the club calling for something to be done, United must now make sure they take a hardline approach against those fans who are embarrassingly unaware that any assumption about someone made solely on the basis of that person's race - regardless of it being a 'positive' assumption - is racist. United need to take this seriously and act as quickly as possible.
Register for free to continue reading
Registration is a free and easy way to support our truly independent journalism
By registering, you will also enjoy limited access to Premium articles, exclusive newsletters, commenting, and virtual events with our leading journalists
Already have an account? sign in
Register for free to continue reading
Registration is a free and easy way to support our truly independent journalism
By registering, you will also enjoy limited access to Premium articles, exclusive newsletters, commenting, and virtual events with our leading journalists
Already have an account? sign in
Join our new commenting forum
Join thought-provoking conversations, follow other Independent readers and see their replies