Manchester United must win 'an awful lot of games' if they are to retain the Premier League title, admits David Moyes after Everton defeat
United have slipped to ninth in the Premier League after defeat to his former club Everton, who remain fifth
Ian Herbert
Thursday 05 December 2013 02:00 Comments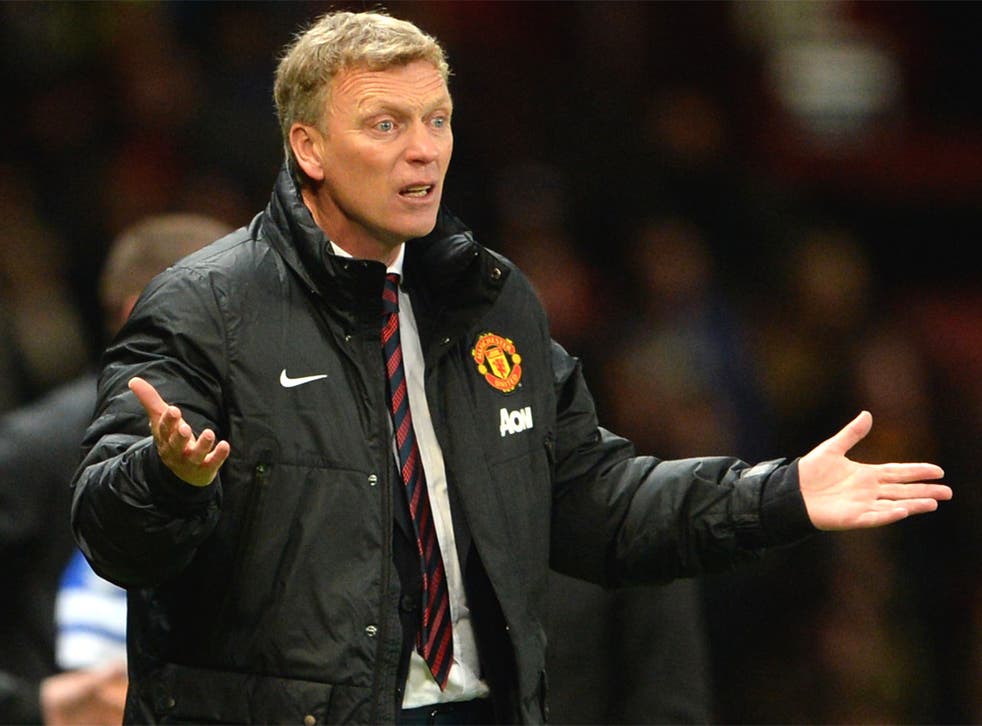 Manchester United manager David Moyes admitted tonight that retaining Premier League title is now a very tall order for his team, who must win "an awful lot of games in the run-in" after Everton left Old Trafford with a win which Roberto Martinez proclaimed as evidence of their new-found self-belief.
Moyes' post-match press conference was one of the shortest the stadium has known in recent times - two minutes and eight seconds - revealing the extent of the manager's despair with a result which left his old club's fans chanting "sacked in the morning" and "are you watching David Moyes." Bryan Oviedo's scuffed shot gave the Merseyside team their first win here since August 1992. United have slipped to ninth in the Premier League, 12 points behind Everton, who remain fifth - five points off leaders Arsenal.
Moyes insisted that Robin van Persie's groin injury was not a cause for concern, despite the fact that his absence tonight took his period out of the side to nearly a month. United's goalscoring problems are compounded by Wayne Rooney's booking which means he is now suspended for the Newcastle United home game on Saturday because he has received five yellow cards now. "We have been trying to get him back for a few weeks but he is not ready yet," Moyes said of van Persie. "It is a sort of a groin injury. Nothing desperately serious, just a groin injury."
Of his team's title chances, Moyes said: "We have got a long way to go. We will need to play some great football and win an awful lot of games in the run-in if we going to be in there and around it at the end of the season." He said that the title was not beyond them. "Yeah [we can win it] I've got nothing to suggest anything else." He maintained that the defeat "doesn't hurt more" because it was the club he manage for 11 years. "I know they are a very good team, Everton, with very good players so you would imagine it is a sore one when it is your old team so that is the way it is," Moyes said.
The abuse he received was "not important," he added. "Everton supporters supported their team well tonight. They had to come here and make sure they got right behind their team and they did that."
Martinez declared that the team had overcome a "mental block" which had afflicted them during their 21-year search for a win here. "It was more than a football game, trying to get over the mental block," he said. "It's 20 years since we won at Old Trafford so it wasn't about three points - it was about being ourselves and pushing each other. We never felt inferior. I always felt that this squad is capable of going anywhere and playing teams eye-to-eye. You'll lose win and draw but in the first half we did certain good things."
The manner of the victory was rendered sweeter by Bryan Oviedo, back-up for Moyes target Leighton Baines, scoring the 86th minute goal. "Bryan has got the hardest job in football to fight with one of the best left backs in world football at the peak of his career," Martinez said. "It would be easy for a player to drop their standards and be a nuisance. What Bryan's done in the last two games (also scoring in the win against Stoke City on Saturday) is a real example of how a footballer should behave. It's a reward."
Register for free to continue reading
Registration is a free and easy way to support our truly independent journalism
By registering, you will also enjoy limited access to Premium articles, exclusive newsletters, commenting, and virtual events with our leading journalists
Already have an account? sign in
Join our new commenting forum
Join thought-provoking conversations, follow other Independent readers and see their replies