Manchester United named Premier League's loudest fans despite late push by Chelsea according to 'Smart Meter' app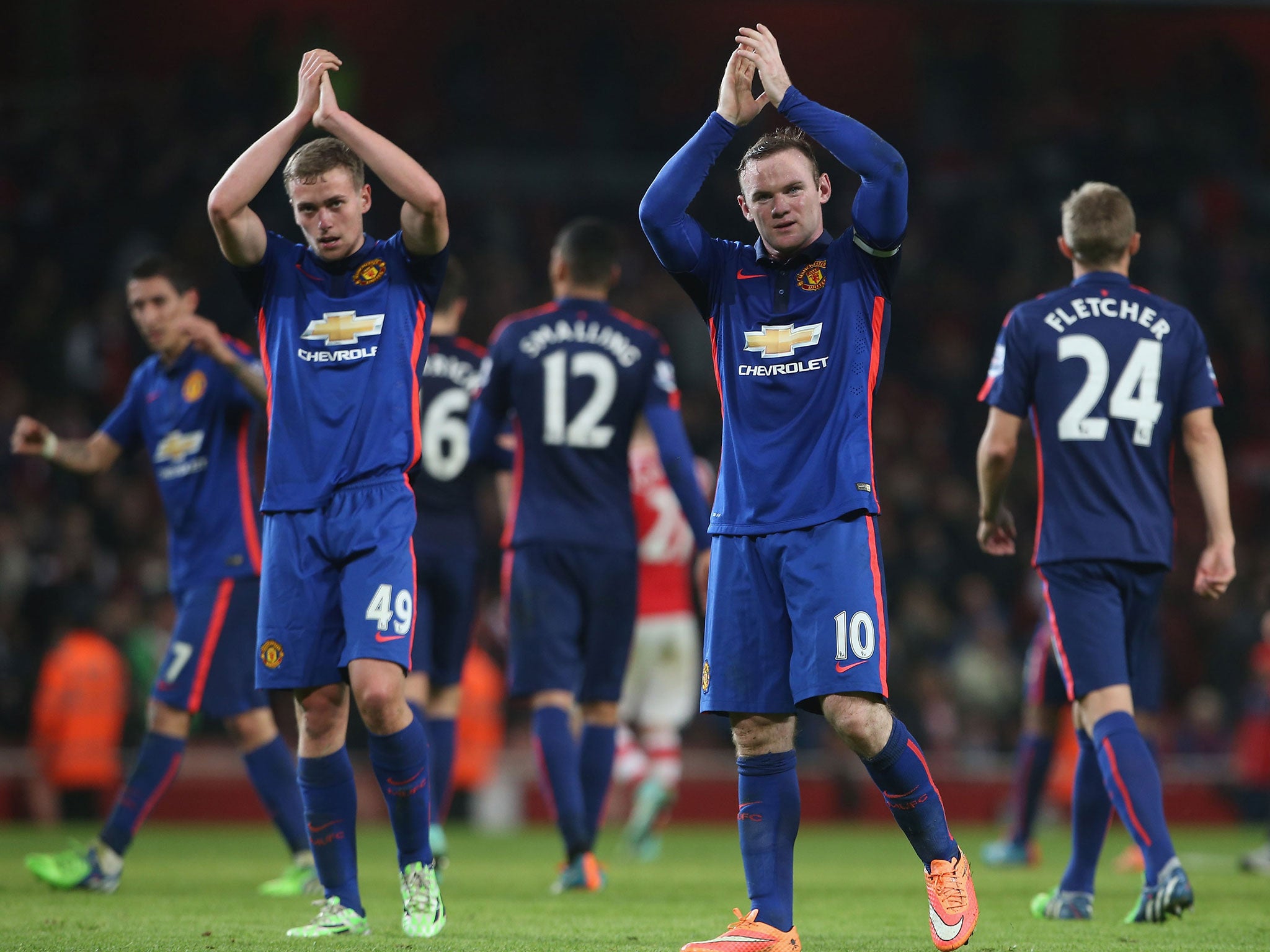 Manchester United's fans can lay claim to being the loudest in the Premier League, although Jose Mourinho's criticism spurred the Chelsea faithful on to give them a real run for their money this weekend.
Ever since Mourinho lamented the lack of atmosphere at Stamford Bridge after a 2-1 win over QPR three weeks ago, Press Association Sport has been recording the decibel levels at all the top-flight games.
We armed our reporters with the smartphone 'Sound Meter' app for all games in the last two rounds of Premier League action, which we used to measure the decibel level from the kick-off to the one-minute mark.
While this experiment can in no way be considered scientific and should be viewed as nothing more than a guide, the conditions it was used in at least gives equality to all 20 clubs in the division.
Arsenal 1 Manchester United 2 - player ratings
Show all 24
When it was first used a fortnight ago, United's fans rid themselves of the prawn-sandwich-eating tag they have in some quarters to record a level of 84 decibels against Crystal Palace - a comfortable high for that weekend.
Chelsea's fans went close to matching it against West Brom on Saturday, with those at Stamford Bridge returning a score of 83 decibels and answering Mourinho's call.
The Portuguese was apologetic for his comments afterwards, but they undoubtedly did the trick, with the club's on-field announcer asking for noise and getting it.
"It improved a lot, a lot. You know the answer - there is no comparison," Mourinho said.
"I don't want to speak again about it, for good and for bad, because they pay me to coach.
"They pay me to win matches, they don't pay me to be critical of the crowd so I feel sorry for my comments a couple of weeks ago. But the reality is there today, the difference was amazing."
The reading failed to match United's, but was as close as could be and there were three other readings of 83 this weekend.
One came at Arsenal v Manchester United at the Emirates Stadium, with the others recorded at Stoke v Burnley and Hull v Tottenham.
Chelsea - whose first reading was 77 decibels, away to Liverpool - were joint third on 160, tied with Palace. Manchester City, United's so-called "noisy neighbours", could only manage a combined score of 157.
At the bottom of the sound table, West Ham achieved the lowest overall score of 152, just behind Liverpool on 153.
Below are the full readings for this weekend, with accompanying comments from the reporters. Aston Villa and Southampton play on Monday to complete the test.
Hull v Tottenham (Attendance 23,561)
Decibel level 83: "The meter peaked at 83 moments after kick-of before a delayed throw-in saw it dip to 78. Things levelled out at 80 after that" - Rory Dollard.
Crystal Palace v Liverpool (Attendance 24,862)
Decibel level 76: "Palace fans were quick to get behind their team but it was the Liverpool fans celebrating the opening goal just after the end of the opening-minute test" - Mark Bryans.
Chelsea v West Brom (Attendance 41,600)
Decibel level 83: "There was a good atmosphere as players made their way out to the pitch before kick-off and despite nothing of note occurring in the opening minute of the match, the meter reached a high of 83dB on several occasions. It did not dip below 75dB" - Simon Peach.
Stoke v Burnley (27,018)
Decibel level 83: "No chances in first minute, but both sets of fans in decent voice" - Phil Medlicott.
Arsenal v Manchester United (60,074)
Decibel level 83: "No action on the pitch but both sets of fans were loud, knowing how much the result of this game could turn their respective seasons around" - Jim van Wijk.
Man City v Swansea (45,448)
Decibel level 81: "It was an uneventful opening minute with both sides having spells of possession in the Swansea half; visiting goalkeeper Lukasz Fabianski had a couple of touches under no pressure" - Andy Hampson.
Newcastle v QPR (51,915)
Decibel level 80: "It was a low-key start to the game with the only excitement a Daryl Janmaat long ball towards Ayoze Perez" - Damian Spellman.
Everton v West Ham (39,182)
Decibel level 78: "The peak came when Kevin Mirallas looked like he had broken through only to be flagged offside. Most of the singing came from the full section of away fans on opposite side of ground" - Carl Markham.
Leicester v Sunderland (31,825)
Decibel level 78: "Backed by two vocal sets of supporters the volume was good at the King Power - despite nothing for the fans to get excited about on the pitch in the first minute" - Nick Mashiter
Join our commenting forum
Join thought-provoking conversations, follow other Independent readers and see their replies