Manchester United 2018/19 Premier League profile
Why Manchester United cannot afford to lose Paul Pogba over Jose Mourinho
The face of United's future is wearing a frown but the club will do everything in its power to keep him at Old Trafford
On one of Manchester United's regular conference calls with investors in May, executive vice-chairman Ed Woodward offered what he called a "very simple and candid" answer to one question.
Had the improved performances in the Premier League during Jose Mourinho's second season contributed to an increase in revenues? In short, the answer was no.
"Playing performance doesn't really have a meaningful impact on what we can do on the commercial side of the business," Woodward said.
It was a line as "simple and candid" as Woodward had promised, summing up the far-reaching, all-conquering, 'official mattress and pillow partner' commercial behemoth that is the modern day United. Win, lose or draw, there's always the Megastore.
How will Manchester United line up this season?

Show all 12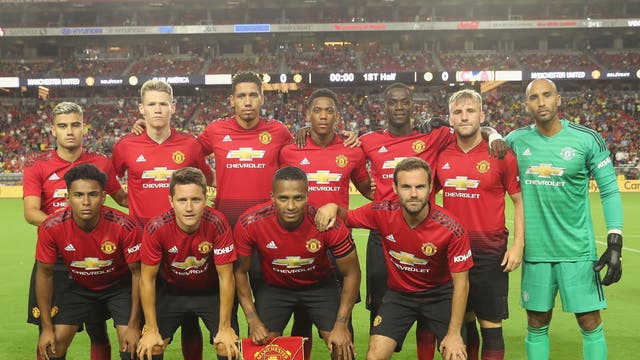 As a line, it could also easily have come from any one of the many people who work in the interests of Paul Pogba.
Like United, Pogba is presented to an audience of millions around the world on the pitch in the form of slick passes, thrusting runs and stuttered penalty run-ups, but also presented off the pitch as clickable, likeable and shareable content.
And, again like United, Pogba's 'commercial side' is seemingly immune to underwhelming performances.
There is a sense of unfulfillment about Pogba's time in Manchester so far, but that has done nothing to affect his standing with the club's hierarchy, nor has it damaged the image of this young, talented and charismatic footballer that people like and want to be like.
His £33.4m partnership with Adidas – who also happen to be United's kit manufacturers – is only just entering its third year of a decade-long contract. In 2017, Pogba was named the third-most marketable sportsperson on the planet. Only the Golden State Warriors' Steph Curry and boxing's Anthony Joshua ranked above him.
Manchester United complete signing of Fred
United, of course, marketed and sold their reunion with Pogba with all commercial potential this in mind. Pogba was not just a player, he was a hashtag, a haircut and eventually an emoji too. The club that struggled to keep a lid on and ultimately lost David Beckham and Cristiano Ronaldo happily resurrected the age of the player as a 'brand'.
That is why, upon news last week that Pogba had returned to training unsettled and unhappy, club sources stressed in the most forthright and certain terms that he would not be sold. Pogba, simply put, is too valuable. He is the face of United's future.
The problem is that the face of United's future is wearing a frown because he does not feel appreciated by his manager. Pogba's comments after his man-of-the-match display in Friday's win over Leicester City will not have come as a surprise to many in the corridors of Carrington and Old Trafford, but will still have caused some understandable anxiety about the long-term happiness of their prize asset.
"There are things, and there are things that I cannot say, otherwise I will get fined," Pogba said, after being asked whether he felt 'happy and comfortable' at United. An hour or so later, he posted across his social media channels: "I'll always give my best to the fans and my teammates no matter what's going on."
The unease between Pogba and Mourinho is no secret, but why make such comments? Why not simply put the speculation to bed, especially after a week of conciliatory action from Mourinho?
On the eve of the Leicester game, the United manager praised Pogba's attitude in training. Pogba then started and wore the captain's armband for the match itself. In his post-match press conference, Mourinho was again effusive in his praise of the player.
Pogba, perhaps, wanted to demonstrate his power – to show, after a year of being marginalised by Mourinho, that he is fully aware of how important he is to United. Rather than put the flames of speculation out, he fuelled them, knowing he can, because what he represents – talent, flamboyance, marketability – currently holds more sway at the club than his manager's particular vision of success.
Even if Pogba was poorly - and currently, he is not - then his poor performances would likely be tolerated for a considerable amount of time, simply because he offers so much more to the club. The same cannot be said of any other player in Mourinho's squad, nor Mourinho himself.
The old adage goes that no one player is bigger than the club. Yet in signing Pogba, United consciously elevated a player to their own level, aligning his image with theirs in order to invest in a long, successful partnership. Unless player and manager settle their differences soon, Mourinho could come to realise where United's loyalties lie the hard way.
Join our new commenting forum
Join thought-provoking conversations, follow other Independent readers and see their replies