Manchester United seek to increase £303m kit deal
Club expects big increase in any future Nike deal as latest figures reveal debt down by £62m
Ian Herbert
Thursday 15 November 2012 01:00 Comments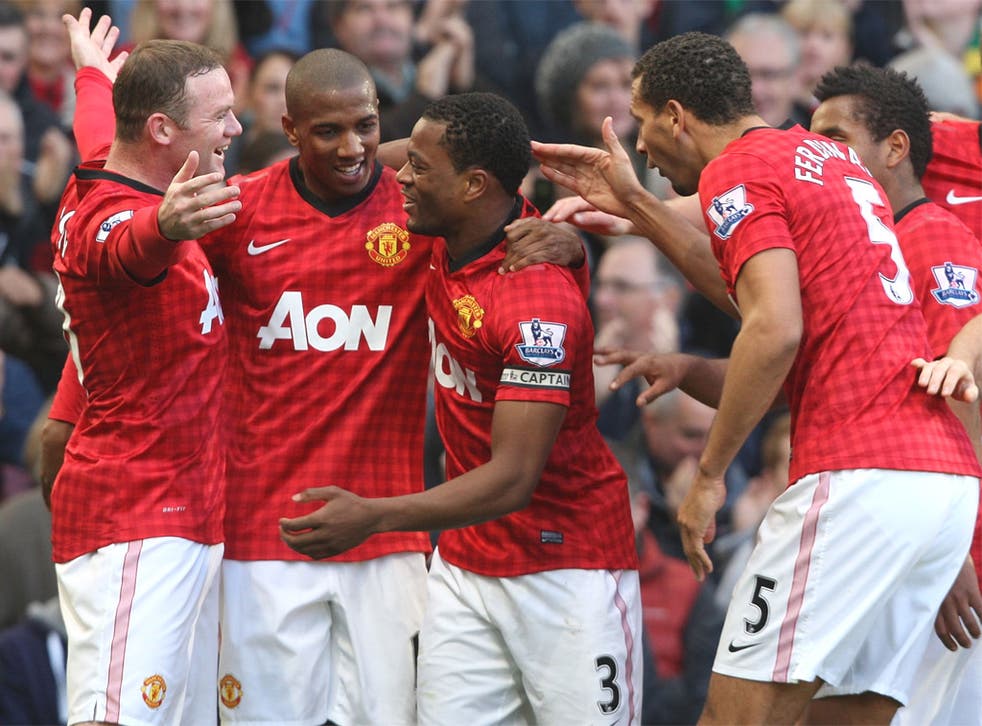 Manchester United demonstrated their commercial might yesterday as they made it clear that Nike faces having to substantially increase its 13-year £303m kit supply deal to maintain its association with the club.
Nike is due to begin an exclusive six-month negotiating period with United in February over the current kit supply deal. Having concluded an unprecedented £357m deal with General Motors for the Chevrolet logo to be worn on their shirts for seven seasons from 2014 and bought out the present deal with DHL for United's training kit in the belief they can find better value, the club were bullish about improving on the Nike contract yesterday.
United announced they had reduced their gross debt in the financial first quarter by nearly a fifth, after the Glazer family used the proceeds of the club's flotation to pay off £62.6m of bonds.
The debt still remains a mighty £359.7m, a figure which it would take another five years to clear even if no money was spent on transfers, the analyst and United specialist Andy Green observed yesterday. The club, whose shares have slipped by seven per cent since their £1.5bn initial public offering (IPO) float on the New York Stock Exchange in August, posted profits after tax of £20.5m to September, against £5m during the same period last year.
But United's commercial clout continues to grow, as Nike is discovering. "We feel we know, with some clarity, the value of our rights, and we are bullish about the abundance of opportunities available to accelerate the growth of this business," United vice-chairman Ed Woodward said of the Nike deal. "The planning on DHL started post-GM deal. Our six-month negotiating window with [Nike] starts in February. We look forward to sitting down with them then."
United officials do not see the way the Nike deal is structured fits with the more commercially aggressive Glazer regime. When the present deal was negotiated in 2002, United were a publicly floated company and preferred to take as much risk as possible away from any sponsorship tie-up. It meant a profit-share arrangement was put in place which ensured United received only a proportion of the cash generated from worldwide shirt sales in exchange for a guaranteed sum. The Glazer family have not gone down the same route.
Nike now pays the French Football Federation almost £40m a year, without a profit-share arrangement, for a seven-year period that began at the start of 2011-12. Sponsorship revenues from 10 deals enabled United to post a 32 per cent increase to £27.8m for the three months to 30 September.
An "exceptional item" of £3.1m related to professional advisor fees in connection with the IPO is part of what is estimated to be an overall spend of £550m in interest and fees since the Glazer takeover in 2005. United received £2.5m as a result of being an Olympic football venue, plus £1.3m in compensation for players appearing at Euro 2012.
Facts in figures
1.5 Billion pounds, the value of United's shares in August.
359.7 Manchester United's debt, in millions of pounds.
7 Number of years the Glazer family has owned United.
13 Length in years of United's deal with Nike, which ends in 2015.
Register for free to continue reading
Registration is a free and easy way to support our truly independent journalism
By registering, you will also enjoy limited access to Premium articles, exclusive newsletters, commenting, and virtual events with our leading journalists
Already have an account? sign in
Join our new commenting forum
Join thought-provoking conversations, follow other Independent readers and see their replies