Manchester United may lose more than just Marouane Fellaini if Jose Mourinho's lieutenant does not sign a new contract
The Belgian's contract expires in the summer - but what's holding up a new deal?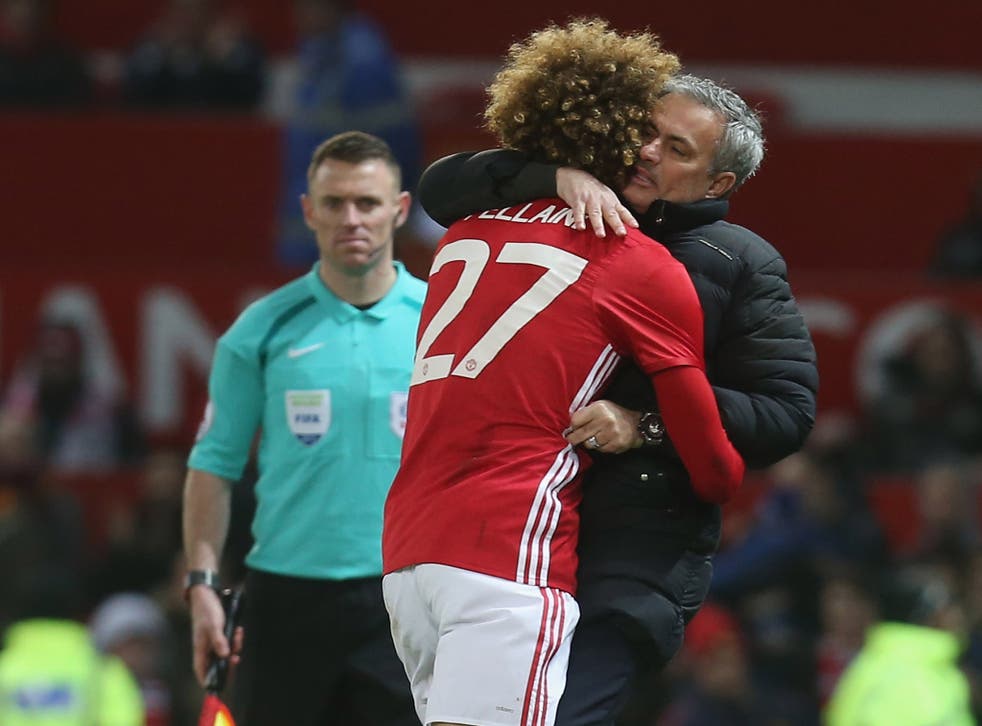 The last question of Jose Mourinho's pre-match press conference before the win over Tottenham Hotspur concerned Luke Shaw's future, but he did not want to talk about that. "I'm worried about Fellaini and not about Luke Shaw," he said. "Fellaini finishes his contract and Luke Shaw doesn't."
What was holding up negotiations? Will Marouane Fellaini leave on a free transfer? Was Mourinho frustrated by the fact that a deal had not been struck sooner? The last question, unfortunately, would be the last question but as ever with Mourinho, his choice of words had said enough.
Shaw is one of several players at Old Trafford whose expiring contract carries the option of a year's extension, with Juan Mata, Ander Herrera, Ashley Young and Daley Blind in the same boat. Fellaini's contains no such clause though and this clearly troubles his manager.
Chelsea vs Manchester United: Player ratings

Show all 23
It remains less than a year since Fellaini was jeered onto the pitch at Old Trafford after conceding a late penalty in a draw with Everton the previous weekend. At that point, his stock could not fall much lower among the club's support, whose patience had worn thin with a player who was apparently undeserving of the shirt.
That has all changed now and drastically so, with Fellaini attaining cult status after imposing performances and important goals, but Mourinho's opinion of him has always remained constant. At the time of the jeering, he described the midfielder as "a player and a person I like," adding: "He will always have my trust and protection." Ever since, he has rarely missed an opportunity to praise the Belgian or highlight his importance to the team.
"I have to say that Fellaini was fantastic," Mourinho said unprompted after Sunday's defeat at Chelsea. The midfielder's half-hour cameo had hardly changed the course of the game but still, it could not be ignored. "He put himself on the line ready to come in and help if the team needed him. So really, really pleased. I don't want to let it go blank, that word with him."
Back in September, it was more simply put: "I need him," Mourinho said. "I feel weaker without Fellaini in my squad, doesn't matter if it's on the pitch or on the bench."
More recently, the Portuguese has talked of some players in his squad being "untouchable". We know Romelu Lukaku is one such player but Fellaini is surely another. Indeed, without Zlatan Ibrahimovic to hand and with a relatively young crop of first-choice players to marshal, his importance has only grown this season. He is rapidly becoming one of Mourinho's famed 'lieutenants'.
What happens then if he agrees to leave the club on a free transfer, as he is able to do from January unless renewed terms are agreed? Fellaini's departure would not be well received in the manager's office. Mourinho's unprompted admission that he was "worried" about the player's contract told Old Trafford's decision makers that much. This persistent praise of the player at any opportunity has a similar purpose too.
It also cannot be ignored that all of this comes at a time when the United manager is calling the city of Paris "magic" and "special", with 18 months remaining on his own contract. The club's failure to sign all four of his summer transfer targets is back on the agenda too, even though that seemed to matter little when three points were coming more easily.
Even so, if United's intention is for Mourinho to stay beyond the terms of his current deal, they may need to start by proving to him they can tie down one of his most important players. Who could have predicted that in just 11 months Marouane Fellaini would go from being jeered onto the field to this?
Join our new commenting forum
Join thought-provoking conversations, follow other Independent readers and see their replies