Manchester United: Mason Greenwood 'needs another year with Edinson Cavani', says Gary Neville
Pair scored one each in Sunday's win against Spurs, with the England teenager also recording an assist off the bench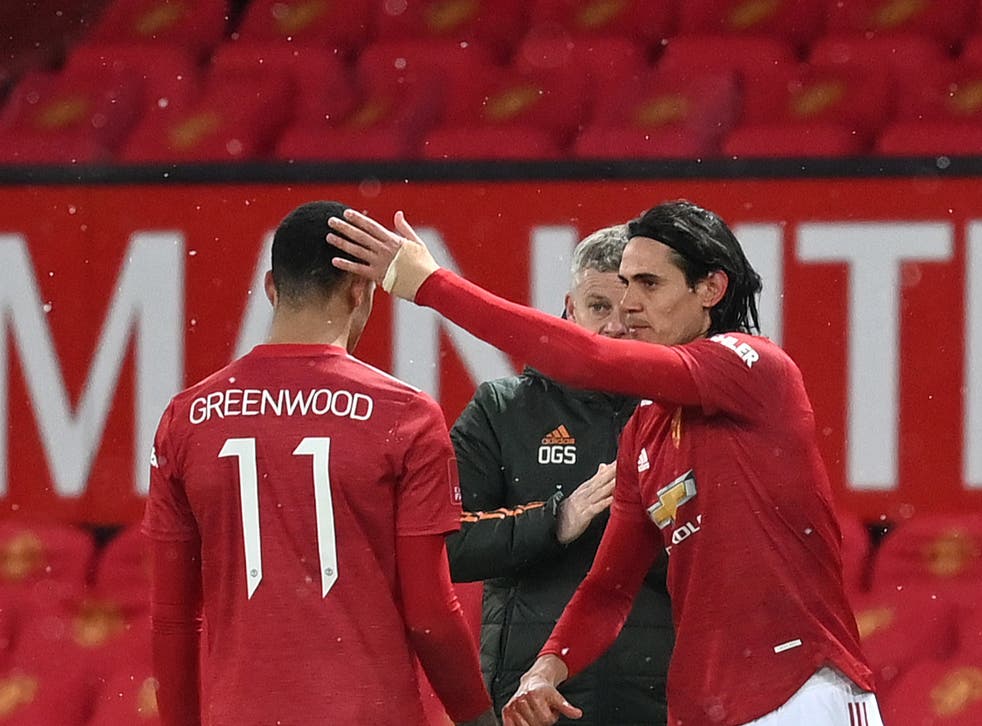 Former Manchester United defender Gary Neville has suggested that Mason Greenwood will be one of the biggest beneficiaries if the club are able to extend Edinson Cavani's contract this summer.
Cavani joined United on a free transfer from Paris Saint-Germain in October, with his deal set to expire at the end of the season.
Following United's 3-1 Premier League win against Tottenham on Sunday, a game in which Cavani scored and was unfortunate to see another finish disallowed, coach Ole Gunnar Solskjaer said he was keen to keep the Uruguay forward involved next season – if possible.
Former United right-back Neville believes such a move would prove particularly beneficial for Greenwood, with the 19-year-old having struggled to make the same impact this term that he did in an impressive 2019/20. The England youngster did, however, score and record an assist at Tottenham after coming off the bench with 10 minutes remaining in the second half.
"[Cavani] scores the goal and there was a moment at the end that fans may or may not have been watching," Neville said on the Gary Neville Podcast.
"Tottenham had a throw-in with about two minutes to go and he was moving between the centre-backs trying to stop the ball being thrown in and organising where Greenwood should be.
"Mason Greenwood needs another year with Cavani alongside him. He needs someone like that.
"It inspired us as young players having the likes of [Bryan] Robson, [Steve] Bruce, [Eric] Cantona and you see the best players in the world, or who have been the best players in the world, like Cavani, doing his work like that in the 94th minute.
"Mason Greenwood needs good standards above him, he needs good mentors and coaching on the pitch. He needs another year of [Cavani]. [Marcus] Rashford needs another year of him. He's been a brilliant example.
"How do you replace what he's doing at the moment if he decides he wants to go back to South America?"
Greenwood has managed seven goals and six assists across all competitions so far this season, compared to 19 goals and four assists in 2019/20.
"I know I speak a lot about Mason Greenwood, but I do think he's a different level," Neville insisted. "His composure and finishing in the final third... I picked him in my England squad on Monday Night Football as someone who should go [to this summer's Euros].
"If Harry Kane gets injured I do look at that England centre-forward position and think: 'Who has his composure, who will do what he did in that last minute of the game?'
"I do think he can play as a centre-forward at international football, it's whether he has enough time with only a few weeks to go."
Join our new commenting forum
Join thought-provoking conversations, follow other Independent readers and see their replies