Mancini is ruffled by Mourinho's job jibes
Italian dismissive of his rival following Real manager's mischievous comments this week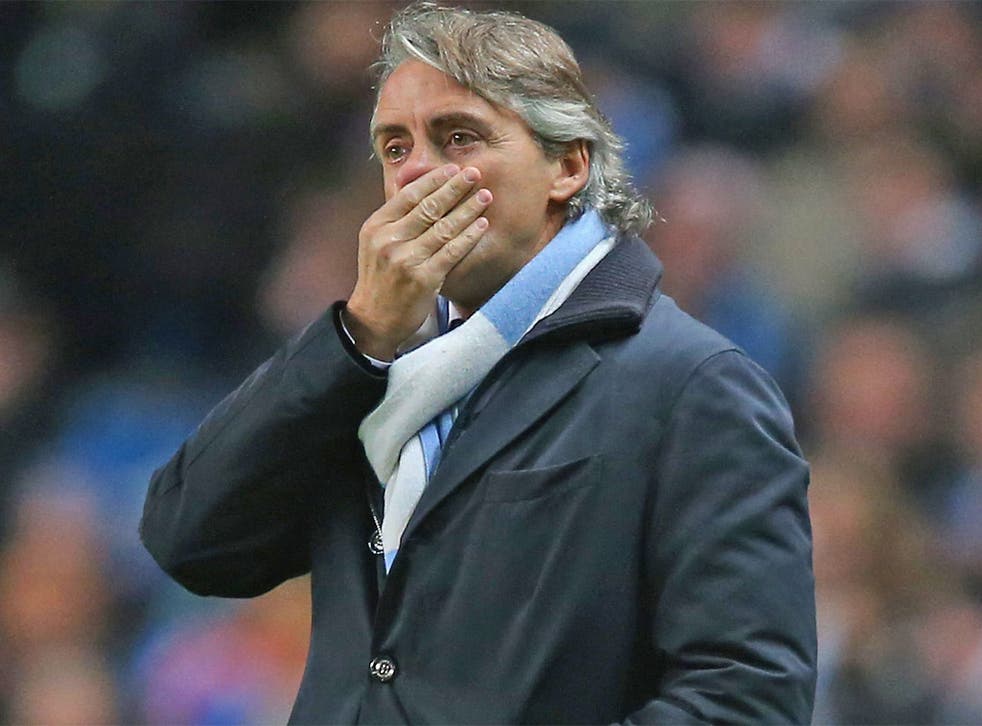 Roberto Mancini, the Manchester City manager, dismissed Jose Mourinho's barbed claim – that the Real manager would not have made it back to Madrid had his side been eliminated like City from the Champions League – as another meaningless utterance from a man who "wants to talk about everything".
Mourinho's sly and unmistakably malicious declaration before City and Real Madrid faced each other that Mancini's team would suffer an elimination which was "abnormal" for a club of their wealth, was followed up post-match by the Portuguese's claim that their failure was "amazing". It felt like a job application. "I've always said how much I like my time here and I always like to be back," Mourinho also said in Manchester.
It was unpleasant stuff, in the week when two more Premier League managers have been sacked, and though Mancini did not go quite as far as to say "hands off my job" to Mourinho, it seemed to be the sentiment towards the man who replaced him at Internazionale. "Mourinho is not my chairman. He is not my owner. What Mourinho said is for me not interesting," Mancini said. "Mourinho wants to talk about everything. For me, it is not important."
In one sense, Mancini – who faces another stern test of his credentials at Stamford Bridge tomorrow – is right. City's new chief executive, Ferran Soriano, has expressed a public dislike for Mourinho's habit of creating conflict through the media. He and his sporting director Txiki Begiristain – both formerly of Barcelona and now reunited at City – decided that Mourinho's method "generated media conflict almost permanently and it was a potential source of conflict within the club", as Soriano has put it. It is precisely why they appointed Pep Guardiola, rather than Mourinho, to replace Frank Rijkaard at Barcelona.
But Soriano has also publicly compared Mourinho to Guardiola, another shadow in the background for Mancini, as those who "make their players grow professionally and at a personal level. They generate the optimal conditions and state of mind for that to happen." If there is a flaw in Mancini's management, then it is failure to do this.
When it was put to Mancini yesterday that his problem is that he holds a job everyone covets, he replied: "Mourinho is the Real Madrid manager. When one manager has a job – in Manchester, in Madrid, or with a small team – it's important that he is able to do his job well." The Italian revealed he had not spoken to his "disappointed" chairman, Khaldoon al-Mubarak, since Wednesday night's defeat meant he had failed to deliver on a pre-season target of reaching the Champions League knockout phase.
He also asked for a reality check on how far his club had come, so soon. "Yes ,[people forget] we are Manchester City, not Real Madrid or Manchester United, or Bayern Munich, who used to win every year for 100 years and have big history. We are Manchester City and for 35 years we didn't win, but in two years we won three trophies."
Mancini revealed he had spoken "many times" to Rafael Benitez after the Spaniard sought his advice when considering taking the Internazionale job, when Mourinho vacated it.
"He asked me a few things about Inter," Mancini said. "[I told him] 'you need to be very strong, because Inter is a top club in Italy – [it's] not the same passions as there is in England.'"
Mancini may need to be strong, too. He hinted he believes the loss of the Touré brothers to the African Cup of Nations may justify more spending in the January transfer market. The view from the top of the club is that there will be no such outlay this winter.
Join our new commenting forum
Join thought-provoking conversations, follow other Independent readers and see their replies