Manuel Pellegrini's job at Manchester City could be safe due to lack of options
Exclusive: Brendan Rodgers won't leave Liverpool and Carlo Ancelotti doesn't fit the bill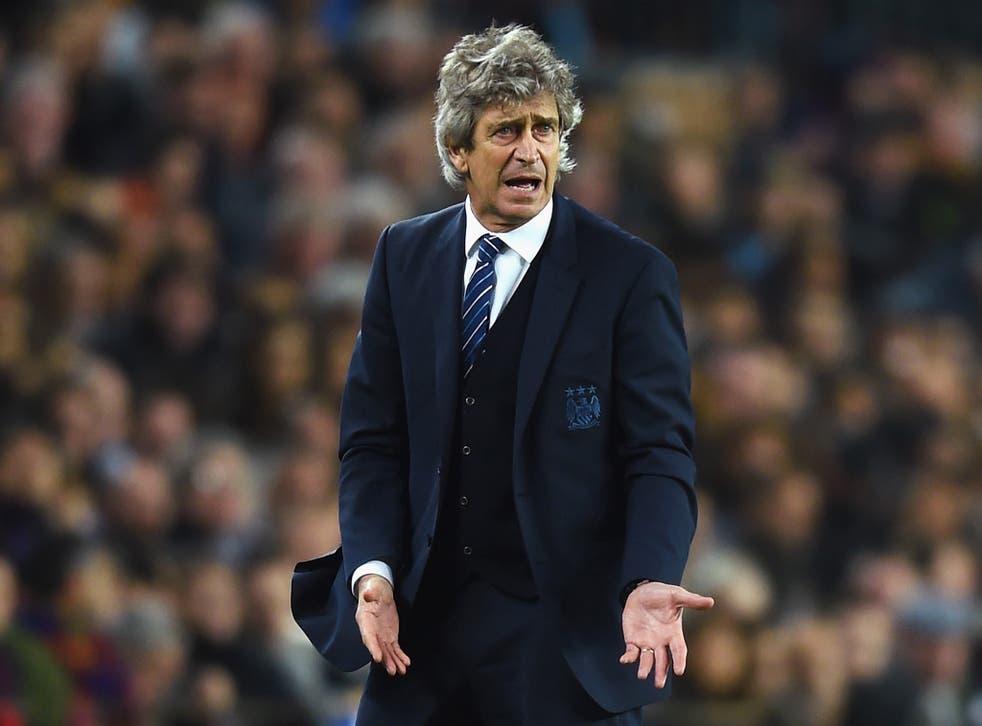 Manchester City may stick with Manuel Pellegrini for next season due to a lack of available replacements fitting their very precise criteria for a manager.
Despite an annihilation by Barcelona in the Nou Camp on Wednesday night which laid bare the "big, big difference" between the sides – as Vincent Kompany described it – City do not want to replace Pellegrini with a manager only marginally more likely to improve them. Bayern Munich's Pep Guardiola and Liverpool's Brendan Rodgers – the two men they would consider capable of building a new dynasty while preserving the City playing philosophy – both appear unattainable.
Pellegrini's job, which has been the subject of much speculation, may be saved by City's preference to wait for Guardiola, who could be available next summer when his current contract expires.
The chances of Rodgers moving are far more remote. The Independent reported two weeks ago that he would appeal to City but he responded: "I chose to come to Liverpool because I hoped I could be here for many years." The Northern Irishman said in the same reply that a "Rodgers Out" banner raised at Ludogorets in late November made him realise how volatile football can be. City's greater wealth may be more attractive if Liverpool had failed to register a top four finish, this season and next. But the odds seen remote.
One option for City chief executive Ferran Soriano would be to promote Patrick Vieira after only two years at the helm of City's development squad. Vieira understands the City philosophy but appointing him would be a gamble for City, who cannot afford to fall out of the Champions League placing with revenues – £27m this season – vital to complying with Uefa's financial fair play regime. Soriano saw Guardiola flourish as Barcelona manager after only a year coaching the club's B team.
The Carlo Ancelotti link to City is a product of his own need to get out of Real Madrid this summer rather than City pursuing him. A direct link between him and the Etihad club does exist, through City's Italy non-executive director Alberto Galassi. But Ancelotti's profile does not include an adherence to the brand of football City are still determined to have running through all their teams.
Hiring Ancelotti would also effectively rule out any prospect of moving for Guardiola in the next three years, as would a move for the Ajax coach Frank de Boer, whose side are 11 points off the top of the Dutch Eredivisie. There is no sense that City are courting de Boer, either. One manager available this summer who would provide City with the tactical acumen in Europe which has been missing under Pellegrini is Rafael Benitez, who was instrumental in Liverpool lifting the Champions League in 2005. Benitez will be back at his family base in North-west England, having decided not to take Napoli's offer of a contract extension. But, again, City are not likely to pursue him.
The situation remains fluid, with Pellegrini still potentially able to convince City that he is worth keeping on at the end-of-season review which the club will carry out. The Chilean is out of contract next summer and City are highly unlikely to extend his contract as he would prefer.
The club's poor return in the transfer market will also place the performance of director of football Txiki Begiristain under scrutiny. The £190m City have spent over the past two and half years has not yielded a single player who has made the side significantly better.
Soriano is likely to argue the merits of his compatriot and another factor playing in Begiristain's favour is his close friendship with Guardiola. The two, whose manager-director of football partnership brought Barcelona such success, speak two or three times a week and removing Begiristain could potentially undermine a key advantage City seem to have in attempting eventually to secure Guardiola.
Soriano's position still appears secure. City's commercial operation is thriving and there has been a positive start in the United States, with the 48,000-capacity Yankees Stadium only 3,000 short of a sell-out for the New York City opening home match against New England Revolution.
City's search for manager material
Off the list
Carlo Ancelotti All talk comes from his side.
Diego Simeone Brand of football does not fit.
Frank Rijkaard Once sacked by Soriano.
On the list
Pep Guardiola Kind of football City want.
Brendan Rodgers Can develop young players.
Patrick Vieira Feels it is too soon for him.
Register for free to continue reading
Registration is a free and easy way to support our truly independent journalism
By registering, you will also enjoy limited access to Premium articles, exclusive newsletters, commenting, and virtual events with our leading journalists
Already have an account? sign in
Register for free to continue reading
Registration is a free and easy way to support our truly independent journalism
By registering, you will also enjoy limited access to Premium articles, exclusive newsletters, commenting, and virtual events with our leading journalists
Already have an account? sign in
Join our new commenting forum
Join thought-provoking conversations, follow other Independent readers and see their replies