Marcus Rashford on Jose Mourinho, getting better, taking responsibility and becoming Manchester United's main man
Rashford still believes that playing on the left has aided his development as a more complete player but is willing and ready to play in the centre for Jose Mourinho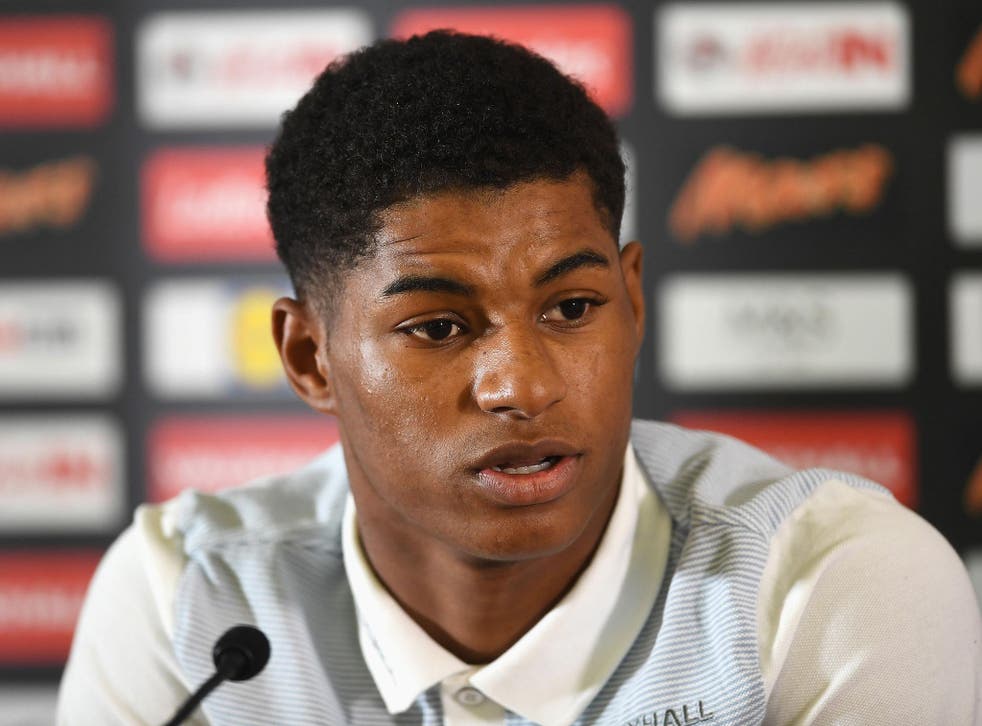 Marcus Rashford says he wants to play as a number-nine, and essentially told the football world: 'you aint' seen nothing yet'. Strikingly self-assured, the 19-year-old says the fact he has only been a Manchester United and England first-team player for just over a year means there are a lot of qualities to his game that haven't been illustrated yet - like how he scored his first set-piece goal, in the Europa League against Celta Vigo.
Rashford still believes that playing on the left has aided his development as a more complete player and, amidst United's pursuit of a top-class number-nine, is evidently willing to wait to play in the centre for Jose Mourinho.
The forward feels he has earned the trust of the manager, and praised him instrumental in his progress for the way he gave him responsibility.
How Manchester United could line up next season

Show all 12
"Of course it's to play down the middle," Rashford said of what position he prefers. "But playing on the left creates a different picture in your mind. It's what's needed to play down the middle. It's all a process and if I keep buying into it and learning from it, hopefully everything will come through when I'm playing in the number-nine position."
Asked about how Mourinho had given him set-piece duties, Rashford said it reflected the trust of the manager, but also allowed the player to display a lot of faith in himself.
"It's about taking responsibility for certain moments," Rashford said. "That just shows the manager making me take more responsibility. For the player, it is a good feeling when he gives you those type of duties. All I have do is keep practising and keep practising and keep practising to score more and create more.
"You have only seen me playing for one year and there are a lot of things you don't know about me and what you have got to learn, what I have got to learn about myself. It's just a start."
Rashford meanwhile went on to further praise Mourinho, after a season that has seen a lot of debate about the Portuguese despite winning the League Cup and Europa League.
"A lot of people have a lot of opinions about him, but what he's done is clear. It's not all what people say. I've obviously played a lot of games under him this year and I've earned his trust, which is important for me and it's got me to where I am now."
Rashford's game appeared to go up a level when replacing Zlatan Ibrahimovic in the centre for United's run to the Europa League, after the Swede got injured in the competition quarter-finals against Anderlecht.
"If you don't believe in yourself, you can't expect other people to believe in you. I was confident going into the games and I think it's just another step you take individually. Taking on the responsibility of being in that role is something you take pride in."
Further displaying his maturity, Rashford was one of the players who decided the United squad should visit victims of the Manchester Arena bombing in hospital.
"It was basically up to us," the 19-year-old said when asked. "It was in our spare time. We weren't doing anything, so we thought, 'Why not?' It's something we wanted to do, but didn't have time to do when the season was still going on. As soon as we had time off, we thought it was important that we went and did it. You feel proud, being able to make a difference. If you can make a difference, I think it's important that you do. Going there and just seeing some of the victims just smiling and having a laugh, it gives you a good feeling and you want to recreate that moment as much as you can.
"Friends of friends were affected. Manchester is a small place and it was more than likely I was going to know someone affected. But it doesn't just go out to those people, it goes out to all the families."
United and England teammate Chris Smalling feels there is no limit to what Rashford can achieve, and similarly said that the young forward has abilities that haven't yet been seen by the public.
"The world is his oyster," Smalling said. "He can be one of the best. You get forget how old he is, how few games he's played. But as a player he's got everything. He's quick, he's strong and his temperament is fantastic. He can do skills as well, not that you see skills in the game, he's a kid who wants to play football whether he's in his room or in the changing room, kicking balls, knocking things over. He's a fantastic talent and I'm glad he's on my team.
"I think it's that pace and movement, he constantly wants to run in behind. Gareth [Southgate] here and Jose want that striker who constantly runs in behind so it keeps you on your toes.
Manchester United summer transfer targets

Show all 8
"He can give a reaction, I've kicked him a few times! He is someone who is very unfazed by anything which is great because he's played in big games, finals, and he's been the one leading our line. Full credit to him. There's always some young players you see them change but with Marcus I don't think he'll ever change. It's just the way he is."
Join our new commenting forum
Join thought-provoking conversations, follow other Independent readers and see their replies